On a random Tuesday morning in October, Marvel invited both fans and media to the El Capitan Theatre for an unspecified presentation.
As we waited for the multitudes of fans to file in, organist Rob Richards entertained us with tunes including the theme to "Star Trek." "Avengers" writer/director Joss Whedon and "Captain America: Winter Soldier" directors Anthony and Joe Russo were also in the audience.
Finally, the show started with Marvel Studios President Kevin Feige taking the stage and introducing the recently released trailer to the upcoming "Avengers: Age of Ultron."
Feige then proceeded to display a timeline for Marvel Studios, extending forward through May of 2019, and filled it in with all the movies they have planned for release throughout the years.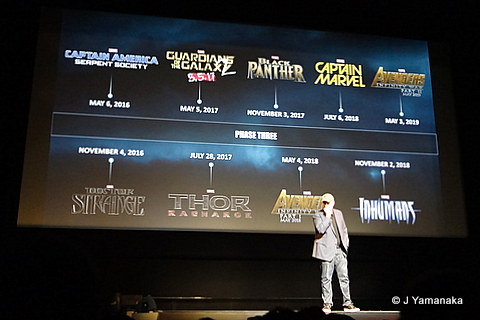 Some of the highlights:
–"Captain America 3," May 6, 2015
–"Dr. Strange," November 4, 2016
–"Guardians of the Galaxy 2," May 5, 2017
–"Thor: Ragnarok," July 28, 2017
–"Black Panther," November 3, 2017
–"Captain Marvel" (Carol Danvers version,) July 6, 2018
–"Inhumans," November 2, 2018
–"Avengers: Infinity War Part 1," May 4, 2018
–"Avengers: Infinity War Part 2," May 3, 2019
–Video clip from "Infinity War" revealed Thanos with the Infinity Gauntlet (finally.)
–Video clip from "Age of Ultron" showed a short scene between Tony Stark and Steve Rogers chopping wood and arguing the different sides of morality vs. expediency (as they do.)
–"Captain America 3," originally posted as "Serpent Society," then revealed as a fake-out for "Civil War."
–"Civil War" will follow the big Avengers comic book event, which reflected the world's real-life concerns with terrorism versus privacy. The storyline has the government requiring all superheros to forgo secret identities and submit to registration, with Stark and Rogers facing off on each side of the issue.
–Robert Downey Jr. and Chris Evans appear on stage to amiably continue the apparent conflict.
–Chadwick Boseman is introduced as the new Black Panther.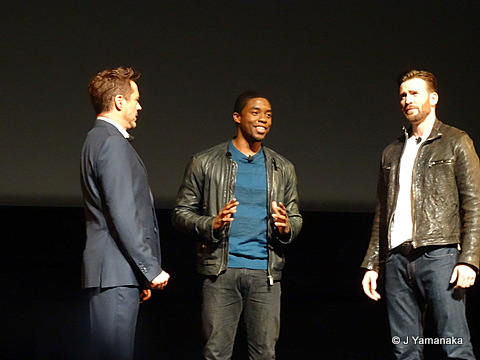 After the presentation, Feige held a brief Q&A about some of the topics brought up earlier:
In all, an impressive line up looks to be in store, from a studio with a phenomenal track record to date.