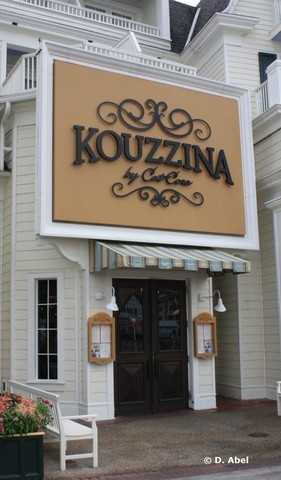 by David Abel
AllEars.Net Guest Blogger
It's always a sad day when something comes to an end, so it almost seems poetic that Kouzzina by Cat Cora served its final meals on a dreary rainy evening. We were only slightly concerned about our dining experience. Would they be running out of food? Would the staff be annoyed they were losing their jobs?
All of our worries proved to be unfounded. We arrived right on time for our 6:25 p.m. dinner reservation. The cheerful hostesses greeted us and escorted us to a table on the far side of the open show kitchen. The half-empty dining room was abuzz with energy and excitement. Within 15 minutes, the dining room was full.
Our server, Bruce, took our orders and brought us bread with olive oil for dipping and olives. He only poured one type of olive oil as they were out of the other. This was the only apparent item the restaurant was out of. We were even offered additional olives, so they apparently had an abundance of those.
I'd ordered the Pastitsio (Greek-style Lasagna) with a side of Sauteed Brussels Sprouts, and my partner ordered the Traditional Whole Fish. Both meals arrived in a reasonable amount of time. The server filleted the fish right at the table, and this was almost a show in itself. Everything was tasty, up to their normal standards. We passed on dessert because we were too full, in fact, I couldn't even finish my meal.
Although I'm sad to see this fine restaurant close, I'm glad that it went out on top, maintaining its standards of food quality and service to the very end. For those of you afraid you won't see your favorite server(s) again, fear not. They're being re-allocated for a few weeks and then will be brought back to Trattoria al Forno for its opening. And the new restaurant is even expected to retain a few of the popular dishes from Kouzzina's menu!
So for now, we must say Yia Sao (or Good-bye) Kouzzina.