Last year Carol and I, along with son Rob, made our first trek to Dayton Ohio for the annual Disneyana Show & Sale hosted by the Dayton "Plane Crazy" Chapter of the Disneyana Fan Club. Everyone enjoyed it so much that we just had to return this year.
There was one issue . . . Rob decided to test the strength of our garage floor a few weeks ago. He dove from the top of a step ladder to the concrete slab 8 feet below. The final score was Concrete Floor 1 – Rob's Shoulder 0.
Friday June 13th
By 5:55 a.m. Rob had found a comfy position in the back seat; his shattered left shoulder, held together by a few steel pins and plates, was supported in a sling and resting on the center armrest. We were a bit apprehensive – would he be comfortable throughout a 10 – 11 hour drive?
We hit the road about 5 minutes ahead of plan and drove through a few heavy showers for the first few hours. Once we passed Toronto skies cleared and we made great time.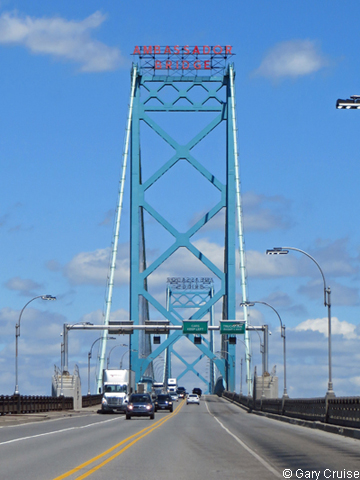 We crossed the US border at Detroit and pulled off at Monroe Michigan for lunch.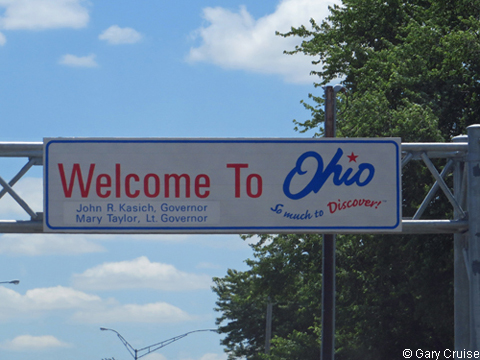 By 2:00 p.m. we had pulled off in Toledo Ohio where Carol and Rob visited the Disney Store. Traffic was light for the last leg of the trip and we pulled into the Windham Garden Hotel at 5:15. Rob had endured the trip quite well.
We relaxed for a few minutes, then struck out once again; Carol needed some Retail Therapy. The Christmas Tree Shop, Jo-Ann Fabrics, and WalMart followed in short order as I waited in the car with my book!
We had a quick bite for dinner and headed back to the hotel for the night. By 9:00 I had settled in the room to watch the Stanley Cup final game (Los Angeles Kings won the championship in the second overtime period) while Carol and Rob headed to the foyer outside the ballroom to trade Disney pins and Vinylmations.
Carol was back to the room and trying to sleep by 11:00 – the game carried on until 12:30 when I fell into bed exhausted after a long day.
Saturday June 14th
We were up before 7:00 a.m. and enjoyed the hotel's complimentary hot breakfast; we finished just in time for "early entry". Carol and Rob had paid $15 for the privilege of shopping for 90 minutes before the "official opening".

I was allowed into the vendor area before the doors opened and I enjoyed a few quiet minutes, wandering the aisles and snapping a few pictures. The entire ballroom was filled with tables, racks and shelves! Everywhere I looked it was overflowing with an amazing variety of Disney collectibles. The vendors had merchandise well organized and nicely displayed.
I was excited . . . I could only imagine how Carol would react!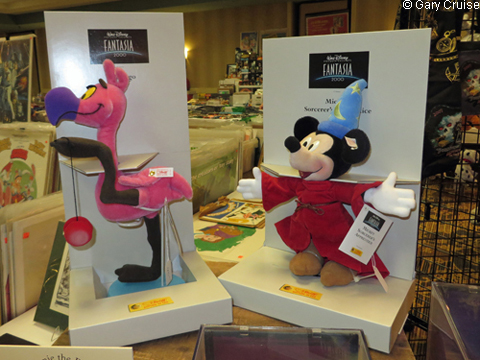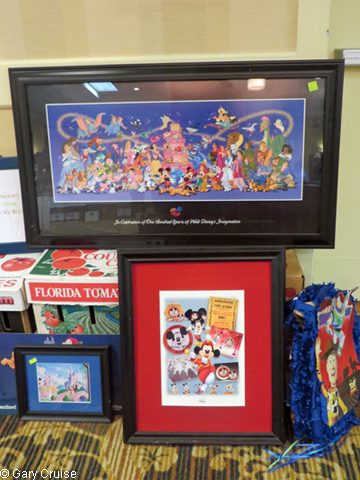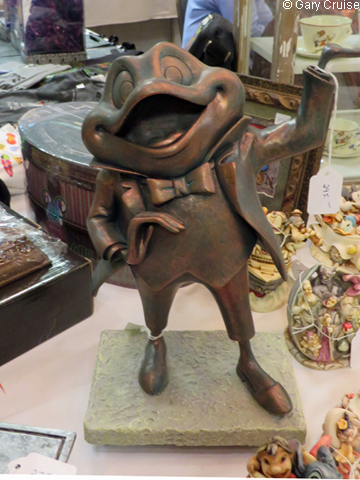 At 8:30 Carol, Rob and the rest of the 50 "Early-birds" charged through the door.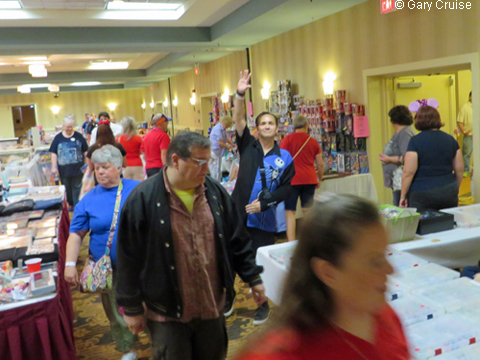 Vendors had donated quite a few draw prizes for the early-birds, some were included in the swag-bag each of them received and some were set aside for a random draw. Early-birds all received a long strip of draw tickets which they could drop in the red Solo Cup in front of each vendor's "special" prize. If you really wanted the prize you could drop multiple tickets to improve your odds. Once all the cups had been located and the tickets were dropped, the early-birds all got busy shopping! Carol and Rob were lucky, Carol won one draw prize and Rob won two in the draw which took place later in the day!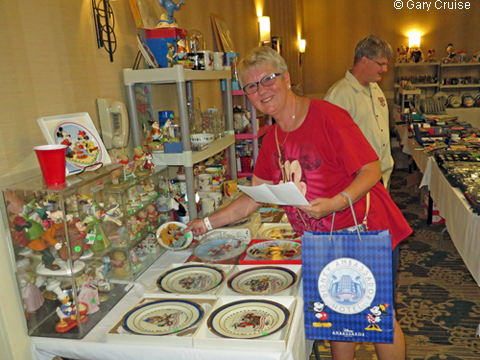 See the red Solo cup, in the picture above, beside that collector plate? Rob won the plate!
There was an incredible variety of merchandise! To paraphrase Ariel, "There were gadgets and gizmos a-plenty, there were whozits and whatzits galore. You want thingamabobs? There were twenty!"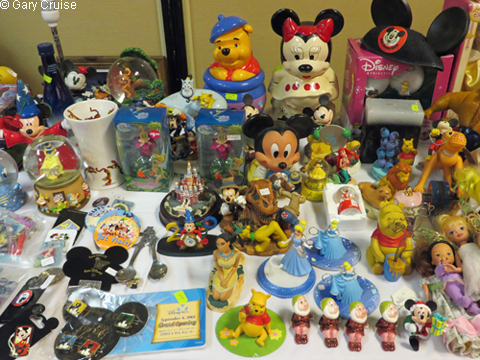 There were movie posters, VHS and DVD videos, LP's, CD's and video games.
There were plates and spoons, cups and glasses, clocks and watches.
There were comic books, magazines, coloring books, toys, framed pictures, animation cels, figurines, games and collectibles in varieties too many to mention.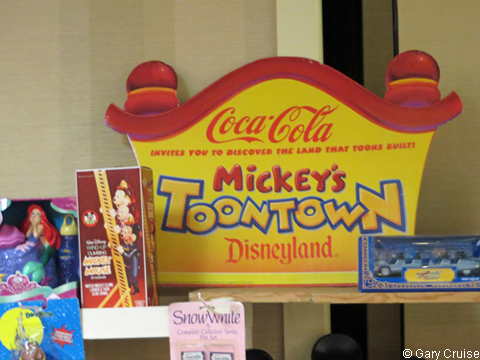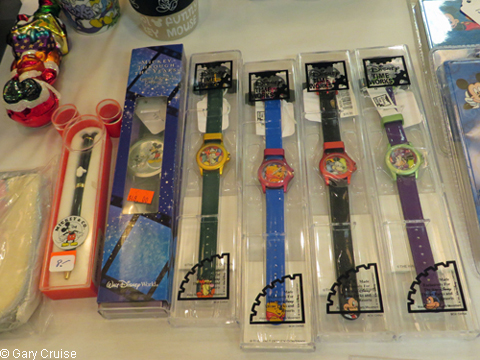 As you might expect, there were pins and Vinylmations! Very important to Carol!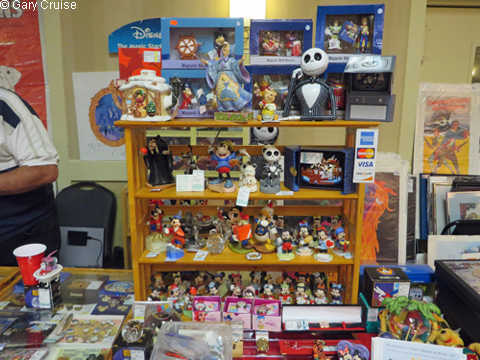 Tom Tumbusch from Tomart Publications showcased their Disneyana and Pin Trading catalogues and the pin traders were delighted to pore through the surplus pins Tomart have used in the production of their books.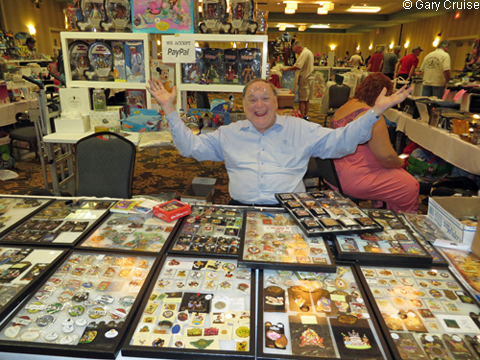 Brian from Theme Park Connections brought a truckload of interesting Disney merchandise from their Orlando store, near the Florida Mall, a 937 mile trip.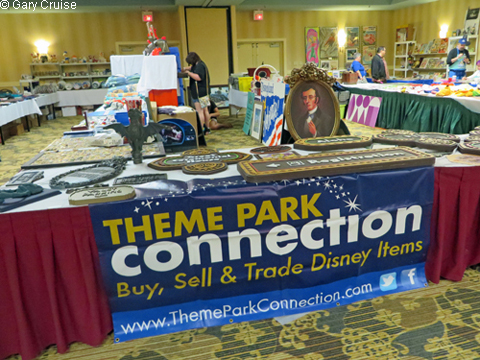 They were selling some very interesting items, like this piece which holds the chains on the railing for the queue inside the Haunted Mansion. WOW!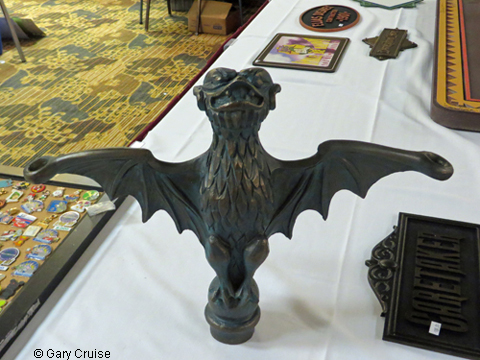 How about those signs from the Polynesian Resort? They were very popular!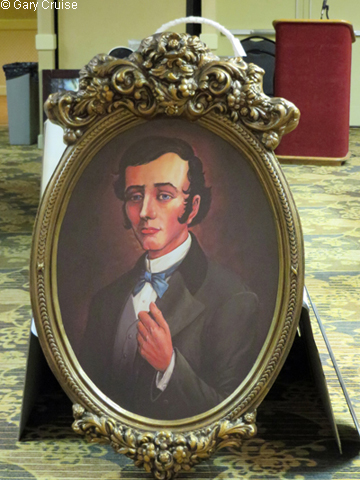 I spent some time watching Carol and Rob "work" the banquet hall. They each have different collections and different tastes, but each one understands very clearly what appeals to the other. They work as a team, each one searching for themselves and scouting for the other as they circle the hall again and again!
Just after noon I dashed out to pick up lunch for the collectors, they were too busy combing through all the treasures to even consider leaving the hotel!
They settled at tables in the hall outside the banquet room and ate lunch, then stayed there for some pin and Vinylmation trading. About once an hour Carol or Rob would take a lap around the vendor's tables . . . as more items were sold the wares were spread out and they could spot treasures they had overlooked earlier!
By the time I returned with lunch the speakers had begun their presentations. The first speaker was Mark Henn, an acclaimed Disney animator. Mark was born in Dayton and in 1980 his dreams came true, be became a Disney animator.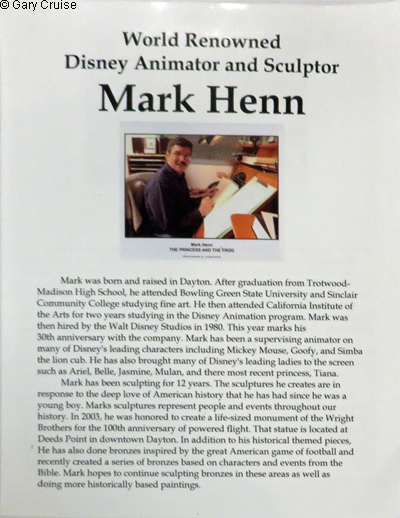 I underestimated the popularity of this hometown hero . . . when I returned with lunch the meeting room where he was speaking was jammed to capacity and the door was closed. I missed his presentation – Dang! I did catch up with him later and spent a few minutes chatting. He is a gifted animator, painter and sculptor. Here Mark is pictured with art from some of the Disney projects he has worked on over his 30 year career.
Next to speak was Jim Hill, a noted Disney historian.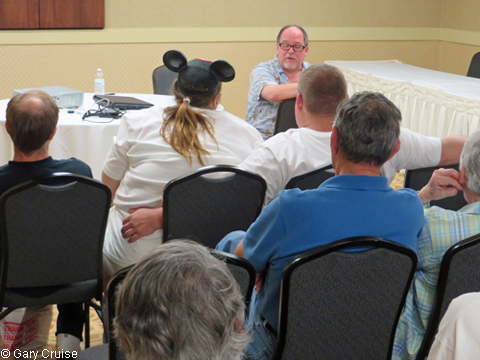 Jim talked about the history of Disney Parks and delighted us with a few little-known facts and with several humorous stories about some unusual attractions that were never produced. It was a very relaxed and enjoyable session.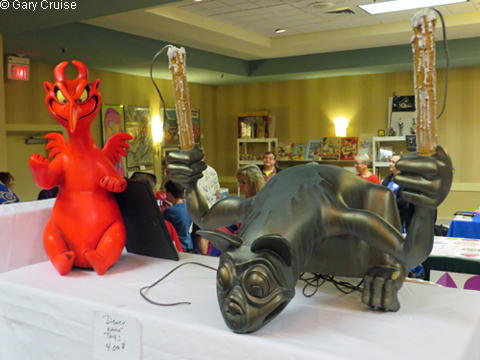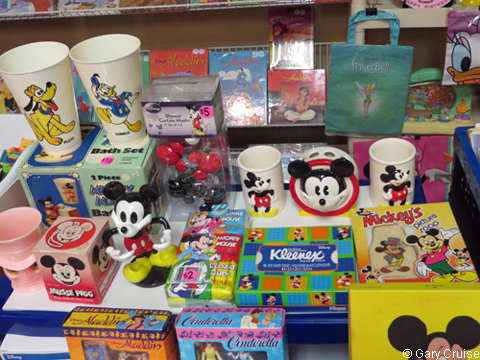 The trading and browsing continued until 5:00 when the vendors closed up shop for the day. We enjoyed a nice dinner in the hotel restaurant and I retired to the room to play on the computer and watch TV while Carol and Rob resumed trading pins and Vinylmations in the foyer.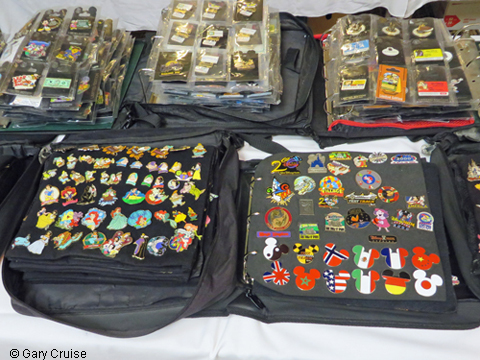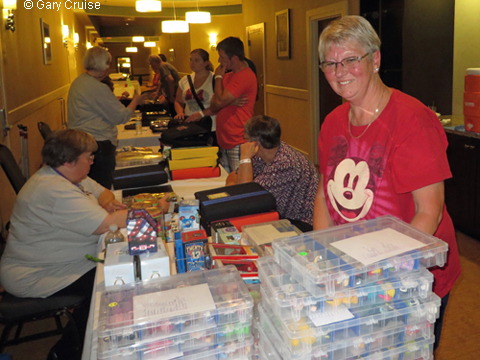 Carol was back to the room by 11:00 p.m.
Sunday June 15th
The ballroom didn't open until 10:00 a.m. so we had a leisurely morning, coffee in the room followed by a late breakfast in the restaurant. Carol and Rob made a few more rounds of the ballroom. They like Sunday shopping since the vendors seem to be a bit more flexible with prices. It's so much easier to sell something than it is to pack it up and take it home.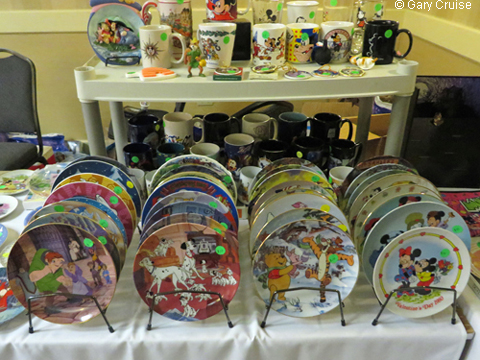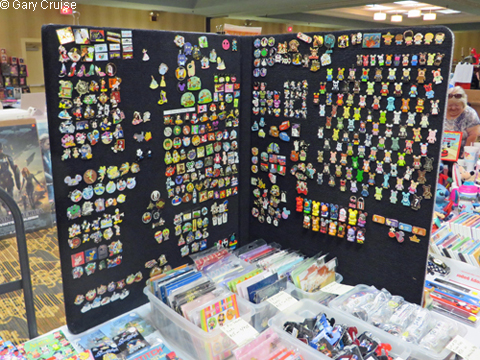 Soon they had set up outside, in the foyer, and did some more pin and Vinylmation trading . . . with occasional laps around the vendors tables. The vendors are all very friendly and easy to deal with – kindred spirits who love Disney just as much as we do!
Here Rob chats with Gary Smith from Missouri. He is a partner in Gary & Gary Collectibles.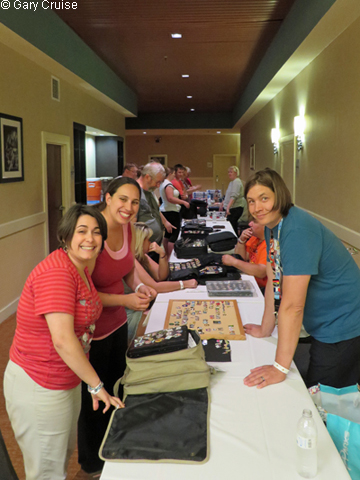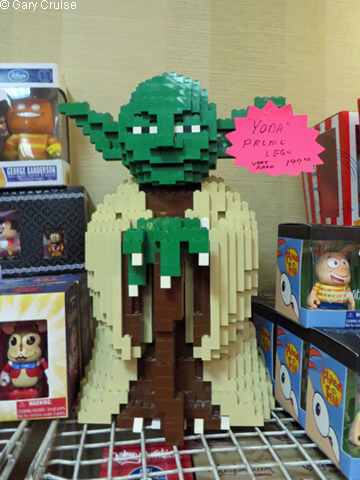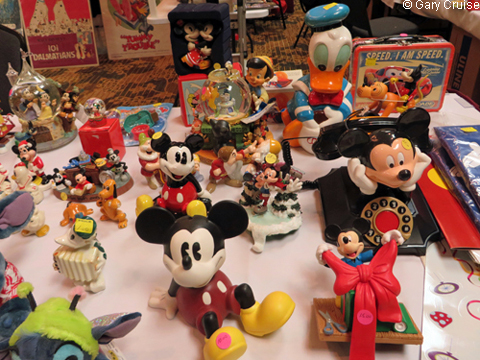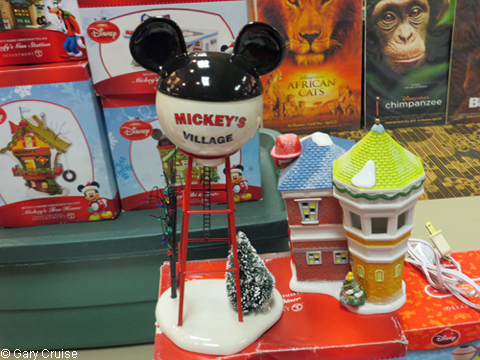 Although the event carried on until 4:00 p.m. we had to face the long drive home before then. We said our goodbyes and thanked the organizers at noon. The Dayton "Plane Crazy" Chapter of the Disneyana Fan Club, who host the event annually, deserve a lot of credit for a job well done! They describe this event as "Dayton Disneyana Collectible Expo & Disney Pin and Vinylmation Trading" but it is actually much more than that. It's more like a convention for Disney fans. Everyone who attended seemed to thoroughly enjoy the chance to mix and mingle with so many other people who share our passion for anything related to Disney! Special thanks to Anita Schaengold and Pam Phillippe who co-chaired this year's event committee.
By 12:05 we were northbound on I-75. The trip was uneventful, light traffic and sunny skies. We made very quick stops for lunch and gas and arrived at the Canadian border at 4:15 where Rob met this distinguished gentleman at the Duty Free Store.
Traffic was even lighter once we crossed the Ambassador Bridge and hit the Canadian freeway. We stopped at Carol's parents, picked up the dogs and were home at about 10:30 p.m. after a great weekend.
You are probably wondering, "What did they bring home?" Well here's a picture of some of it.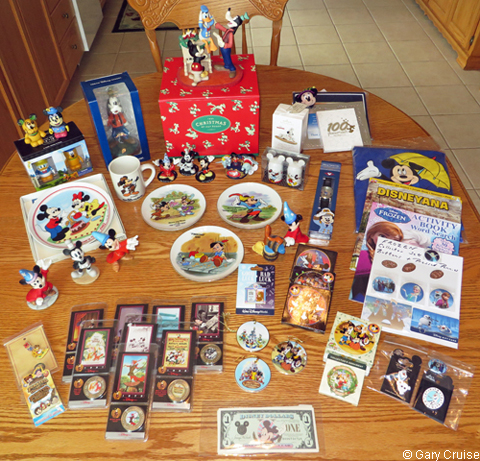 Carol's favourite items? Those three collector plates belong to a set she began collecting in the 1980's. Back in those days she could only afford to buy one a year and they have been long out of production. Now she is only missing two! That coffee mug is a classic – It's Musket Mickey. He's dressed in a coonskin hat and carrying a musket. In these days of political correctness Mickey carries a walking stick, so when you find him with a musket it's definitely a keeper. Rob bought the Christmas Carollers as a birthday gift for Carol. They are standing on top of the red box. Mickey plays the piano and Goofy sings while Donald covers his ears!
Rob's favourite? The bobble-head Goofy in the blue box which he picked up at Gary & Gary Collectibles.
If you are a collector of Disney art or memorabilia, you really should plan a visit to Dayton Disneyana. Next year's event will be held at the Holiday Inn Dayton/Fairborn I-675, 2800 Presidential Drive, Fairborn, OH June 13 – 14, 2015.
Check the Dayton Disneyana web site for more details HERE
Like them on Facebook HERE.