Are you a Conservation Hero?
Do you own any of these?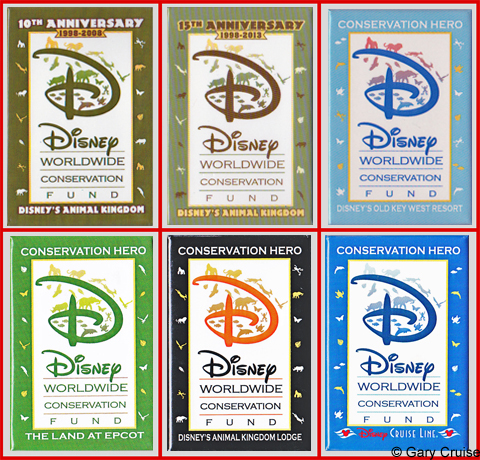 If your answer was "Yes" – you are a Conservation Hero!
Do you own any of these?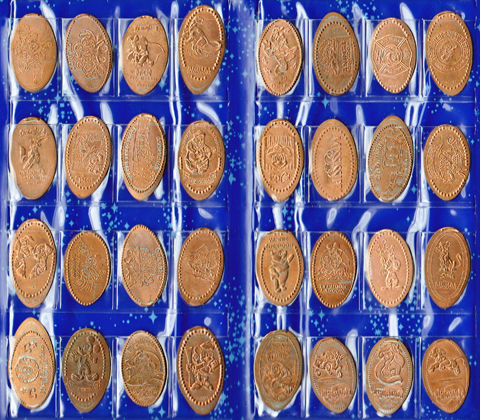 If your answer was "Yes" – you are a Conservation Hero!
Have you ever tossed a coin in here?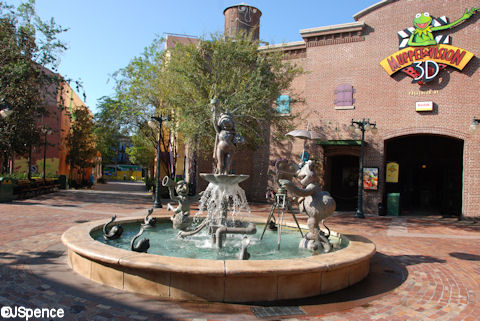 If your answer was "Yes" – you are a Conservation Hero!
You didn't know that you were a hero? Most people don't . . . but when you buy those conservation buttons, when you press those pennies or when you toss coins in a Disney fountain you are making a donation to the Disney Worldwide Conservation Fund. And your contribution is bigger than you think it is! I'll explain how it all works, but first here's a bit of preamble:
The Walt Disney Company takes their social responsibility very seriously and have developed a comprehensive environmental policy as a key component of their corporate culture.
This is how they explain it on their web site: "Acting responsibly is an integral part of our brand. It strengthens the connection we have with consumers, makes our company a more desirable place to work, and helps us attract the very best and brightest to join our global cast. It builds goodwill in the communities in which we operate. All of these things contribute to The Walt Disney Company's continued growth and success."
One of the six key factors in their statement of business ethics reads as follows: "Environmental Stewardship: Use resources wisely and protect the planet as we operate and grow our business"

You can read more about Disney's Corporate Ethics Policy HERE.
The Disney Worldwide Conservation Fund was established April 22, 1995 (Earth Day) and since that time they have awarded over 1,000 grants totalling over $24 million to fund environmental projects in 112 countries.
WOW! That's over half of the countries in the world!
What sort of projects do they fund? According to the Disney web site: "Grants provide financial support for: the study of wildlife; the protection of habitats; the development of community conservation and education programs in critical ecosystems; and experiences that connect kids to nature through exploration and discovery."
Here is a sampling of the animals and locations involved in 10 of the 150 projects funded in 2013:
1. Umbrellabirds – Ecuador
2. Maasailand Lions – Tanzania
3. Painted Dogs – Zimbabwe
4. Tigers – Indonesia
5. Grizzly Bears – Canada
6. Golden-Winged Warblers – United States
7. Golden-Capped Fruit Bat – Philippines
8. Cheetahs – Namibia
9. Bottlenose Dolphins – United States
10. Ploughshare Tortoises – Madagascar
Where does the money come from? This is where you come in – every time you buy a Conservation Hero Button you are donating to the fund. When you press a penny you are helping preserve our planet. When you toss a coin into a Disney fountain you are a Conservation Hero! Doesn't that make you feel good?
There are even Disney tours and experiences that support the fund. Take the Backstage Safari Tour, the Wild By Design Tour or the Wild Africa Trek and you are supporting the fund!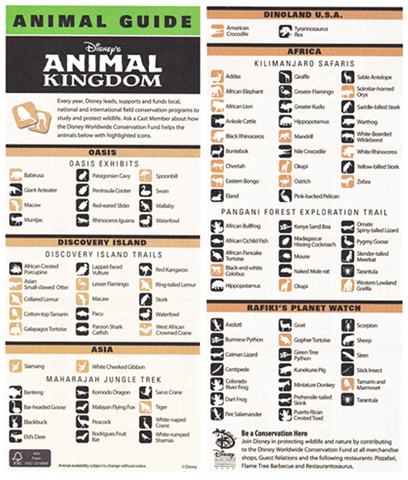 Would it make you feel better if Disney were to match your donation?
Well start feeling better . . . because they do! Disney pays 100% of the overhead costs for all of the contribution streams. Every cent you pay for a button, every cent you pay for a pressed penny and every cent you toss into a fountain is fully matched by the Walt Disney Company. They even pay all of the administrative costs to operate the Conservation Fund! That means that when you donate $1.00 for a Conservation Hero button, Disney pays for the production and distribution of the button and $2.00 goes directly to a worthwhile conservation project.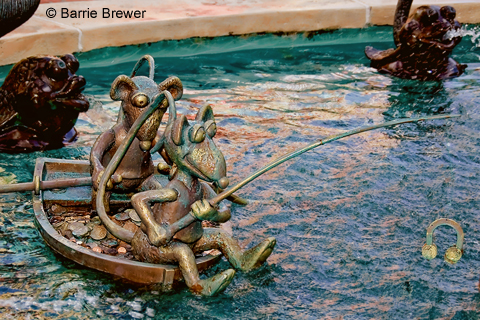 Even Rizzo and his friends volunteer their time to help collect the donations!
The Walt Disney Company very quietly and modestly does some pretty amazing things, and this is one of them! Things like the Disney Worldwide Conservation Fund make me very proud to be a Disney fan!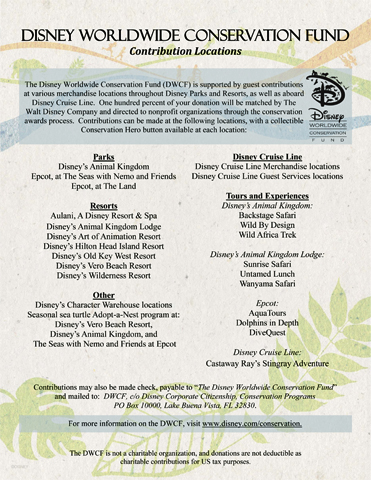 There are some other ways to donate, outlined in the picture above.
If you want to read more about the projects, or about other ways to contribute, click HERE and follow the DWCF Featured Links.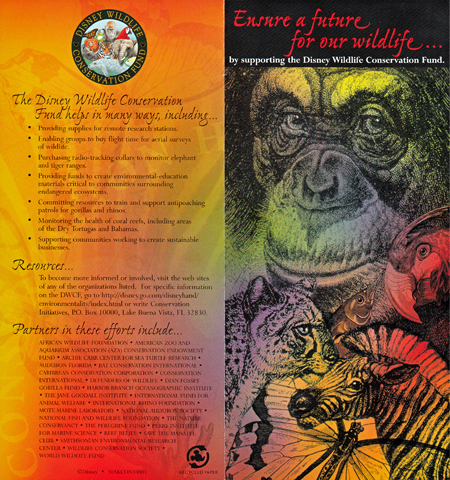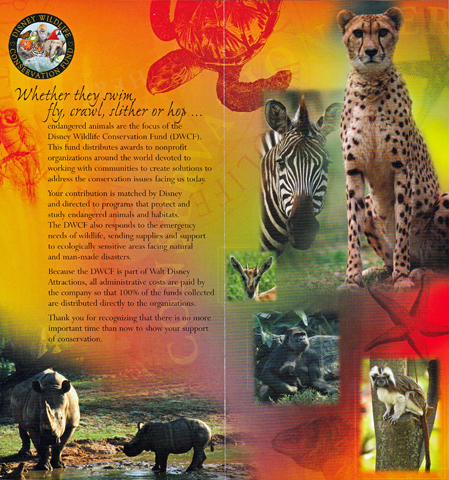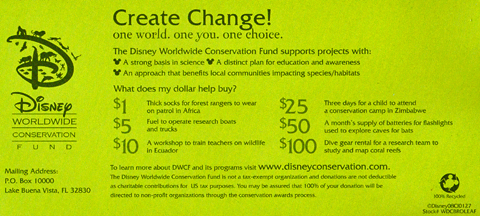 So now that you know about the Disney Worldwide Conservation Fund . . . what are you waiting for? Get to a Disney park as soon as possible. Buy some buttons, press some pennies and toss some coins in the fountains.

Be a Conservation Hero!