I fell head over heels in love with Disneyland in 1998. Earlier in life I had been there with family while vacationing in California. But it was while I spent part of the summer in various counties that the house of mouse called my name.
Unable to afford an annual pass or even a park ticket at times, I found myself spending time at the Disneyland Hotel and glimpsing at characters inside Goofy's Kitchen. Wandering Downtown Disney was fun, and I could watch the monorail pass along the beam above. It was better than nothing.
Then in 1999 I moved to Orange County and the need to be a part of The Happiest Place on Earth was unstoppable. Once I got an annual pass into my hot little hands, Disneyland became my go to destination. In time, I convinced friends to buy annual passes. My hangout, my playground, and my home away from home turned my frowns upside down. How could it not when Captain Hook walked up to me and squeezed my cheeks or all the times Pluto high-fived me when he walked around without a leash.
After four years (and six apartments), I left California and returned to the motherland, Massachusetts. Many trips to see my friends and beloved theme parks have taken place since 2003 but no matter how many times I visit, the time in between sometimes feels like forever.
Parade of the Stars was awesome and not just because I was in it twice. No, it's because my husband in waiting, Tarzan, made a rear appearance. Countless women met up with my gentle savage and that Jane chick in front of Tarzan's Treehouse. I never found him there. I keep going back because I know that one day he'll show up, on time, and without Princess Parasol.


Honey, I'm home. Aghhh agghhh aaaagggghhhhh.
Everyone knows that the really cool castles have a drawbridge and Sleeping Beauty Castle is wicked cool. Not only does it have a drawbridge and a moat, but you can also walk through it and learn all about Aurora/Briar Rose/Sleeping Beauty. Wait, I wonder which name she signed on the deed. What if it's really Aurora Castle or Briar Rose Castle? I'll have to ask her next time I see her.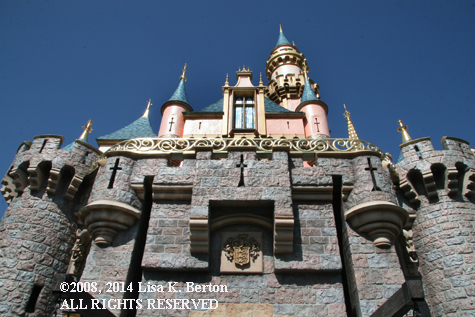 Can't see the drawbridge? Talk to Maleficent.
When Disney's California Adventure opened, I was there. I saw them build it with my own two eyes! When Drew Carey made a crack about feeling like he was actually in California, I was there and I laughed. Ha! Ha! Take that, Eisner.
Cast Members can make or break your day. In order to enhance my days, I looked for Maynard. Sometimes he played Tiki Boy at The Enchanted Tiki Room. Other times he stared eerily at those brave enough to enter the Haunted Mansion. Wherever he was, he made lasting impressions.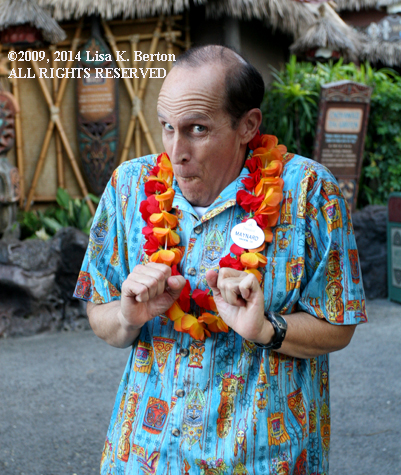 Community still matters to Disneyland suits. Local performers and school programs entertain guests on various stages. Cover bands get people rockin' 'n rollin' while swing bands play for cool kats who jitterbug. I once saw Mickey Mouse and Pluto play air guitar with Sandbox.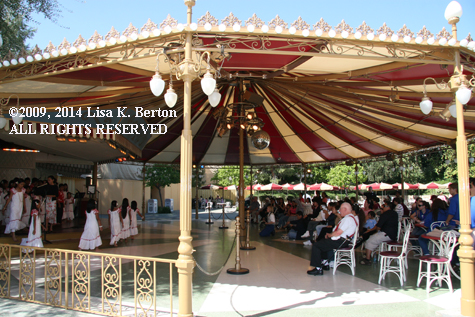 Kids sing and adults listen. A great combination, super sized.
One of my all-time favorite things to do in the park was to find Mad Hatter and Alice and hang out within earshot. Together they are pure comic genius. I still await the day I get to ride Storybrook Land Canal Boats with them. Until then, I watch other peoples' videos on YouTube.


Mad Hatter asked me to "friend" him. It blew my mind.
At Disneyland, celebrities don't just walk away and head off backstage. When they reach the entrance/exit between realities, they turn around and wave goodbye. Only at Disneyland can you enjoy a heartfelt, "See ya real soon!".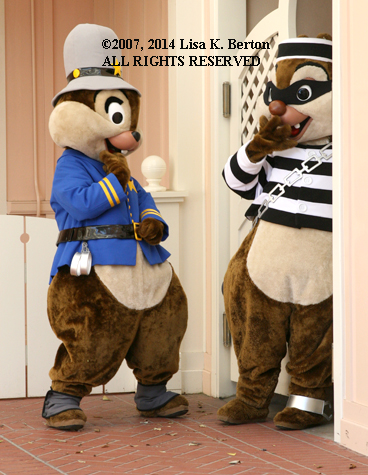 Next on Cops, an ex-conmunk, an ex-chipmunkcon, a bad guy serves time but only after blowing kisses to his admirers.
After a long day of playing hide and seek, spinning through the Pirates of the Caribbean bottleneck, feeding kitties, waving at camcorders, cleaning fries off the floor of The Golden Horseshoe, reminding Jasmine that I don't want her in my photo but that she can take a photo of me and Aladdin, and sipping a mint julep, I can konk out at my friend's place. Sometimes I have to wait for him to come home but that's okay because it's better than going home.

Disneyland, I miss you but I miss Disneyland with my friends even more.

Come on over and "Like" my Facebook page or follow me on Twitter, my handle is lisano1.