To all who come to this photo trivia game, Welcome! Along the way, the photos can make us relive memories and see details Walt's Imagineers put into everything we love in Walt Disney World!
Happy Year of the Horse!

Tom Buck, I hear you about the cold! I'm your next door neighbor in NJ. I keep looking with longing the Florida temperature.

From last week: Challenge #316: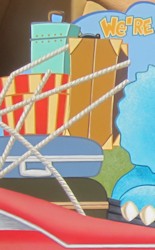 And here's the answer:


Copyright © Erin Blackwell
There's my man at the Dinoland photo op in Disney's Animal Kingdom!
Jim and Lorie Sonnen was the first to send in the correct answer! Congratulations to Jim & Lorie and all our winners this week! Carol Gamill, Jennifer Harom, Christopher Thacker, Julie Wickware, Antoinette Leblanc, Kristi Strembicki, Donna Frank, Melissa Such, Ed Suscreba, Hillary Waldroop, Carol Ney, Linda Ranatza, Karen Schlumpf, Kris Nixon, Kenny, Johnnie Davis, Shannon, Rob Hepler, Valerie Longo, Dave Freemyer, Christine Niedzialkoski, Kathy Morris, Danielle Harsley, Kim Skanes, Katie Connolly, Donna Bailey, Zach Murr, Judy Simonsen, Dee Dee Kenney, Phyllis, Stephanie Peterson, Beckie Triggs, Emma Smith, Tim Miller, Laurie Ruggeri, Belicia Cullen, Sharon Pierce, Scott Cullen, Kathy N Brooke, Tammi Trout, Ken Daube, Mary Beth Tarbet, Michelle Darabaris, Colette Stanton, Jodi Lupp, Chris Kelly, Jenny Brennan, Krista Serpi, The Gunnels Family, Daniel Record, Carly &Colin, Elaine Kleinhenz, Les Stewart, Michaela O'brien, Jon Landis, Zandria Michaud, Gemma Cooke, Michael Cooke, The Fosbender's, Deb Ragno, Janet T Thorn, Team Hill, Jennifer Rowell, Josh Weiss, Jessica Curley, Gabriella, Terry And Matthieu, Bryant O'meara, Herb Miller, Andrew Carrieri, Heather Long, Crystal Lemoine, Vera And Izzy Williams, Carol Lyons, Kyla, Erin Hammer, Paul Moore, Jill Helgeson, Chloe C, Chuck Dezutter, Dan Lower, Angela, Laura V., Scott Precise, Tim Keenan, Maggie Klotz, Bob Ruer, Lee Deroia, Timberly Aymond, The Parker Family, Pstti Gumiela, Chuck Sands, Jennifer Nencka, Kelly Sroka, Paul Dickson, Paul Scimeca, Lisa Denny, Gerald Skanes, Claire Gregory, Ashley, Shawn Macphee, Nathaniel Clements, Melody O'donnell, Amy Filliben, Stefanie Vandiver, Jeremy Hardy, Julie And Kody Rider, Stefan Owens, Maryann, Chandler &Courtney, Lisa Zitek, Louise Barton, Pam Vanaustin, Hobbes And Snorky, Jim Finley, Rex Biederman, Chris, Gretchen, And Katie Barnes, Tom Koval, Helen Amer, Gail States, Marguerite Garofalo, Lee Anastasi, Matt Holley, Paul Knott, Rob Blundin, Yvonne Marchione, Diane Furtado, Theresa Lucotti, Maureen Handy, Michael, Michaela &Samantha Frisbee, Cheryl Chambers, Karen Costa, Suzanne Caris, Mike O'brien, The Emich Family, Karen Ramirez, Vicki Britt, Nan Amor, Kara Cummings, Jonathan Thomas, Kristina Snowden, Clay Anthony, Vanessa Gordon, Mickey Eckert, Doug Olson Family, Kerri Coggins, Jeff Blank, Nancy Mills, Bruce Hinterleitner, Olga Vorontsova, Sarah And Chris, Ron Harper, Chloe Mayhew, Wendy Barney, Al Sandal, Kevin Arndt, Stephanie Dollar, Paul Ignudo, Jr., Betsy Silvestri, Rebecca Keenan, Tricia Petty, Wlliam Thomas Elizabeth Ad Vicki Edwards, Maja Kodani, Ashley P., Wayne Witherspoon, Anastasia Macneil, The Orman Girls, Karrie Duffey, Jan Rosato, Nathalie Periard, Mike Amor, Carri Marotto, Karen Bellamy, Erin Loring, Dennis Loring, Sarah Francis, Dayna Guay, Theresa Maradei, Grumpy's Groupies, Matt Wildey, Heidi Goodhue, Emily Hudson, Karen Davis, Andrew Pettit, Davida, Caitlin Lewis, Smitty, Terry Fleming, Mark Proper, Karen Hotchkiss, Tom Buck, Jennifer Bogdan, Jackie Graebel, Sandy Miller, Jane Johnson, Joseph M. Zafia, Theresa Rucando, Stacey Barboza, Team Meeker, Stacy Guarracino, Walter N. Clark, Kate Fischer, Shannon Wright, Leigh Mertz, Patti Mccaffrey, The Kertes Family, The Patterson Family, George Mundy Jr, Agnes Ciotti, and Annette Ream. Each of you are entered in this month's winners' drawing.
Which leads nicely to this: it's time for the monthly drawing! The January 2014 winner is: Craig Livingston! Congratulations, Craig! You'll be receiving your prize from Deb Wills soon!
_____________________________________________________ _____________________
Challenge #317 Where in the world is this?
We're in a park. Do you know where in Walt Disney World this is?

Do you know? Do you have a guess? Please send in your answer, before the end of the day on Thursday, February 6th, by clicking on the blue box below. Please do not post answers using the Feedback Form link at the bottom of this post.
See you next week, Players!


_______________________________________________________________________
Everyone who sends in a correct answer to a Where in the World Challenge this month will be entered in a drawing at the end of the month for some special AllEars® goodies!