By Jim Korkis
Every two weeks, Disney Historian Jim Korkis goes up into his imaginary attic to rummage around his archives and often stumbles across an unusual story about Walt Disney World.
In 1909, there was a huge celebration for President Abraham Lincoln's one-hundredth birthday from parades to hundreds of bronze plaques with The Gettysburg Address installed in schools to much oratory in local auditoriums to a special edition of the newspaper The Chicago Tribune that weighed over three pounds. That year the Lincoln penny was issued for the first time.
Caught up in all the hoopla was a young Missouri boy who roughly a year later transferred to Benton Elementary School in Kansas City. In the fifth grade, he dressed up as the 16th president by borrowing his father's old frock coat, making a stovepipe hat out of cardboard and black shoe polish, wearing a crepe hair beard and not forgetting Lincoln's mole, astounded his classmates and the school principal with his dramatic recitation of The Gettysburg Address.
Principal Cottingham took young Walt Disney to every classroom to repeat his performance and every subsequent Lincoln's birthday in February until Walt's graduation.
Walt had planned for his boyhood hero to be a part of Disneyland.
Imagineer Wathel Rogers stated in 1963, "Lincoln is part of a Disneyland project called 'One Nation Under God'. (A curtain) will open to reveal the Hall of Presidents. The visitor will see all the Chief Executives modeled life-size. He'll think it's a waxworks-until Lincoln stands up and begins to talk."
However, technology and finances only permitted Lincoln to be built for the 1964-65 New York World's Fair and only after Walt appeared at a press conference in Springfield, Illinois on November 19, 1963 to assure the concerned citizens that he was not going to "cartoonize" Lincoln.
"Great Moments with Mr. Lincoln" was installed at Disneyland on July 18, 1965 and the expanded "Hall of Presidents" opened at the Magic Kingdom on October 1, 1971.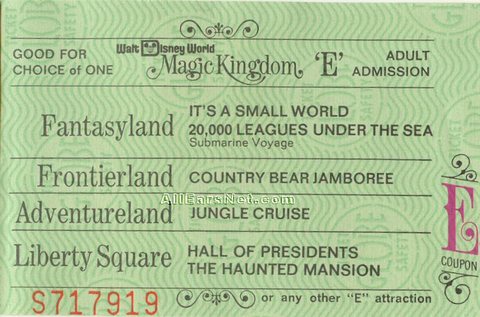 Amazingly, many WDW guests show up at Epcot's American Adventure Pavilion assuming that the Lincoln audio-animatronics figure will be there. However, Imagineers figured he was already well represented at the Magic Kingdom.
However, from September of 2007 through early this year, the American Heritage Gallery in the lobby of the "American Adventure" featured a special National Treasures exhibit.
Jim Clark, one of the team members who designed the exhibit stated in 2007, "You'll see one of Abraham Lincoln's actual stovepipe hats, which has never been publicly exhibited outside of the Lincoln Family Home in Manchester, Vermont.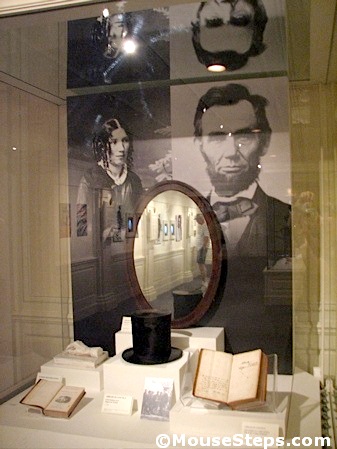 "We're also presenting many of Lincoln's personal items, like the book of Lord Byron poetry that inspired his second inaugural address, and his dressing room mirror-where he probably took his last glimpse of himself before he went off to Ford's Theater."
A new exhibit is now in the location: "Re-Discovering America: Family Treasures from the Kinsey Collection". Another reminder that things change constantly and suddenly at Disney theme parks so don't take things for granted.
At Disney Hollywood Studios, in the "One Man's Dream" attraction, you can find a brief mention on a placard about young Walt dressing up as Lincoln (but don't be fooled by the blown up photo on the wall – that's Walt and his best friend Walter Pfeiffer dressed up for one of their vaudeville comedy routines, not Walt as Lincoln).
Further into the exhibit is one of the audio-animatronics shells for the Lincoln figure. If the face looks amazing, it is because that sculptor Blaine Gibson used an 1860 life mask of Lincoln for reference but had to enlarge it slightly in order to accommodate the mechanics inside the skull.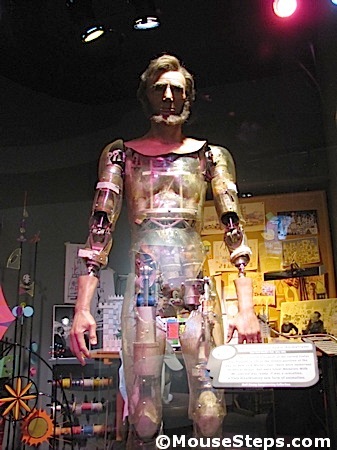 So, the late U.S. President who inspired Walt Disney for his entire life pops up quite prominently at Walt Disney World.
RELATED LINKS
====================
Read about Great Moments with Mr. Lincoln at Disneyland
Check out Jim's other "From the Attic" Blogs
Full features from the Walt Disney World Chronicles series by Jim Korkis can be found in the AllEars® Archives: /ae/archives.htm
ABOUT THE AUTHOR:
Jim Korkis is an internationally respected Disney Historian who has written hundreds of articles about all things Disney for more than three decades. As a former Walt Disney World cast member, his skills and historical knowledge were utilized by Disney Entertainment, Imagineering, Disney Design Group, Yellow Shoes Marketing, Disney Cruise Line, Disney Feature Animation Florida, Disney Institute, WDW Travel Company, Disney Vacation Club and many other departments.
He is the author of three new books, available in both paperback and Kindle versions on Amazon.com:
The Book of Mouse: A Celebration of Walt Disney's Mickey Mouse
Who's Afraid of the Song of the South
"The REVISED Vault of Walt":