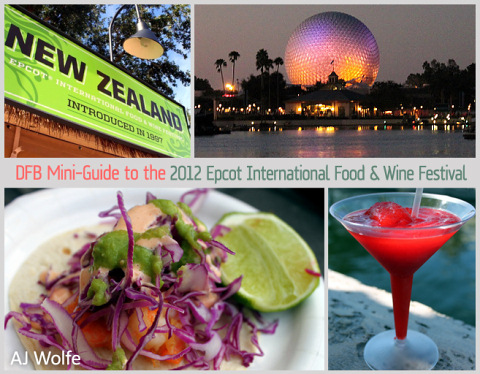 Make sure you make the most of your time at Disney World's Food & Wine Festival!
Now is the time to make plans for Epcot's Food and Wine Festival and the best resource in e-book format, is the DFB 2012 Mini-Guide to Epcot International Food and Wine Festival. This great e-book debuted last year to great reviews (including ours).
Festival Booking Begins Tuesday, August 14th! Be Prepared!!
The DFB Guide e-Book is 160 pages of in-depth information, including significant updates and 35 pages of brand new information! If you were one of the many who bought the guide last year, you know how important these details are.

We've noted all of the new marketplace booth menu items, new events, and more! Plus, we've added a brand new FAQ section and even more bonus items (including new booth crawls and touring strategies)!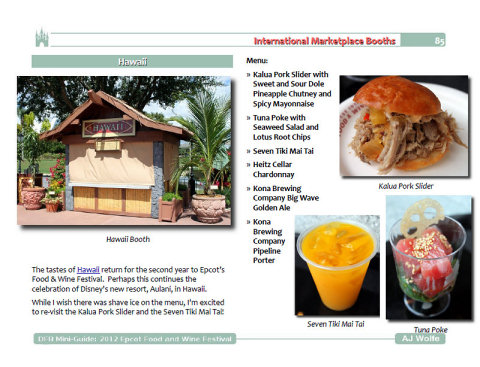 Don't get shut out of popular events, and don't wait in winding lines! We've had years of experience with the Epcot Food & Wine Festival, and we're excited to share our most exclusive information!
Remember, if you only have a few days (or less) to spend at the Festival, you want to be sure you're making the right choices!
Special Features in this edition!
Each World Showcase booth has its own page, complete with photos of the booths AND food as well as a full menu.
Full chapter on What's NEW at the 2012 Festival is great for veterans and those who have been to the festival before.
Brand new FAQ section answering broad and not-so-broad questions like "Are the booths open in the rain?", "Are the booths open during Extra Magic Hours?", and "Is there a way to pay one price for an all-you-can-eat option?"
Eleven themed booth crawls, including one for kids.
Customized touring strategies that let us do the planning for you! These include visiting for one day, two days, half-days, with kids, on a budget, and more.
Click on our link and receive a $3 discount when you enter the code ALLEARS!