I have to admit, when I posted pictures of my Pinocchio guest bathroom last month in one of my blogs, I was bragging a little bit. What can I say? I have an ego that needs stroking occasionally. LOL However, I really did believe that some of you would be interested in seeing that "Disney" can be a legitimate decorating theme just like colonial or contemporary. And I was amazed at the feedback I received.
Many of you asked if I had other rooms decorated in Disney. The answer is yes. In fact, every room in my house is decorated in this style – tastefully of course. But only two rooms have dedicated themes. You've already seen one of my "themed" rooms with my Pinocchio guest bath. Today I'm going to share with you my other themed room, my Mickey Mouse guest bedroom.
When I moved to Orlando, I knew I would have friends and family who would want to come and visit and use my house as their base of operation – and save on hotel bills. That was cool with me. So when looking for a house to buy, I knew I needed a dedicated guest bedroom – preferably with its own, private bathroom. As luck would have it, I found such a home.
I also knew that I wanted my guest bedroom to be special – something that would help set the tone for my guest's adventures to come. (Mind you folks, I did this twelve years ago, long before Disney started decorating their hotel rooms with dedicated themes.) I also knew that the vast majority of the people using my guest bedroom would be adults. So I wanted to make sure I didn't create a child's room. This blog is going to show you how I created a Mickey Mouse guest suite, suitable for all ages.
First you need to know, most of the items in this room were collected over time – and many of them are no longer for sale or available. But that doesn't mean you can't create your own themed room. You will simply have a different set of decorating items.
Before I get to the Mickey Mouse Suite, let me start with my overall home. When I moved to Orlando, I knew my house needed a grand name. All great homes have a grand name. There is the Biltmore in Asheville, North Carolina. There is the Breakers in Newport, Rhode Island. So my home would be known as Laffite's Landing. Laffite's Landing is the name of the loading dock for Pirates of the Caribbean at Disneyland so my house's moniker does have a Disney connection.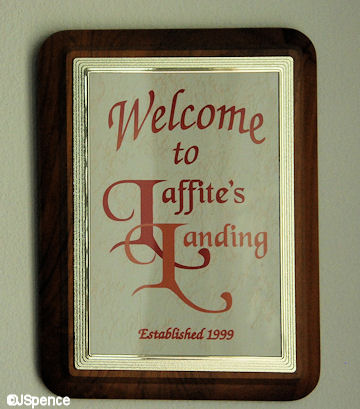 On the door to the Mickey Mouse Suite is a picture frame and door knocker. Whenever a guest will be staying in this room, I create a special sign for them and place it in the frame welcoming them to Laffite's Landing. I also include their picture. So if Deb Wills were to be my guest, her welcome sign would look something like this.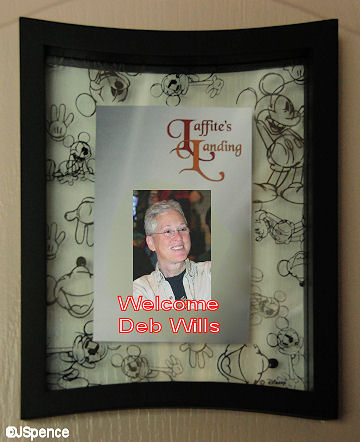 Below this welcome sign is a Mickey Mouse door knocker. Although difficult to make out in the picture, he's wearing a top hat and tails.
On the back of the bedroom door is a diagram of the house with escape routes marked in red. I take the safety of my guests very seriously. I also had a lot of time on my hands before I started writing for AllEars. LOL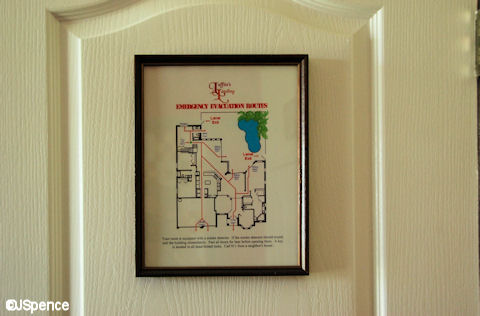 One of the first things I needed to do when designing the Mickey Mouse Suite was to come up with a color scheme. Of course, the obvious choices are red, black, white, and yellow. So that's exactly what I picked. However, you need to be careful when decorating with red and black. These are strong colors that can overpower a small room. To that end, I decided to paint one accent wall in red with the other three walls in white. This worked quite nicely.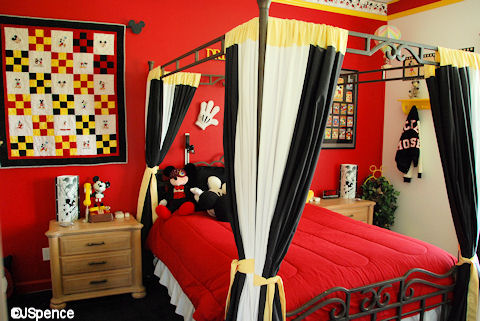 For the carpet, I took a gamble and selected black. I really debated before choosing this color. The wrong paint color is easily and cheaply remedied, but the wrong carpet color is costly to correct. Happily, the black carpet was the perfect choice. One thing to remember, dark colors show every piece of lint and dust. But because this room only receives light traffic, it's okay.
When it came to choosing a bedspread, I decided to stay away from those featuring Mickey Mouse prints. Although there were several I liked, I felt it could make my room too busy. Instead, I stuck with solid colors. The dust ruffle is white and the spread is red. The pillow duvet is black, and the bed curtains are white and black with yellow accents and ties. I made these curtains myself using inexpensive sheets. I topped the bed with four Mickey pillows that resemble his shoe, pants, ears, and glove. In addition, I added Mickey and Minnie plushes.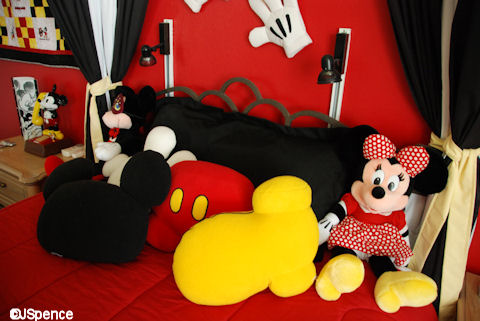 Over the plush Mickey's eyes is a Mickey sleep mask for those who need a little extra darkness.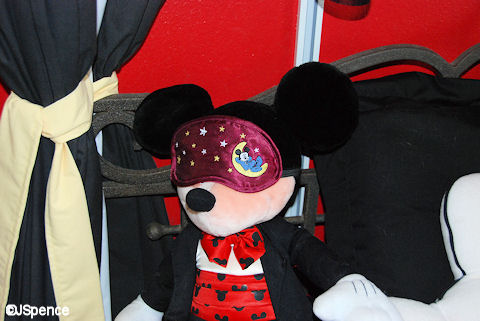 Above the headboard are two reading lights and Mickey's gloves. High above the bed is a "DREAM" sign I found. I painted it yellow and it fits perfectly.
I had a roll of Mickey Mouse wallpaper boarder that someone had given me, but not enough to circle the entire room. So I used what I had on the red accent wall only. To complete the circle around the rest of the room, I painted a red stripe and capped it with yellow molding.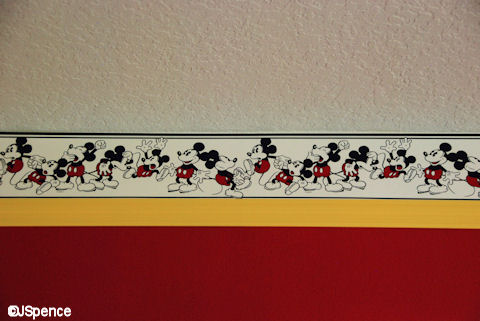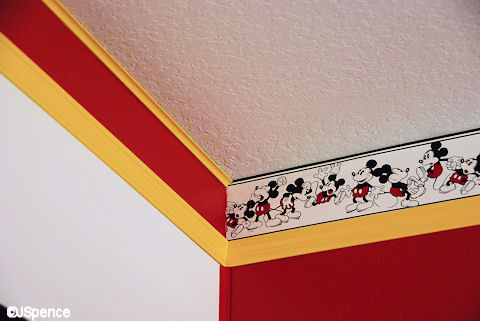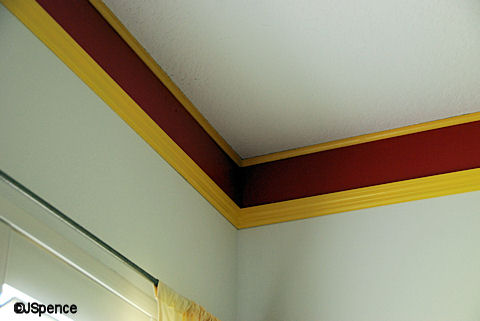 Because I didn't want to go overboard with Mickey colors (too late) and give the room a juvenile feel, I decided the furniture should have a more natural look. I settled on a light wood tone. I picked a similar color for the ceiling fan.
On the night stands are Mickey lamps that were once sold at a shop called "Disney Home Store" located at Downtown Disney. This store sold all sorts of Disney related items for the home like linens, bedding, furniture, hardware, kitchen items and more. Unfortunately, in an effort to save money, Disney greatly decreased their high end line of merchandise and this shopped was closed. Sigh.
Of course, no Mickey Mouse room would be complete without a Mickey telephone. In the Mickey shaped dish, I place red, black, yellow, and white M&M's when guests are expected.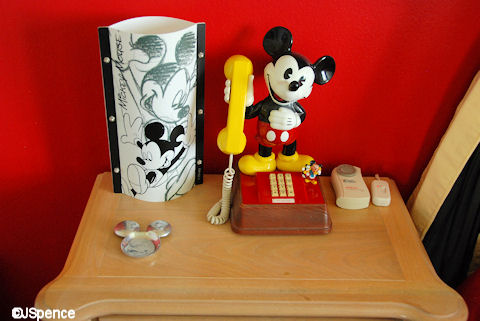 For three dollars I was able to purchase an old coat rack that was once used at Port Orleans. On each end are cutouts of Mickey's silhouette. I sprayed the shelf with a texture coating then painted it yellow. I hung a Mickey Mouse jacket on one peg to make it look functional. On top are a bobble-head Mickey and an inexpensive reproduction of an antique Mickey & Minnie toy.
I realize that flat screen TVs are now the norm, but I wouldn't give up my old tube Mickey Mouse TV and DVD player for anything. I also made a Mickey Mouse accented shelf to hold a selection of Disney movies for my guests.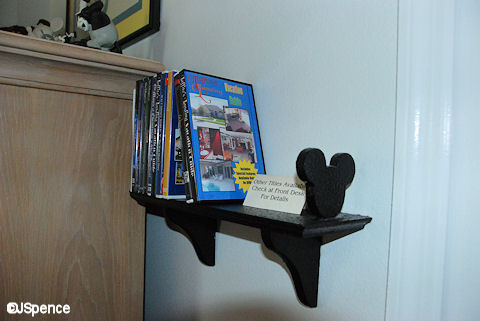 Two of my prized possessions in this room are quilts that friends/guests made for me as thank you gifts after staying in the Mickey Mouse Suite. One I have hung on the wall as it features all Mickey characters and the color scheme is correct. To help theme the bar from which it is hung, I added Styrofoam Mickey silhouettes to each end.
The other quilt was much larger and features dozens of different Disney characters. This quilt is draped over a Mickey Mouse quilt rack.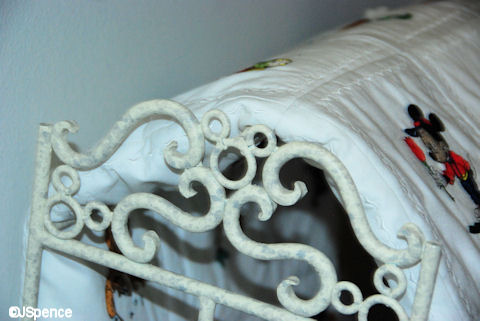 Since this is a guest room, I felt my lodgers would like a mirror in the bedroom. Here I took an inexpensive mirror I purchased at a home improvement store, framed it with molding, and painted it accent yellow. I also installed a small shelf so my guests would have a place for keys, coins, and other small items.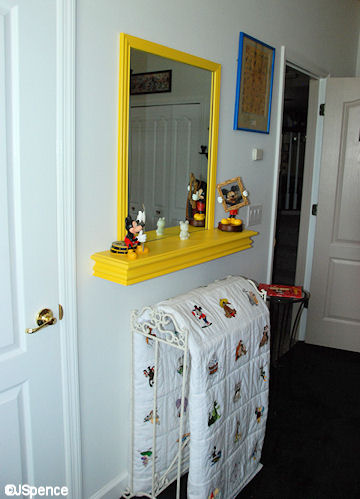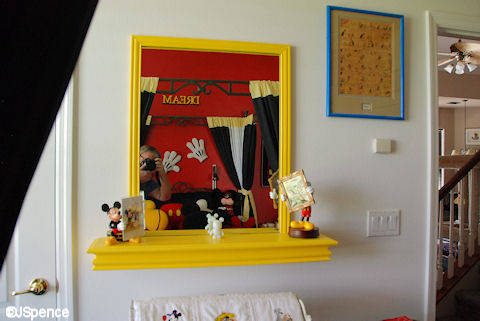 On this shelf sits Mickey Mouse holding a picture frame. However, I didn't know whose picture to put in the frame. A photo of me would be a bit too narcissistic. Since I've already used my guest's picture on the bedroom door, I had to come up with another idea. So I took a picture of the Mickey, holding the picture frame. Then, using the magic of computer graphics, I duplicated the picture again and again, giving Mickey infinity into nothingness.
Some time ago, Disney sold Mickey Mouse letter-writing kits. Since all fine hotels feature postcards, stationary, and envelopes, I purchased a number of these kits for my guests. However, to my knowledge, no one has ever used one sheet of paper – and I even include stamps!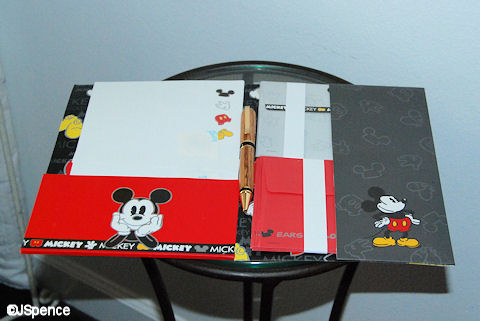 I've also carried out the Mickey Mouse theme in the closet. Here I have coat hangers that sport this famous guy's face. I also provide Mickey Mouse robes for my guests.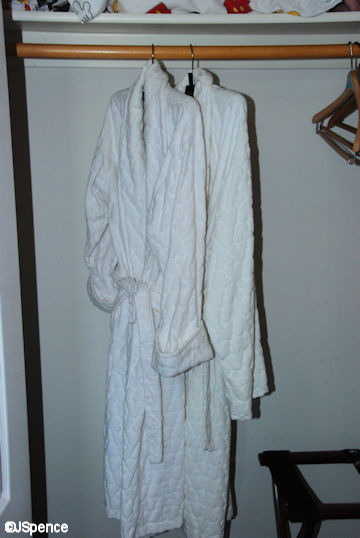 Here are a few other pictures of the bedroom.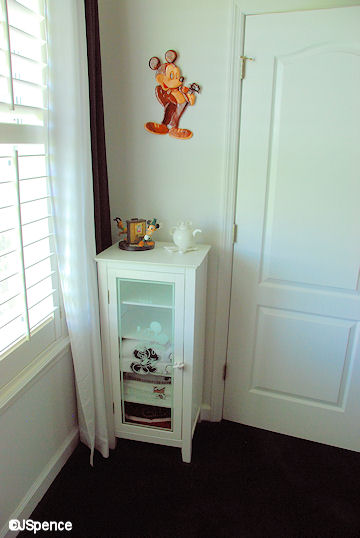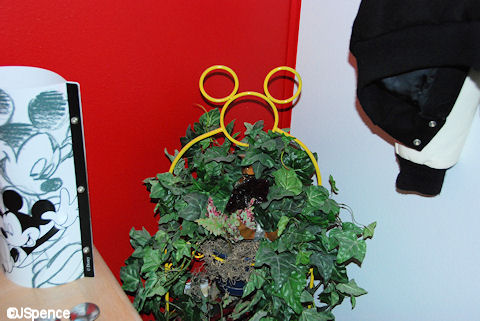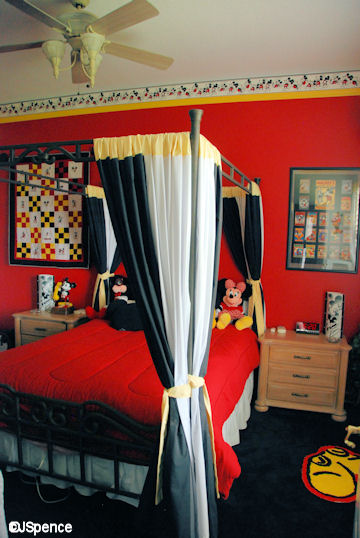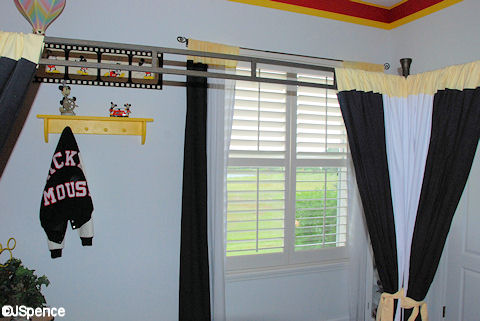 Knowing I was going to theme my guest bedroom and bathroom after Mickey, I chose the colors in the bath before the house was built. For the floor I picked white tile with red veins of color. The grout is red. For the vanity I selected white with a red laminate top and a black accent stripe. I also found some Mickey Mouse knobs that fit perfectly on the cabinets and drawers.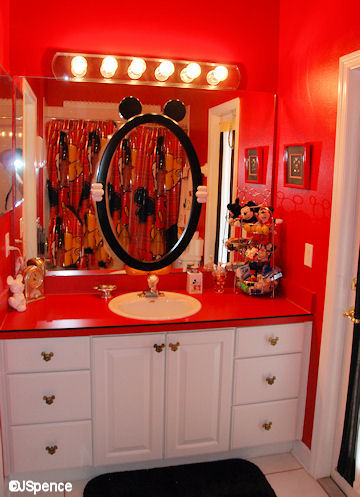 I found a great Mickey Mouse mirror at the Disney Home Store. At first I thought that I would remove the large mirror and only use the smaller Mickey Mouse mirror in this room. But this is a small space and the large mirror helps it from becoming claustrophobic. So in the end, I glued the Mickey Mouse mirror over the existing mirror.
On the sink I have a Mickey Mouse "basket." In it I keep all sorts of toiletries in case my guests have forgotten toothpaste, shaving cream, shampoo, and the like. I also have a Mickey Mouse soap dish with Mickey Mouse soap. A number of years ago, Disney sold Mickey branded toiletries and I stocked up on them knowing I would need them in the future.
The shower curtain and towels also sport our friend. The shower curtain is hung with Mickey hooks.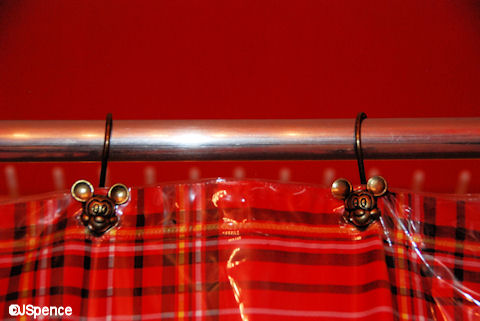 In the tub I have non-slip Mickeys.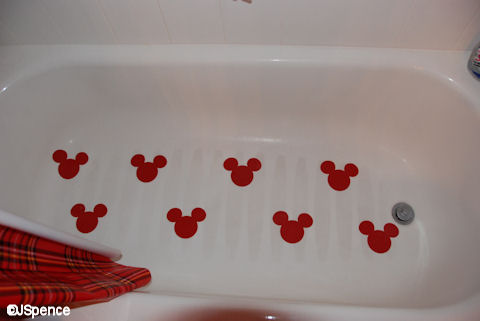 I installed a magazine rack across from the toilet. I always keep a Disney magazine and the current park maps and times guides for my guests to glance through while taking care of business.
Just like I do with my Disney hotel rooms, I've created a video of my Mickey Mouse Suite (tongue in cheek). It runs a little under three minutes. Enjoy.
So there you have it, my Mickey Mouse Suite. Is it a little over the top? Of course it is. But I'm not decorating for Vern Yip and Genevieve Gorder on HGTV's "Design Star." I'm decorating for myself, friends, and family. I don't really care if other people like it or not. I like it and that's all that matters.
Collectively I spent a few bucks on this bedroom and bath. But individually, nothing in these rooms was very expensive. In fact, most of the items were necessary regardless what decorating style I went with. You need paint, bedding, towels, and knickknacks in any bedroom and bath. I just selected a rather unorthodox theme (by most people's standards). So if you have an idea, go for it. You've got very little to lose and everything to gain.