Back in August, we featured a Disney Pic of the Week theme called Lucky Shot. I received an email from a regular reader and commenter Steve Knapp about his unlucky shot. Here is his story.
I tried posting a comment to your blog about "lucky shots" but something with my office system wouldn't permit me to post it. Then I got busy and totally forgot about it. But I wanted to make sure to let you know my experience with an "unlucky" shot.
I had the chance to take a photo of a lifetime and totally blew it. I was selected for this opportunity during the Flights of Wonder show in Disney's Animal Kingdom. Seated on stage, they released a bird from the back of the seating area and he flew right over me and another tourist. Before the release, the host told us to both focus on a spot at the end of the stage. Using my Nikon D5000 with the 55-200mm lens, I set my dial to "action" and focused on that spot. What I wasn't told was this bird had over a 6 foot wing span and I wasn't prepared for the speed of the bird as it flew. Needless to say, my autofocus shifted to the audience and, well, let's just say it was a nice photo of the audience as the bird flew quickly through my set spot. The other tourist missed the shot, too. As we were being led on stage, I almost shifted my settings to the multiple framed (ie., continuous or burst mode) setting. I should have also switched to using my 18-55mm lens and started shooting as soon as the bird left the handlers hand, tracking it all the way over my head. Attached is a picture of the bird, an Abyssinian Ground Hornbill, on its perch, which was my consolation picture! I did switch to the multiple frames setting for the rest of the show, capturing a few good shots of birds in mid-flight.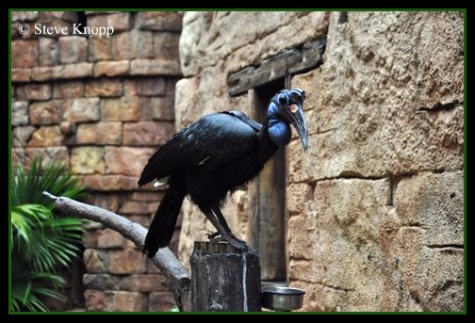 Abyssinian Ground Hornbill photographed by Steve Knapp at the Flights of Wonder.
Steve went on to say there really is no such thing as an "unlucky" photo at Walt Disney World and he did come home with lots of good photos.
I want to thank Steve for passing on his experience on stage during the Flights of Wonder show. Now I (and all of you) have a good idea what to expect if any of us are selected for such a photo opportunity.