Lee and I are back in Florida again for a four-night Bahamas cruise on the Disney Dream, and then a couple of days at Epcot's Food and Wine Festival. This will be his first time on the Dream, since he wasn't on the Christening Cruise. And I'm looking forward to having more than 40 hours on the ship this time – the Christening Cruise was quite a whirlwind trip for us. There was so much more to see and do than we had time for!
We arrived on Saturday evening – we had all carryon luggage so went straight to Disney's Magical Express and were soon on our way to Saratoga Springs. It was all pretty efficient – we landed about about 4:45 and we IN our room at Saratoga Springs by 6:30.
We were in a studio – seems a little smaller than the studios we are used to at Boardwalk Villas – there's very little space between the one side of the queen bed and the wall, since there's no nightstand.
One nice thing: apparently as of Friday, all of the Deluxe resorts, DVC resorts, and Coronado Springs have converted to free wireless internet access for all guests! It's so nice not to hassle with the network cable and "signing in" and all of that. It seems faster to me than the wired access was, also.
For those of you familiar with Saratoga Springs, our room was alllll the way in The Carousel, on the far corner of that buidling – basically as far away as you can get from anything. We're walkers so it's not really so bad, though I wouldn't want to do it on a hot and humid day.
We decided to walk over to Downtown Disney for dinner – trying to figure out how to do that was a challenge, because all of the directory maps are oriented awkwardly, and the path is really not well marked. We found one sign that indicated it was the path to Downtown Disney…but then we came to another intersection that wasn't marked. We eventually figure it out. It's a pretty good walk from where we were – about 1.2 miles. We saw a beautiful sunset!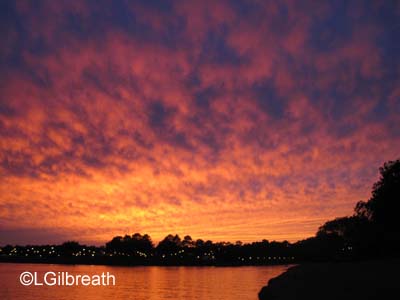 Earl of Sandwich sounded good for dinner – it was very busy, though, and the line was long. I had their seasonal Holiday Sandwich, which was turkey, cranberry sauce, stuffing, and gravy. It was very tasty, though it needed more cranberry sauce. Lee had the All-American, which is also turkey and cranberry sauce, but it has lettuce, tomato, and cheddar cheese. We shared, and had half of each sandwich. 🙂
Downtown Disney was incredibly busy, as it always seems to be. Why isn't everybody in the theme parks like they should be? 🙂
For dessert we went over to babycakes NYC, located inside what used to be McDonald's, and is now the bakery, Pollo Campero, and Fresh A'Peel. This is a vegan and gluten-free bakery, and is also dairy-free, soy-free, and egg-free. Lee wondered how a place that didn't use any of those ingredients could possibly be anything other than "taste-free", but a bite of his cinnamon doughnut quickly convinced him otherwise – he said it was as good as any cake doughnut he'd ever had! We also got some of the chocolate chip cookies, which taste a lot like the "breakfast cookies" that his grandmother used to make – only they aren't full of butter like hers were.
But we also stopped by Ghirardelli and bought a selection of their "Intense Dark" squares. Yum. 🙂
On the walk back (and continuing on since then) we've had a "discussion" about Saratoga Springs. My opinion is that it's a nice-enough resort, but it doesn't have any appeal of its own like most of the rest of the DVC resorts do – nothing about the resort itself (location, theme, or amenities) that makes you want to stay there specifically. Most of the people who own here don't STAY here, and since it's such a large resort, it means a huge bunch of people are staying in the other "preferred" DVC resorts. So if you don't make your DVC reservations at least 6 months in advance you almost invariably get stuck at Saratoga Springs. I find that frustrating. Lee likes the resort and I think he's about to start a "Give Saratoga Springs Some Love" campaign. 🙂
So, today (Sunday) we slept in – though 8:57 a.m. here means 5:57 a.m. in California… It was too late to think about going to a theme park, since we had to be back at Saratoga Springs to catch our bus by noon.
So we had breakfast at Artists Palette, packed and eventually schlepped our bags over to the Carriage House (got everything in two carry-on bags). The bus stopped at two other resorts after Saratoga, so it was 1:00 by the time we really got on the road, and 2:00 by the time we made it to the port. (This photo is the lights inside Artists Palette.)
It was nice to see the Dream again. Check-in and boarding were a breeze – quite UNLIKE our last Disney Cruise check-in experience in San Pedro, where they were having computer problems and we stood in line for 90 minutes to check in.
We were able to go straight to our stateroom – we are on deck 8 forward, starboard side. Maybe one of these days we'll get a cabin on the port side – six cruises, and I've always been on the starboard side! 🙂 One thing that is different this time – the head of our bed is on the forward side of the cabin and not the aft side.
After lunch at Cabanas we did some exploring until the lifeboat drill, since Lee hasn't been on the Dream before. He was fascinated by the automatic doors into the Cove Cafe.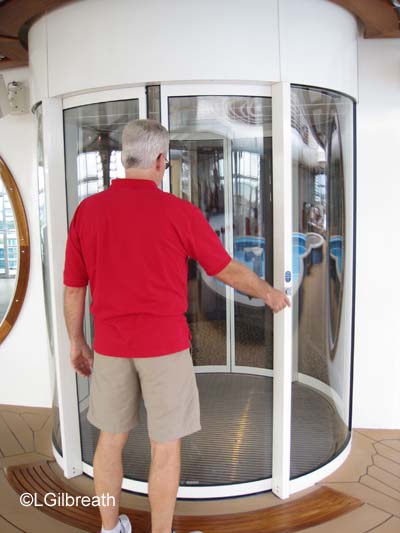 We were unpacking during the Sailaway Party, so we missed that – we did get to the Golden Mickeys show, though. It's a little different than the version we've seen on the Magic and the Wonder. We both really like the new Rapunzel number (I See the Light).
The staging and musical numbers are great, but I could do without the whole Ensign Benson sub-plot (yes, I know I've said that before).
Before the show the Captain came out and introduced himself and his staff. He was more personable than the other captains I've seen – he told us that we didn't have to worry about who was in charge when we saw him elsewhere on the ship because there are several other captains on board…Captain Mickey, Captain Jack, and Captain Hook…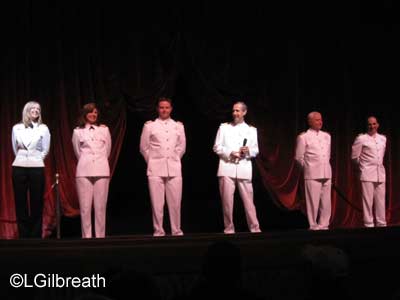 Our stateroom host is Omar, and he's been great so far. Tonight's first towel creation is a seal, and in the tradition of many previous towel creations, it's wearing my sunglasses.
Dinner tonight was at Enchanted Garden – that's the first time I've had dinner there, since we didn't eat there on the two-night Christening Cruise. I'll have lots more on the food in a separate food blog. I will say I was very impressed that for a change everything came out hot – too often on the Wonder and the Magic the food has been only lukewarm by the time it's delivered to the table, especially the soups.
Nassau tomorrow – seems like a good reason to just stay on the ship…