by Erin Foster
Guest Blogger
The Disney Magic made its home in the Mediterranean this summer and Adventures by Disney went with it, creating trips specially designed as companions to the Disney Cruise Line Mediterranean sailings.
I had the great good fortune to experience both of these special AbD trips, Barcelona Escape and Mediterranean Magic, in conjunction with a Magic voyage. Talk about a perfect summer vacation.
BEFORE THE TRIP
The combined booking for all components of the trip was quite complex. Based on heavy-duty number-crunching by my husband, we chose to make a partial payment using our Disney Vacation Club points. This meant that we were dealing with three different arms of the Disney company, AbD, DVC, and DCL, to construct our package.
We started with an extremely competent rep at DVC who spent nearly an hour and a half on the phone with us, acting as a liaison between each of the parties involved, communicating every step of the way. In the end, we were left feeling completely confident that our booking had been made in the most cost-effective manner based on our needs.
In the weeks leading up to the trip, we received periodic mailings from both DCL and AbD with packing tips, itinerary reminders, countdown calendars, and fun gifts like special Adventures by Disney backpacks for everyone in the family.
BARCELONA ESCAPE, ARRIVAL DAY
The first part of our trip was the Barcelona Escape. Barcelona Escape was a mini AbD experience. While most Adventure trips are 7 to 10 days long, the Barcelona trip was only three days and change and was offered as a trip extension only to guests sailing on the Magic.
We left JFK airport in the evening and after an overnight flight (direct!) we arrived only semi-exhausted at the Barcelona airport. We gathered our bags, made our way through passport control and were met on the other side by James, one of our unflappable, indefatigable, and utterly charming guides for the trip. You'll probably get sick of hearing me gush about our guides, but truly, there is not enough praise for them.
Following brief introductions, James escorted us to a private car with a driver instructed to take us to our home in Barcelona: the Gran Palace Hotel, about half an hour away from the airport.
Upon arrival at the hotel, we hopped right out of the car, with no need to tip the driver. All incidental gratuities along the way (drivers, local guides, waitstaff, bellmen, housekeepers) are included in your AbD package. Even later, gratuities for the Magic cast such as waiters and room attendants were include in our package.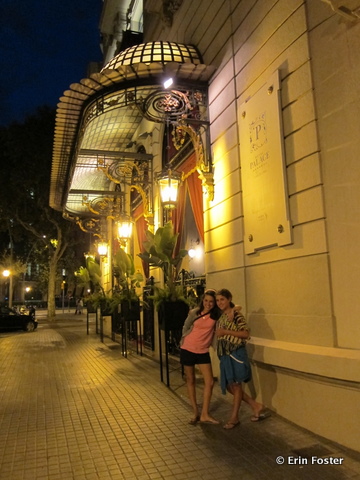 We were met at the Palace by Dusty, our other gracious and preternaturally competent guide. Dusty ushered us into the magnificent hotel lobby where he explained that our AbD program officially began in the evening, so we had the afternoon on our own to explore and freshen up after our travels. He offered restaurant suggestions, nearby activities, maps and guidebooks, and then had us taken to our rooms.
Because we were a family of five (myself, my husband Jeff, and our three daughters, 15-year-old Charlie and 11-year-old twins Josie and Louisa), we were given two rooms, one with a king-size bed and one with two single beds and a full-sized pull-out couch. The rooms were extraordinarily large, especially by European standards, and well appointed with slippers, robes, ample storage space, Jacuzzi-style tubs and rainshower showers, and L'Occitaine toiletries. There was also a business center and free WiFi in the lobby. They even had a pillow menu with six different types of firmness and construction to choose from.
Based on Dusty's suggestions, we ventured out for a simple tapas lunch at a restaurant about two blocks from the hotel: Divinus.
We feasted on plates of local dry hams, marinated artichokes, meatballs, and spicy shrimp.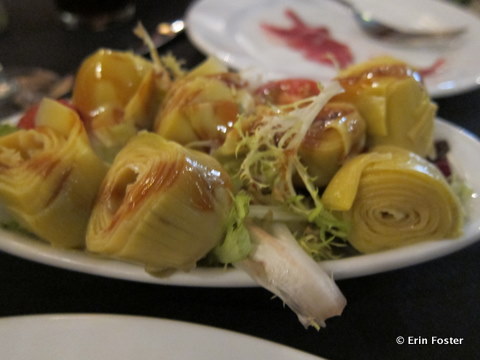 Then, again following Dusty's suggestion, we meandered down Las Ramblas, one of the biggest shopping streets in Barcelona. This busy avenue combined international chains (Zara clothing, for example) with small local street vendors. Our favorite part of Las Ramblas was the Mercat de Boqueria, a bustle of fresh food stalls.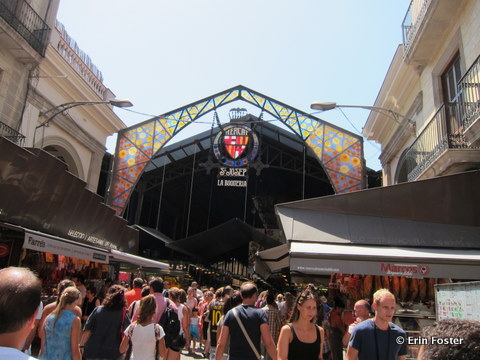 The afternoon ended with a quick stop in the Chocolate Museum, a bite-sized repository for information about the history and making of, you guessed it, chocolate. The best part – our tickets to the museum were chocolate bars. After your visit, you get to eat the ticket.
Many of the museum's displays were large sculptures constructed entirely of chocolate. Several of them used Disney characters and films for inspiration.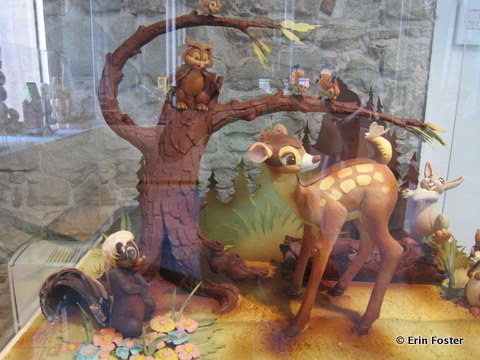 Back at the hotel, we met up with our entire Adventure group — Guides James and Dusty, plus a total of 23 guests from six families. AbD tours can accommodate up to 40 guests, but ours was pleasantly intimate. The children in the group ranged from age 7 to 17. Following quick introductions, we boarded a bus headed for a brief ride to El Xalet in the Montjuic district of Barcelona. On the way we passed some of the venues constructed for the 1992 Olympic Games as well as an ornate former bullfighting ring turned shopping mall.
At El Xalet, we bonded with our new friends, feasted on breads, salad, and a choice of roasted chicken or baked cod, and enjoyed spectacular panoramic views of the city. Dessert was a silky crème Catalan, the local sweet specialty which is sort of a cross between flan and tiramisu.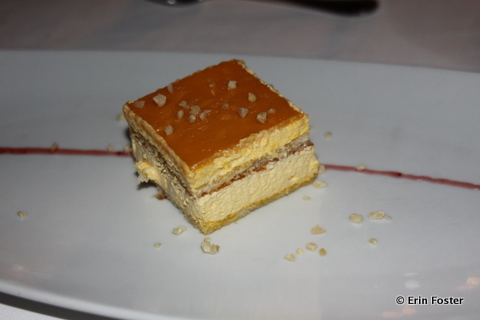 As an example of the quick kindness of our guides, when the entrees were brought to the table, Dusty immediately saw that a 7-year-old boy in our group found the adult chicken meal to be more appealing than the child's breaded chicken meal he had ordered. Without batting an eyelash, Dusty immediately switched his own plate with the boy's, giving the young guest what he wanted, seamlessly and without incident.