by Erin Foster
Guest Blogger
BARCELONA ESCAPE DAY 2, EL GRAN MAESTRO
The day started with breakfast at the hotel's sunny patio restaurant. The selection was buffet-style and, due to the hotel's international clientele, included morning foods from a variety of cultures. My oldest daughter's typical plate included French-prep scrambled eggs, Spanish chorizo, and Japanese dumplings.
In addition to our two Disney guides, at each stop on the tour we were joined by local guides who were fluent in the language and expert in the culture of each locale. Our guide for Spain was Estrela, a font of information about art and history.
Our first stop of the day was Barcelona's Parque Guell designed by Antonio Gaudi, a monument to the Modernist art movement, now designated as a World Heritage site by Unesco. The fanciful structures and candy-colored undulating bench seemed more like a Willy Wonka movie set than a real-world experience. After Estrela led a brief walking tour, we were given time on our own to explore the park and purchase souvenirs.
The centerpiece of the park is Gaudi's mosaic salamander, which has become a visual icon for all of Barcelona. Representations of the salamander were ubiquitous throughout the city.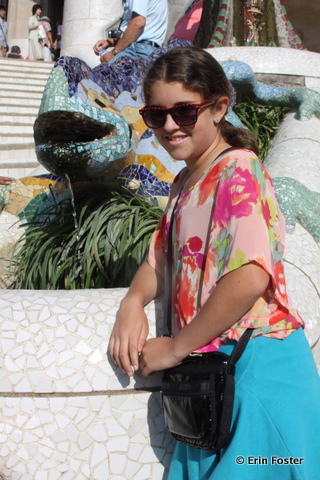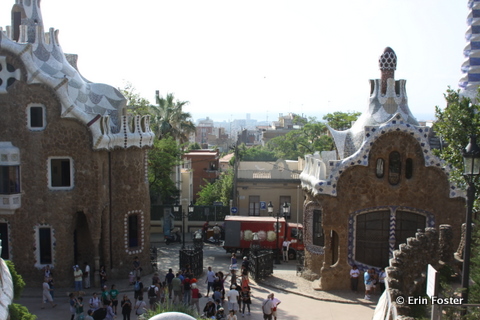 Our next visit was to the Basilica de la Sagrada Familia. Construction on this Gaudi-designed church was begun in 1882 and continues today.
The Sagrada Familia visit was a great example of the Adventures by Disney difference. The queue to enter the cathedral that morning was easily 500 people deep, with a wait time of several hours. Disney and our guides arranged a special entrance and we were escorted in immediately upon arrival, bypassing all lines. This was typical of every one of our cultural site visits. We had a FastPass to Europe!
I had previously visited many European cathedrals but have never experienced anything as unique and uniquely breathtaking as the Sagrada Familia. In the nearly two weeks of our vacation, this visit was the highlight for me. I simply could stop staring at the soaring, color-saturated windows. I haven't figured out how yet, but I'm going to find a way to get back there someday.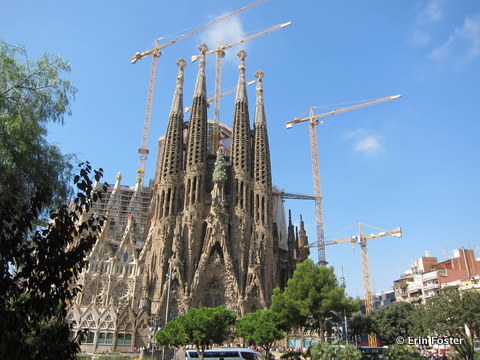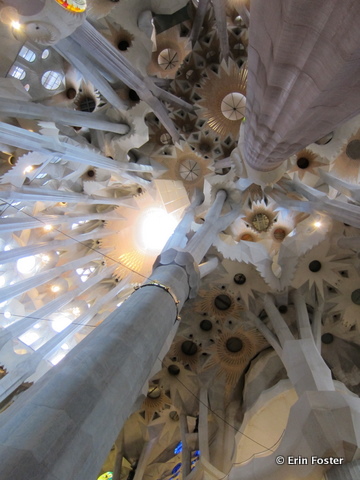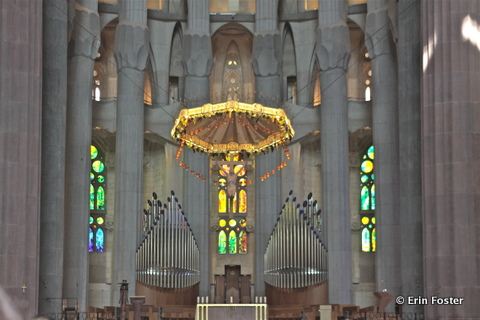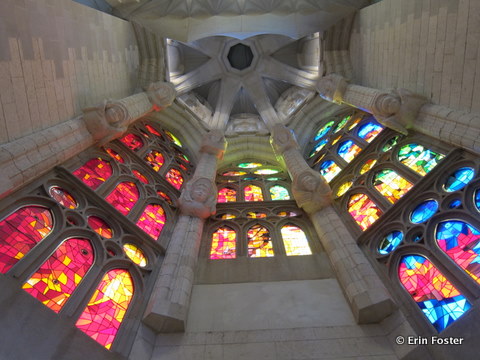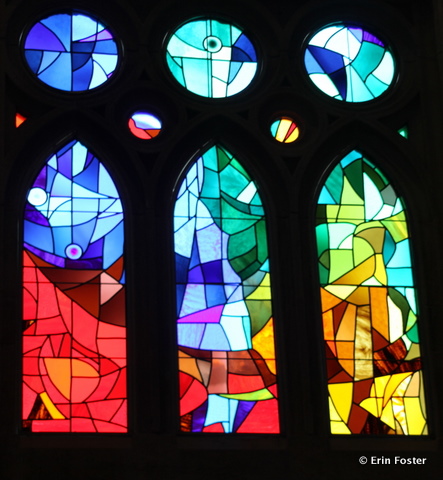 Our day continued with lunch at Can Travi Nou Restaurant where we dined on a family-style lunch of tapas. Before the meal, guide Dusty was at the ready with four different kinds of hand sanitizer for us to choose from. The contents of Dusty's Mary-Poppins backback was an endless source of fascination. An Adventurer broke a toe; Dusty pulls duct tape out of the backpack to tape it up. An Adventurer is thirsty; Dusty extracts a water bottle from his backpack. An Adventurer is overheating; Dusty pulls a massive Chinese fan from his backpack and creates a cool breeze. Amazing.
Back at the restaurant, I lost count once we crossed more than a dozen dishes that were brought to the table: tuna, roasted vegetables, marinated beans, sausages, chicken croquettes, pasta, mushroom casserole, a different variation on Crème Catalan, and on and on. We were welcome to have as much or as little as we liked. Most of the Adventurers took the opportunity to try several new dishes.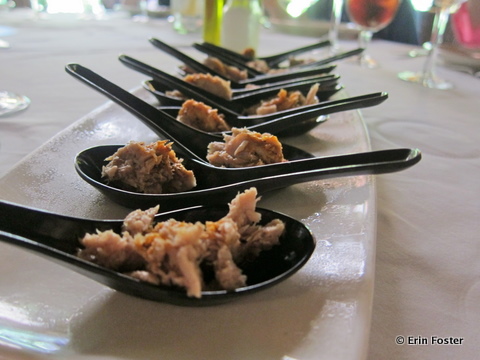 Following lunch, we moved into a shady alcove where local artisans instructed us in painting glassware and pottery in the style of Gaudi.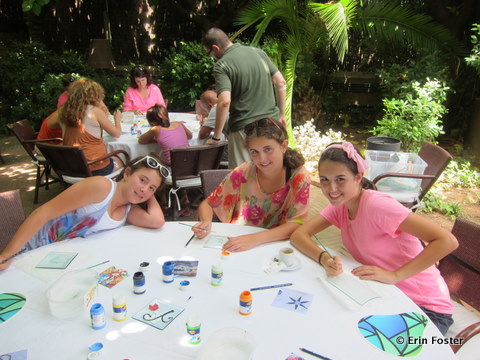 The end of our day was filled with a walking tour of Barcelona's historic Gothic Quarter and dinner on our own. My family was still adjusting to time zone changes. I confess that we took naps in the late afternoon and then went for a stroll around the neighborhood near the hotel. We ended up feasting on gelato for dinner. Only on vacation folks, only on vacation.
BARCELONA ESCAPE DAY 3, LA VIDA DE CATALONIA

Up early for another breakfast buffet at the hotel, then onto buses for an hour-long ride to Montserrat.
Montserrat means "serrated mountain." From a distance, it's easy to see why this name stuck. The jagged peaks of the mountain certainly resembled the edge of a serrated knife.
Our principle cultural activity at Montserrat was a visit to the Cathedral to see the famed black Madonna, la Moreneta. We were allowed to place our hands on the globe in her hand as a blessing for good luck.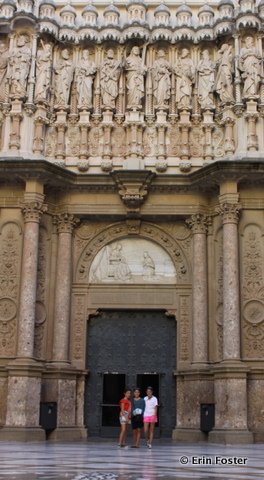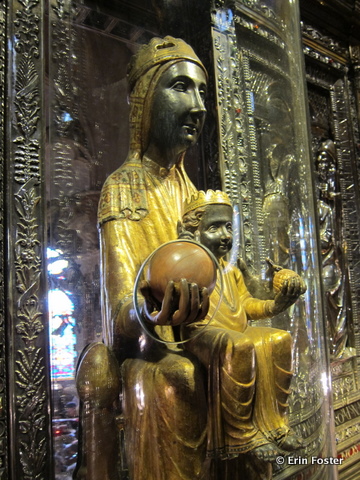 When the church visit was done, we boarded a funicular and ascended further up the mountain for panoramic views of the valley below. We then were given an hour to either take a gentle hike down the mountain or ride the funicular back to the village for relaxation and shopping. The group split fairly evenly. Those who know me will not be surprised that I ended up in the exact inverse of the hiking; I purchased and ate several varieties of local chocolate.
Lunch was at the Restaurant Montserrat with a selection of cold meats or paella.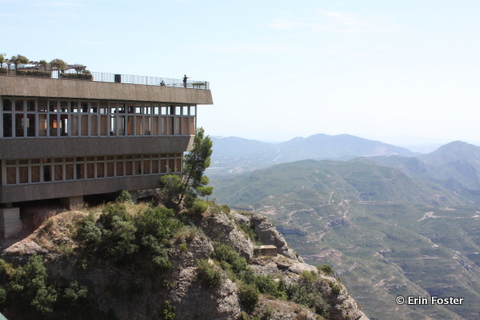 Back in Barcelona proper in the afternoon, we headed out to Pueblo Espanol. Our guide James described this as the Epcot World Showcase of Spain. The tiny walled village is divided into sections with varying architecture to match the varying building styles in 15 different regions of Spain. Each "pavilion" had shops, restaurants, and artisan demonstrations typical of the represented region. Sound familiar?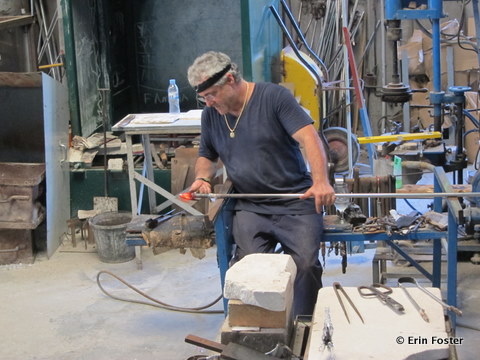 In addition to exploring, we were treated to dinner at Tablao de Carmen, with Flamenco dancers as the entertainment. If I had one word to describe the performance, I'd choose "fierce." These dancers were among the most passionate people I had ever seen.