Citizens of Hollywood were first termed Streetmosphere when Disney's Hollywood Studios opened as Disney-MGM Studios. All parks have streetmosphere performers and are a ball to interact with. If you Search our blog for streetmosphere, you will find lots of our blog posts feature these sparkling entertainers. My favorite Streetmosphere performer is Frederick Lewenowsky who is a member of the Hollywood Public Works team.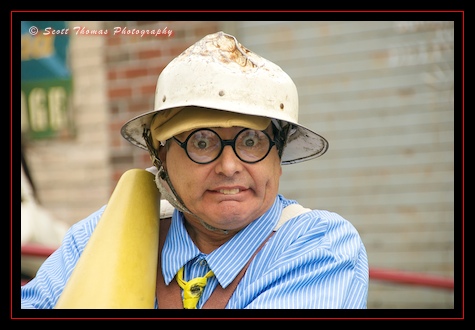 Streetmosphere performer Frederick Lewenowsky in Disney's Hollywood Studios.
Nikon D70/18-200VR, 1/20os, f/5.6, ISO 200, EV +0.3, 150mm Focal Length.
Barrie and Lisa will be here on Thursday and Saturday to share their favorite Streetmosphere performers for their Disney Pic of Week.