I know, you were probably expecting to see this a few days ago – but you know how it is after you get home – and especially if you go back to work the next day! Real life is really not a lot of fun most of the time. I think I get especially spoiled on cruises, where someone asks me what I want to eat and serves it to me, does the dishes, cleans my room…
So, on Tuesday morning we arrived in Vancouver – not actually as early as I thought we would! We got up about 6:30, and the ship was just about to go under the Lions Gate Bridge, and then past Stanley Park.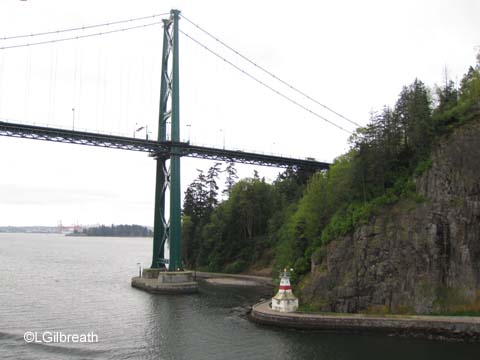 There was quite a crowd at Beach Blanket Buffet, which opened at 6:45 – apparently lots of people wanted to get off the ship early. (I never want to, but since we had an early flight, we had to get going early.)
Those of us with flights prior to 12:30 had been advised to go to the Walt Disney Theater and wait until they called us. A bunch of us lined up in the lobby instead, though. 🙂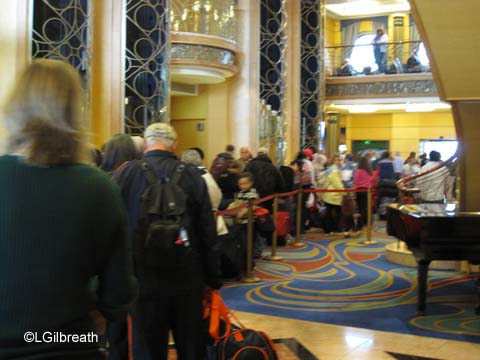 Once the ship was cleared by customs, the first people allowed to disembark were those who were carrying ALL of their luggage off the ship themselves – those of us who had given bags to Disney (and were the first group, with Chip and Dale luggage tags) had to wait another 15 or so minutes before we could go. So, if you want to get off the ship as early as possible, you'll need to carry all of your luggage yourself.
It was about 8:20 when we got off the ship. There wasn't too much of a line at Customs yet, and they had about 6 lanes open, so that went very quickly. They'd given us the Customs forms the night before and we had already filled them out. We showed our passports and answered a couple of questions and we were done.
And then it was time to find our two bags – which were of course in the furthest row (though at least they were closer to the exit that way!). We were traveling with Deb, Beci, and Michelle to the airport, so we all met up after we'd collected our bags and walked to where the van was picking us up. Fortunately Beci knew where we were going. Apparently at Canada Place the vans/cars wait someplace else, and a dispatcher summons them when the guests who ordered them arrive. It was a pretty short wait, though. With all of our bags the back of the van was packed!
The drive to the airport was 25 minutes or so – city streets, mostly with lots of stop lights, so it took some time. But we were still doing ok on time – our flight was at 11:48, and it was a little after 9:00 when we arrived at the airport.
We had to show our passports I don't know how many times as we checked in, dropped off our checked bags, went through security, and then we went through U.S. Customs. And then we could finally put away our passports. (Each place seemed to have a person who checked the passports as we entered the line, and then another one who actually processed us.) I have to say that the Canadian version of TSA inspired a lot more confidence than the American version.
We found Beci and MIchelle waiting at a Delta gate not too far from where we were going, and since we still had about two hours until our flight we all hung out together for awhile – Deb and several other cruisers joined us there, and most of us took advantage of the free wireless internet.
Then it was one last goodbye as we went to our gate. We were on a type of plane I'd never been on before – the wings were above the fuselage.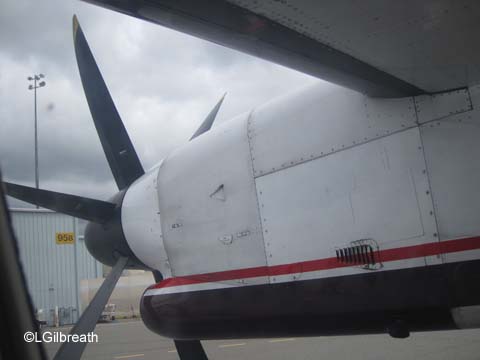 We had an uneventful flight to Seattle, where we had a two-hour layover, but again, we had free wi-fi access (thank you, Google!). I don't know if it made it better or worse, but this light fixture in the food court reminded me of the chandelier on the Wonder.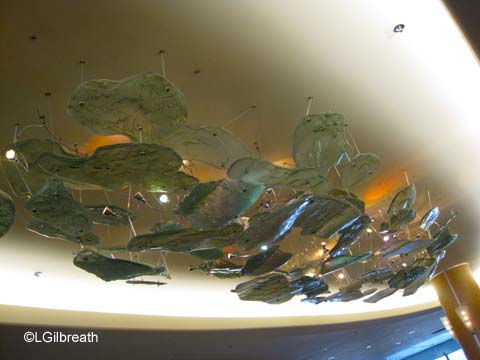 The rest of our trip was uneventful – it was VERY nice not to have to fly across country, and to get home in about 5 hours instead of 8. Not to mention that whole not changing timezones thing.
So, some final thoughts and impressions in no particular order…
Before the trip I really wondered what sorts of adaptations they had made to the ship to prepare for Alaska weather – because I've been cold on the ships when we've been in the Caribbean! But I found the temperature to be quite comfortable – I normally wore pants and a long-sleeved shirt, and that was fine. A couple of times I had short sleeves and was ok, too. We did adjust the temperature in our stateroom upwards, and at times I found it a little chilly as compared to the hallway, but mostly it was fine, or I'd put on a light sweater or jacket. The public spaces, even the restaurants, were pretty good – it was only when I was right next to an exterior door that it was (not surprisingly) a lot cooler.
They have increased the water temperature in the pools to about 90 degrees. I was surprised at how many people (mostly kids, of course) were in them, even on days that were not particularly sunny. And people took a lot of advantage of the hot tubs.
I really miss the hot water in the shower – I never get water that hot at home, and I have to wait a whole lot longer to get hot water out of the tap!
The enclosed area called the Outlook Cafe on Deck 10 (with interior staircases that connect it to the Cove Cafe below) was quite popular – especially on sea days. The bar upstairs serves specialty coffee beverages and tea, wine, and cocktails – Lee says they make a fine mocha. 🙂 The bar downstairs might have only coffee and other hot beverages, though they offer some with alcohol in them.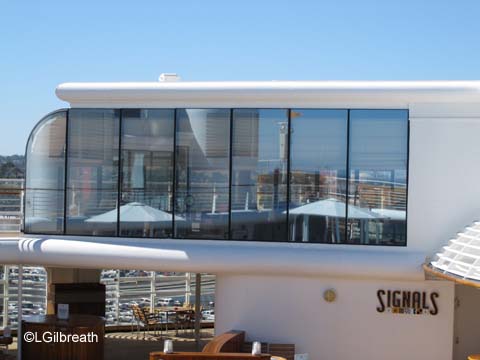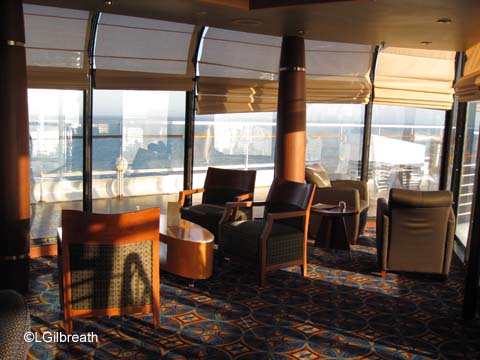 At the front of the ship on deck 10, they have added an awning to the area that has the big plastic wind break (for some reason it reminds me of a huge sneeze shield). Sometimes the temperature on deck isn't too bad as long as you're not in the wind.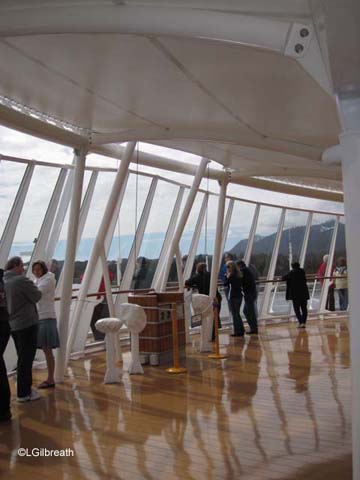 They have also added a hot chocolate machine to the beverage station on deck 9 – that got a lot of use, and it was a lot easier than using the packets of hot chocolate mix. It was pretty decent hot chocolate, too.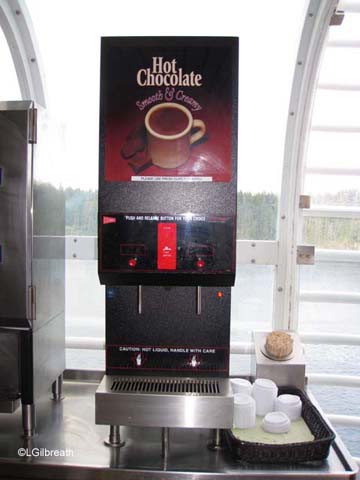 They still have Pirate Night, but there's no special menu to go with it. They still hold the Pirate Party (though the "Pirates in the Caribbean" banners really don't fit) on deck 9, and Mickey still slides down the cable, conditions permitting. But there's no fireworks, and the pirate buffet has been moved inside to Beach Blanket Buffet.
I really enjoyed the new Taste of Alaska dinner menu that was served ship-wide the night we left Skagway. Alaskan King Crab legs were offered as one of the appetizers, and Honey Mustard Alaskan Salmon (which was excellent and is shown below) was one of the entrees. The full menu is HERE.
The bbq lunch they served on deck 9 the day we were in Tracy Arm was very good, and a nice change. I think the people cooking it were enjoying the warmth from the bbq. 🙂 The salmon and halibut were good, Lee said the steak was very good, and they also had pretzel bread sticks! Those were really good. Not as good as Le Cellier, but still way better than regular bread. (We also had cheese rolls at dinner one night that were delicious!)
I don't know if they've changed their cooking method, or if it's different on the Wonder than on the Magic, but all of the grilled foods in the dining rooms seemed a lot more grilled and flavorful than they have in the past – you can see the "char" marks on the salmon in the photo above.
Tracy Arm was beautiful, but I've been to Glacier Bay and found Tracy Arm a little disappointing in comparison – we didn't get that close to the glacier, and it just wasn't overwhelmingly huge like I remember Glacier Bay being. We also didn't see any calving going on (that's what they call it when a big chunk of ice breaks off and falls into the water). Part of that was because we were there so early in the year, but even if it had calved, we weren't close enough to see it very well. Our on-board naturalist offered some narration while we were there, but because they had turned down the sound due to Alaskan Maritime laws it was almost impossible to hear him. Frustrating.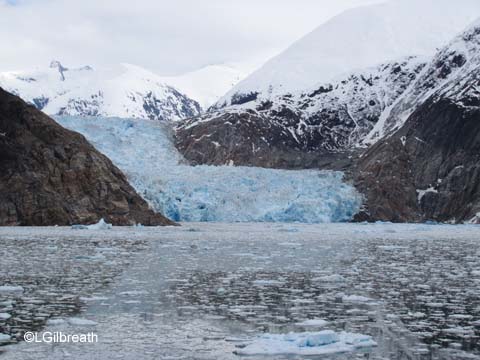 I would have liked to have seen a lecture or two on Alaskan history – the naturalist was an interesting speaker, but I really didn't learn much.
I enjoyed all the ports, but I think Juneau is the one I would most want to spend additional time in – I heard our group talk about several other excursions they did there that sounded very interesting. I don't think there's a whole lot more to do in Skagway other than what we did – it's pretty small. And Ketchikan just seemed really touristy – one reason we went zip lining there is that there really wasn't anything else that appealed to us. (Or appealed to us and wasn't really expensive.)
We really enjoyed the excursions that we did, though, and both the snowshoeing and the Mendenhall hike were a lot more challenging than we've experienced on other Disney excursions (which really were too tame for us even though they were called "Active"). It was very nice to see some options like that available to those of us who want to do something more challenging and interesting.
It was great fun to see the characters in their new Alaskan costumes! I never saw Donald Duck, but I saw Mickey, Minnie, Goofy, and Chip and Dale.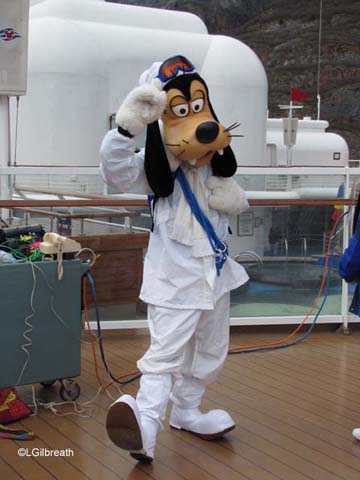 We enjoyed watching the crew members – all of this was new to them, too, and they were just as excited as any of us! We saw them out taking photos and taking in the scenery as we cruised through Tracy Arm and other places, and we know they enjoyed getting into the new ports when they had the opportunity.
While it's great to finally have a Disney ship on the west coast, we really wish that when they are in L.A. they would do something other than 7-night Mexican Riviera cruises. We simply are not interested in that – why can't they do some three and four-night cruises so that we could take advantage of a long weekend? We talked to one of the crew members who said that she was really tired of the Mexican Riviera – and that was after only three months!
One thing we always have a problem with is having enough electrical outlets to plug in our various electronic devices and chargers. There's only two outlets on the desk, but the power adapter for the Wave phones is so big that if it's plugged in there's no room for anything else! We usually bring a power strip to take care of that issue, but Lee noticed this trip that there is an available electrical outlet behind the TV, as well.
It was a lot of fun being with a group, and it was very nice that it was a reasonably-sized group. Even so I still didn't really get to hang out and talk to everyone, especially those who had the early dinner seating.
I REALLY enjoyed the Palo brunch – twice. 🙂 All of those different pastries (the sticky buns were excellent) and the breads and appetizers were really good.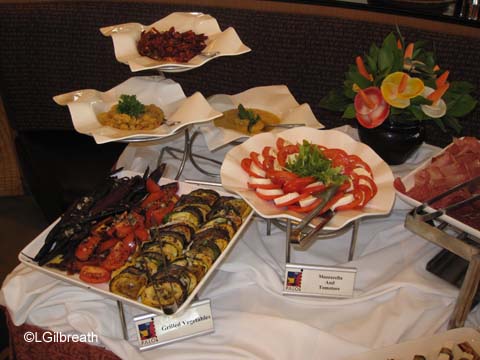 The desserts looked really good, but weren't spectacular, but I could (and did) easily fill up on the pastries and fruit. (I should've had a second sticky bun for dessert!)
It was interesting going on the Wonder after being on the Dream. The Dream is beautiful, but overall I think I prefer the smaller ships – not that I would turn down a cruise on the Dream (and we are booked for the Fantasy's Maiden Voyage). Yes, the Wonder was not as "grand", particularly the lobby, but it was still beautiful. The main thing from the Dream that I really found myself missing was the Enchanted Art – I wish they would bring that to the older ships.
The other thing I missed from the Dream was the bed – the Wonder has the same kind of bedding now (those soft sheets and the duvet and throw instead of a bedspread), but even though the mattress is supposedly the same, I didn't find it as plush and heavenly as the bed on the Dream. Maybe that's because the bed can split into two on the Wonder, I'm not sure. One thing, that duvet is VERY warm – it was even too warm for me to sleep under all night. I certainly didn't need any extra blankets!
Clothes – I was concerned about being warm enough, so I actually ended up with too many warm clothes, and several things that I didn't wear, like my long underwear and fleece vest. We were fortunate to have really good weather, so I didn't need the rain pants except when we went snowshoeing and on Tracy Arm day, but I carried them with me on a couple of other days. Didn't really need the rain jacket to keep off the rain, but it's fleece-lined and was a great heavy and warm windbreaker, and I DID need that. I wore my fleece headband quite a bit, but didn't need the gloves much – though again, I had them with me just in case. I always layered – a long-sleeve t-shirt and a light wool sweater over that most of the time, and then an outer jacket (I had three different ones) depending on how cold it was. In hindsight, I should've just brought the light windbreaker and the heavy rain jacket – I rarely wore the midweight jacket. If we'd had windy and rainy conditions I would have been wearing just about everything, though!
As far as shoes go, I recommend taking one pair of walking shoes that are waterproof – they will be both warmer and more water-resistant than running-type shoes. I hiked, walked miles around town, and snowshoed in mine.
Since we were gone for almost two weeks with the back-to-back cruises we had to do laundry. I found Purex Complete Three-in-One Laundry Sheets at my local supermarket and they worked great – it's detergent, fabric softener, and dryer sheet all in one. I tore off the fabric softener part on top since I don't like that, but otherwise used it as it – it seemed to work just fine in the washers and dryers on board ship. It's hypoallergenic, too! You'll want to store them in a ziplock type bag because the detergent makes them a little sticky, and there is a slight fragrance.
The food blogs are coming, I promise! Jeanine sent me some of her photos (from the repo cruise) and comments, too, so I will be adding those in as well.