by Guest Blogger Art Gallego
I have been visiting Disneyland for nearly 40 years. For the first time in my life, I became a Disneyland Annual Pass holder in March of 2010. By no means do I consider myself a Disney or Disneyland expert. I'll admit that I know more than a lot of people do when it comes to Disneyland; but there is certainly a lot that I don't know.
With that being said, I would like to share 12 little hints that might help you the next time you visit the Disneyland Resort. Some may be obvious. Some may be trivial. I just thought I would pass on some things I've discovered over the years.
Hint #1 – Free Lockers at Grizzly River Run
So you want to go on Grizzly River Run (Disney California Adventure), but you don't want your camera, cell phone, wallet, or purse to get soaking wet. Just to the North of the ride's fast pass distribution area is a little area with lockers to store your stuff. They're just like the other lockers you'll find all over the resort, but with two exceptions: 1) They don't take money, and 2) they will automatically unlock after two hours.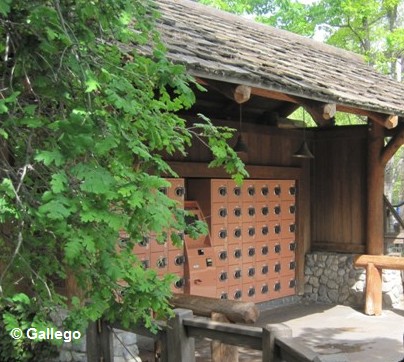 Another thing you may want to leave in the locker are your socks. Nothing is worse than doing a lot of walking in wet socks. After the ride, just carry them in your pockets until your shoes and feet dry. This happens pretty fast on hot days.
Hint #2 – Free Coffee Refills
Coffee around the resort will run you about $3.00. If you save your receipt from the coffee you buy at the Blue Ribbon Bakery (in Disneyland on Main Street U.S.A.) you can get free refills for that day. I think there are a couple of other places that do that as well, but you can only get the free refills at the original place where the coffee was purchased.
Hint #3 – Cool Place For Pictures
You can get some really cool pictures of the west side of Disneyland from the high vantage of Tarzan's Tree House. The landing just above the bridge you initially cross is a particularly good spot.
Hint #4 – White Water Snacks
White Water Snacks is the snack bar by the pool at the Grand Californian Hotel. You can get breakfast, lunch or dinner there. It's rarely crowded and not too expensive compared to the rest of the resort. They have a great chili cheese dog that I usually get. My 16-year-old daughter Maggie likes the chicken tenders and my wife Tracy says their grilled cheese sandwich is the best she's ever had. The best way to get there is to exit California Adventure by Grizzly River Run into the hotel. At the end of the corridor, turn left. You'll find the snack bar at the end of the walkway. The seating indoors is cool on hot days. You can also sit outside with a view of part of the Redwood Creek Challenge Trail.
Hint #5 – Disneyland Rope-drop Shortcut
Before I tell you about the shortcut, I better tell those of you who may not know what a "rope-drop" is. At certain times, Disney will let guests partially into their parks before the official opening time. I think it happens more at some parks than at others. For instance, because they open later, I think they always let guests in early at California Adventure. Disneyland seems more hit and miss, but here's how it works there.
Let's say the park is supposed to open at 9am. At around 8:30 they start letting guests through the turnstiles. Most of the shops on Main Street are open. Guests make their way down to the North end of Main Street. Stretching from Refreshment Corner on the West to the camera shop on the East is a rope. There are also a couple of CMs there, just in case the rope itself isn't enough to deter some guests from heading to the rest of the park.
Every ten minutes there is an announcement made over the PA letting you know the park will be opening soon. By about 5 minutes to 9, Main Street is pretty packed with guests, sometimes as far back as the Emporium. At nine, the music starts and the voice on the PA welcomes everyone to the happiest place on Earth and reminds them to "walk" to wherever they're going. The Cast Members also ask the guests to "walk" as they remove the rope. At this point everyone "runs" to the left (Space Mountain) or to the right (Indiana Jones/Splash Mountain.) It can be quite chaotic.
So now, the shortcut. I like getting to Disneyland before it opens, but I don't like standing around for a half an hour. I'll look through the shops and maybe get some coffee while waiting for the park to open. At about 5 minutes before opening I'll make my way to the North end of Main Street, but not through the crowds of people. Instead, I just walk through the Blue Ribbon Bakery, ice cream parlor, and candy shop to the inside seating area of Refreshment Corner. There is a Cast Member there, making sure no one sneaks in early, and maybe one or two other guests. At 9 o'clock I just head on into Adventureland and Indiana Jones with hardly anyone in front of me.
Hint #6 – Disney California Adventure Rope-Drop Tips
Unlike Disneyland, California Adventure has three separate areas where they set up a rope drop. The first is at the entrance to the Hollywood Pictures Backlot for those who want to ride Tower of Terror.
The second is on the path near the entrance of "a bug's land" for those trying to get to California Screamin' and Toy Story Midway Mania. The third is on the path you follow around the Grizzly Peak trail, past Grizzly River Run, between the restrooms and the soon to be open Little Mermaid ride. This is the one you want to get to if you want to ride Toy Story Midway Mania without that long of a wait.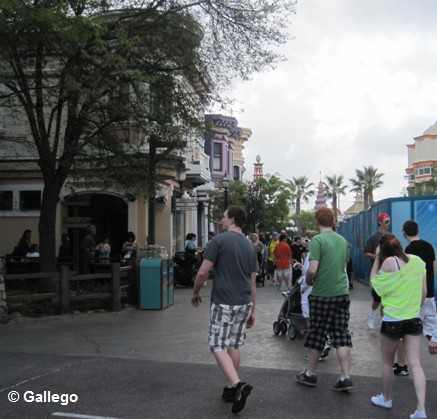 If you go to the "a bug's land" area the wait will already be a half hour by the time you get there. To get to the Little Mermaid/Restroom rope-drop, head to the right as you enter the park towards Soarin' Over California. A lot of the people heading this way are going to the Grizzly River Run Fastpass distribution area to get tickets for World of Color. By the way, if Toy Story Midway Mania is not today's priority, just head to Soarin' Over California. Even though the park isn't open yet, you can usually ride it anyway. Or, have the best of both worlds and get Fastpasses for Soarin' and then head to the rope-drop.
Hint #7 – Dole Whip Shortcut
For those of you who don't know, Dole Whips are one of the most popular snacks in all of Disneyland. They are frozen soft-serve pineapple whips found at The Tiki Juice Bar near the entrance to Adventureland. They're great any time, but perfect on a hot day. On those hot days you'll often see the line going half-way into Adventureland. I often wonder if the people at the end of the queue even know what they're in line for.
Well, here is my tip: The stand that sells them is at the entrance for the Enchanted Tiki Room and they serve guests from the pre-show area of that attraction. Even when the line on the outside stretches back a mile, there are seldom more than one or two guests in line on the pre-show side. If you don't want to see the Tiki Room show once you've purchased your whip, just exit via the gate they use for guests in wheelchairs.
But hey, since you're already there, you might as well escape the heat and eat your whip while the birdies sing to you. You're allowed to bring your whip into the show. The Cast Members just ask that you take your trash with you. They sell a few other pineapple related items at the juice bar as well.
Hint #8 – Stretch Room Short Cut
Here is a somewhat obvious tip. The Haunted Mansion has two stretch rooms as you enter the attraction. If you enter the room that's on the left, stand by the wall on the right side as you walk in. If you enter the room on the right, head to the left wall. When the room is stretched and the doors open, you will be right there at the opening, ahead of the crowd, ready to walk down the hall to your "Doom Buggy."

Hint #9 – Critter Country Shortcut
This one isn't that much of a time-saver, but it is a nice alternative for entering and exiting Critter Country. Why take the main walkway into Critter Country when there's a much more serene way? Instead of jostling with the crowds headed for Splash Mountain on those hot summer days, head toward the seating area of the Harbour Galley where the Columbia is normally berthed.
The area resembles a little seaport and winds you around towards Critter Country along the river. There's a place where you can look over the logs that have just plummeted down Splash Mountain as well. The path deposits you near a snack stand by the stairs leading down to the canoes. Like I said, it really won't save you a lot of time, but it is a nice quiet area away from the crowds.
Hint #10 – Buzz Lightyear Free Photo
As you exit most of the thrill rides at the Disneyland Resort you probably notice the monitors with pictures of people splashing down a mountain, soaring through space, or falling down an elevator shaft. Everyone stops to find themselves and laugh at the terrified look on Dad's face. The idea, of course, is to sell you something. A little keepsake of your visit.
Well, at the exit to Buzz Lightyear's Astro Blasters you will also find monitors, but these are a little different. Once you find your picture you are able to e-mail it anywhere you like. Send it to yourself, or to a loved one back home. It's not the greatest quality picture, but hey, it's free.
Hint #11 – First Aid
Take advantage of the First Aid stations at either park. Besides band aids and other first aid-type stuff, they can also assist you if you have a headache, offering several options (Tylenol, ibuprofen, etc.,) all free of charge. Just check your park guide. There is also a first aid station in Downtown Disney located between Ralph Brennan's Jazz Kitchen and Island Charters.
Hint #12 – Mickey's Halloween Party
As all of you know, going to Disneyland can be quite expensive. If your family makes an annual visit to Disneyland, I suggest that you do it in October. More specifically, during one of the nights they host Mickey's Halloween Party. Why? The admission is cheaper. I'm sure the prices will change this year, but in 2010, the party tickets were $49-$59, depending on when you bought them. One day's admission to Disneyland was $76 for anyone over the age of 10, and $68 for kids ages 3-9. So even if you bought a Halloween ticket at the highest price, you still would've saved $9 – $17 per ticket.
Let's say Mom, Dad, Sally (9), and Jake (11) went to the Halloween party last year instead of on a day a month earlier. They would save at least $60. The parties don't start until the evening, so you may feel that you are not getting your dollars' worth. Fortunately, they let you in 3 hours before the party starts. On Tuesdays the parties are from 6pm to 11pm and on Fridays and Halloween night they go from 7pm until midnight. That's a full eight hours. And though it may seem crowded, the lines for the rides are pretty short.
We went on a Tuesday, so I can't say how crowded the park was on a Friday or Halloween. If you do go on a Tuesday though, you will probably be able to go on more attractions than if you spent an entire day at the park in July. A small downside is that not all of the park's eateries are open once the party starts. If that's a concern, just eat when you get there while the park is still open to the day guests. As far as snacks, don't bother. You will be collecting plenty of goodies to munch on at the candy stations. They do offer healthy snacks as well.
Incidentally, 2010 was the first time I went to a Disney Halloween party and it was a lot of fun. I had read that the candy given out in 2009 when the party was at California Adventure wasn't great. Well, that wasn't the case in 2010. They gave out lots of chocolate. Kit Kats, Almond Joys, M & M's, etc. Other reasons to go are the special Halloween fireworks, Nightmare Before Christmas Haunted Mansion, and Space Mountain Ghost Galaxy. Knowing what I know now, if I didn't have an annual pass, that would be the time I'd take my family for our yearly visit.
Well, those are the only hints I can come up with for now. If I think of any more, I will certainly pass them along. Please let me know of any hints you have.