Since we know many of you have cruised on the Disney Magic and the Disney Wonder, we thought that one of the first things you would be interested in is knowing what some of the differences are between the Dream and the ships that you are familiar with. So Deb Wills and I put our heads together and came up with some things that we thought you might want to know.
These are not really in any particular order, though I have tried to group them logically.
It's all so BIG!

One of the first things you'll notice is that it all seems much bigger. And of course it IS a lot bigger. To me it felt like the distance between the aft stairwell and the mid-ship stairwell was at least as far as between the aft and forward stairwells on the Magic.
Dining rooms are larger.
The elevators are larger.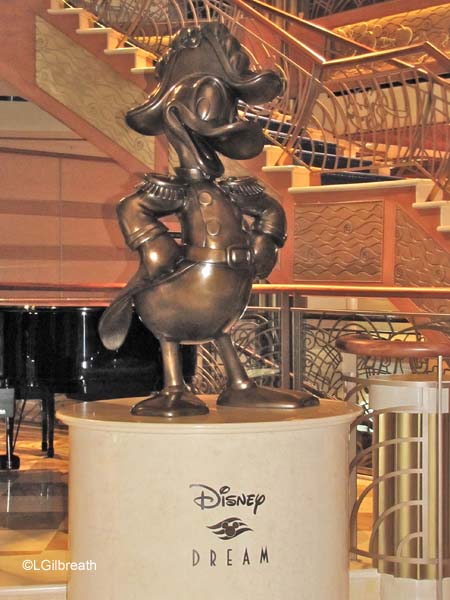 There are more decks, so the locations of things like the pools, beverage station, and sports deck are 2-3 decks higher than before.
The Walt Disney Theater is larger, and has a balcony level. It can be accessed from either decks 3 or 4.
There are more retail shops, and the shops are larger, though the duty free shop which sells alcohol has been moved to the retail area.

"You can't get there from here."

You'll have to learn your way around – some things are very familiar, but some things are very different. I found it frustrating sometimes.
Palo and Remy are on deck 12, but you can't get to them from deck 12. The easiest way is to go to the aft elevator/stairwell on just about any other deck, and then go up to deck 12.
If you're on deck 11, then your access to the aft elevator/stairwell is through Cabanas – which turns Cabanas into a passageway. I found this quite maddening and very poorly designed – I don't want to go through a restaurant to get to the stairs!

Staterooms

The staterooms are actually a little SMALLER on the Dream – 10-20 square feet generally. We thought they were just a little narrower.
The door lock mechanism is different – rather than sliding your Key to the World card you just wave it in front of the sensor and the door unlocks.
TAKE NOTICE OF THIS TIP! To turn the lights on in your room you must put a room key in the slot that's just inside the door, and leave it there while you are in the room. If you remove the key the lights inside the bathroom(s) immediately go off – I did that to Deb accidentally one time. There is a grace period for the rest of the room lights, but we didn't test it – it's at least 30 seconds, though. It's an energy-saving feature, so that's a good thing, but if you don't know about it, you could be sitting in the dark! We'd been told about it when we checked in for the cruise, and our stateroom hostess also made sure to tell us about it when she came to our room that first day.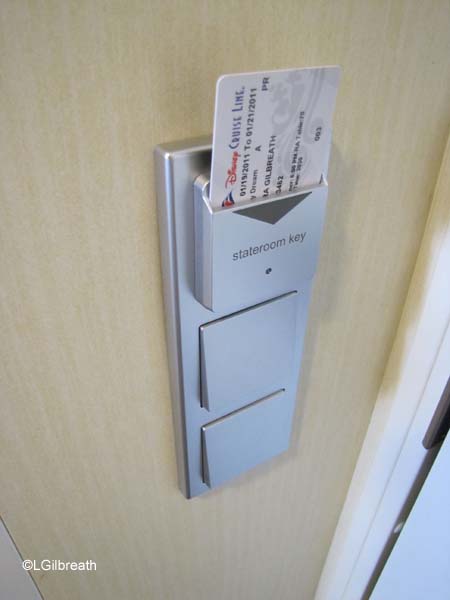 The TV is a flat screen, which is nice since it takes up less room. It has a menu system when you first turn it on, with categories like information and movies. Honestly, I never did figure out how to operate it.
The pull-down bed was larger than I expected, and not as close to the ceiling. We didn't use it, but there are stars on the ceiling above it.
The bed does not separate into two beds like it does on the Magic and Wonder. But the bed has been raised and there's room to store suitcases under it now – that was very nice.
There are two clotheslines in the tub area.

Shows and Entertainment

Disney's Believe is an all-new show, featuring lots of great Disney music and some really fun dance numbers. I loved the Mary Poppins scene.
Golden Mickeys has some new scenes and includes characters from more recent movies, like Rapunzel, UP and Princess and the Frog.
There are two different on deck shows on Pirate Night – an early more family-oriented show, Mickey's Pirates in the Caribbean, and a later show which follows the fireworks: Club Pirate. The latter features Jack Sparrow.
The fireworks show, Buccaneer Blast, takes place more towards the middle of the ship than behind it, which offers good viewing from a lot more locations. Those in cabins on the starboard side of the ship should be able to see it from their rooms.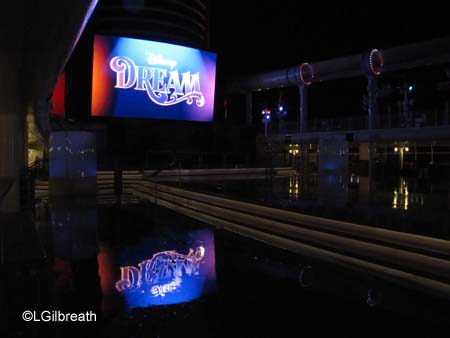 The District, the adult entertainment area, has many more options, like Pink, the champagne bar, and Skyline, which showcases different cities around the world.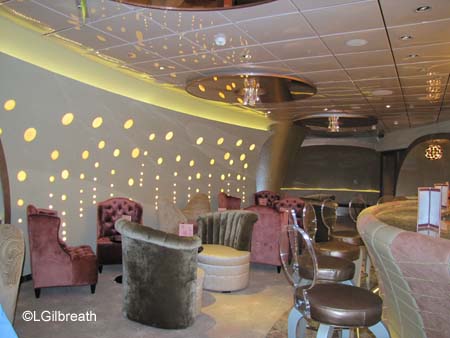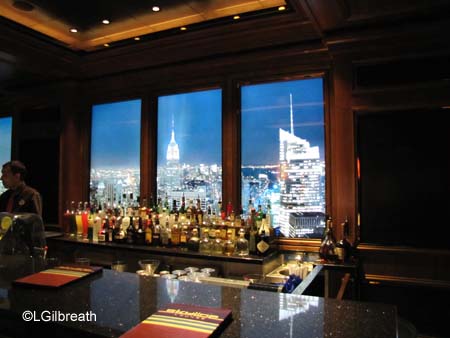 Recreation

The AquaDuck is the new 765 foot long water coaster. It's accessed from deck 12 midship. We'll have a lot more information on this!
Goofy's Sports Deck has a miniature golf course.
The family pool and kids' pools are in the same area, not separated like they are on the Magic and Wonder.
The kid's splash area, Nemo's Reef, is in a shaded area to protect the little ones from the sun.
Enchanted Art – this was one of my favorites. There are 22 pictures around the ship which look like any of the other artwork, but when people stop to look at it, it comes to life.
Dining

The two new restaurants are Royal Palace on deck 3, and Enchanted Garden on deck 2. They are both just beautiful. Enchanted Garden looks like an outdoor garden on a sunny day during the day, while at night the light changes from sunset to starlight.
I really loved Royal Palace, with its elegant crystal chandeliers, marble columns, and brocade-covered chairs.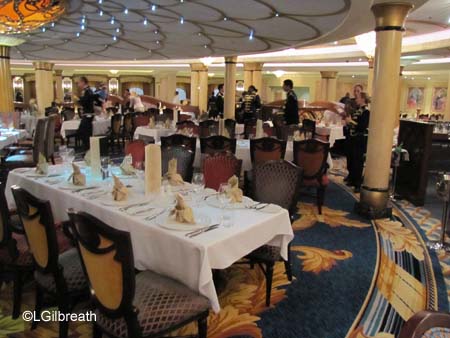 Animator's Palate has been completely updated with all new technology allowing diners to interact with characters from Finding Nemo. I thought it was a lot of fun.
Cabanas takes the place of Topsiders/Beach Blanket Buffet. It's not a traditional buffet – instead there are different "food pods", making it more like a food court with selections like salads, sandwiches, pizza, pasta, hot entrees and dessert.
The quick service locations are very much like those on the Magic and Wonder, though with different names. Same types of food, though – pizza, burgers, and salads and sandwiches. There's a dedicated "Eye-Scream" place now. There's also Frozone Treats, a smoothie bar, though there is a charge for smoothies.
There are two 24-hour beverage stations on deck 11 aft, one on the port side and one on the starboard side.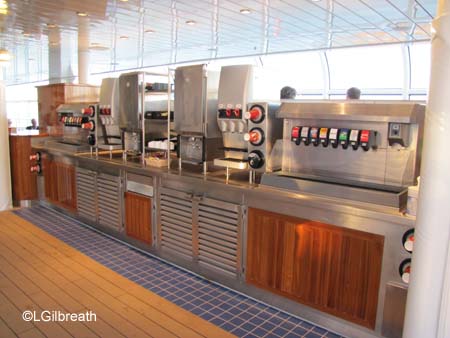 Shutters is very different. We'll have a lot more details on it, but in a nutshell they have really changed the way that photos are organized, and assign guests a folder in the library where they can store their photos. They use facial recognition technology to help identify the photos.

Senses Spa

The spa area is 16,000 square feet. There are many more treatment rooms.
There is a barber shop for the men, or those who prefer a barber shop to a standard salon.
The new Smile Spa offers a dedicated area for teeth whitening treatments.
There's a hamam – a Turkish bath, featuring dry heat.
The Chill spa offers spa services to teens and tweens.
There is a "scrub bar" where guests can have a custom scrub made up for them with their choice of ingredients.
Embarkation and debarkation procedures are the same, though of course with more guests you can expect they might take longer.

Finding your way around is a little harder – the signs identify locations by deck, but do not specify forward/aft/midship.

Some of the public restrooms have the paper towel dispensers under the lights, which makes them hard to find.
I hope this has been helpful. If you have other questions or if you've been on the Dream and have some tips of your own please let us know – you can either comment on this blog or send email to: [email protected].
AllEars was invited media and guests of the Disney Cruise Line on the Christening Cruise.