The Themed Entertainment Association (TEA) recognized the achievements of Walt Disney Imagineering, the creative arm of Walt Disney Parks and Resorts, with its Thea Award for Outstanding Achievement – Nighttime Spectacular for World of Color at Disney California Adventure® park, calling it "a visual and technical marvel." TEA also recognized Imagineer Kim Irvine with The Buzz Price Award for her lifetime achievements.
Some of Kim Irvine's recent contributions include designs for the new Disney Gallery and interiors for the updated Great Moments with Mr. Lincoln attraction.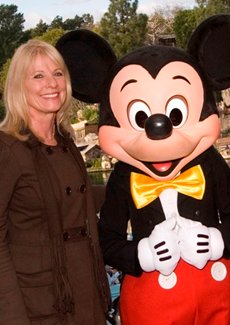 World of Color combines Disney and Pixar animation with music, lights, fire and nearly 1,200 fountains spanning an area that is bigger than a football field. The show – a major cornerstone in the multi-year expansion of the Disneyland® Resort – debuted in June and already more than one million guests have enjoyed it.
Imagineer Kim Irvine was recognized for numerous contributions to Disney parks. Irvine began her career at Walt Disney Imagineering in 1970, where she worked alongside Imagineering legends such as John Hench, Mary Blair and Mark Davis. She worked on attractions at Walt Disney World® Resort before joining the Disneyland Design Studio team in 1980.
As art director for Disneyland® park, Irvine was responsible for projects such as the Resort's 50th anniversary celebration, the Disneyland Dream Suite and adding 'new magic' to classic attractions such as 'it's a small world' and in locations like the Rivers of America.
Walt Disney Imagineering has received 34 awards for its talent within the themed entertainment industry since the Thea Awards' began 17 years ago. Disneyland® Resort's past recipients of Awards for Outstanding Achievement include Toy Story Midway Mania!, Soarin' Over California and Indiana Jones Adventure.