Guest Blogger Carol Cruise returns with a report from this year's Pin Celebration at Walt Disney World!
It has been just over a year since my last report about the Carol's 2009 Pin Event Blog">EPCOT Pin Celebration. Wow time does fly by quickly! This year the pin event was held in August and was a wee bit different than other years. I will touch on that a bit later!
The event was organized much the same as previous years; it was announced on the Disney events site, registration opened March 31st and if you registered early you were entitled to a $15 discount off the registration fee and the first 750 to register also received an early bird pin. Your RSP (Random Selection Process) request was due July 1st; this is when you list the pins you want from the merchandise catalog and hope that you get lucky when they run your choices through the random selection process. I think registrations must have been slower than previous years since they later extended the RSP date to July 5th and for the first time almost everyone I spoke to got everything they wanted on their RSP.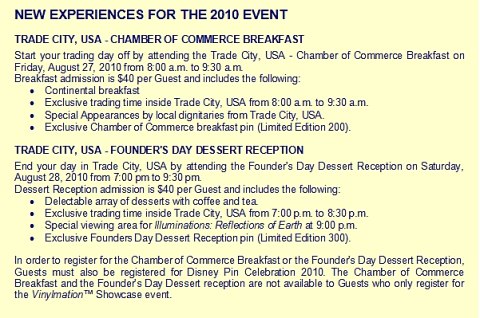 The theme for the Disney Pin Celebration 2010 was Trade City USA and all pin traders were invited to the 10th Anniversary "Founder's Day"� celebration which took place August 27 – 29, 2010 at EPCOT's World ShowPlace. It was a grand celebration of 10 years of Disney Pin Trading!
Once again this year I shared a room at All-Star Sports Resort with my friend Susan. We both flew in on Tuesday. She flew out of Buffalo and I started from Syracuse. Susan arrived first and caught Magical Express to the All-Star Sports Resort. I arrived a bit later, picked up a rental car and met her at Downtown Disney. We shopped a bit Tuesday and on Wednesday visited Hollywood Studios.
Thursday morning we were up early and ready to go! This was early registration day for the pin event. After doing a few chores and a bit of shopping we made our way to the Yacht & Beach Club Convention Centre for check in. This year was a bit different, first you had pick your registration time, so if you had not indicated on the entry form that you were coming on Thursday you had to wait until Friday to pickup your pins.
The registration line seemed to move very quickly compared to other years. Once you got your package with all your information and you got your pins you had to leave the big conference room and go out to the lobby. There was another queue set up in the lobby where you lined up in to get your event gifts.
This year the gifts included a T-Shirt and a book which included 2 pins and places to put several other pins. Some of the missing pins were in the mystery boxes that were purchased from the event catalog and the other eight pins were going to be released at the event and could be found on the trading boards. This was a bit disappointing for some, since they had not realized that the mystery pins were needed to complete the collection.
Another exciting addition this year was the Vinylmation event, being held Sunday morning. This was a separate registration for $25.00. If you registered for that event you got your free gift from this line as well. It included a mini Vinylmation key chain and a large Vinylmation pin. After I picked up all my loot I went back into the conference room. Half of the room was set up for registration and the other half was set up for pin trading. The pin trading room was full and remained that way until it closed at 10 p.m.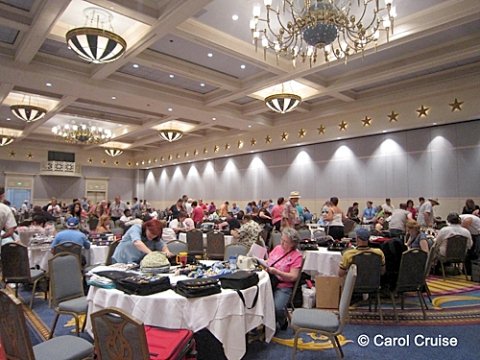 Our group found a table and we all started checking through our pin purchases and paper work. It felt good to sit down and the room was well air conditioned so I was happy to park myself there for the rest of the day. At one point my friend Susan and I decided to go for a leg-stretch and ended up at Beaches & Cream. It was a nice break in the day.
Friday morning we thought we were doing well and got to EPCOT by 9 a.m. We were able to use the special entry for pin traders, where they have a sniffer dog so you don't have to open all your bags. As we walked down through the rose garden to World ShowCase we could see the line, all the way to the edge of the rose garden, so much for getting there early (lol).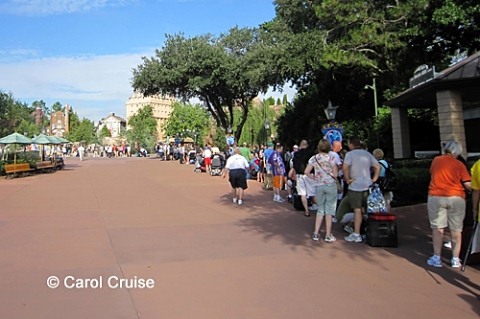 As we walked into World ShowPlace there was a huge statue of Mayor Mickey welcoming us to Trade City USA.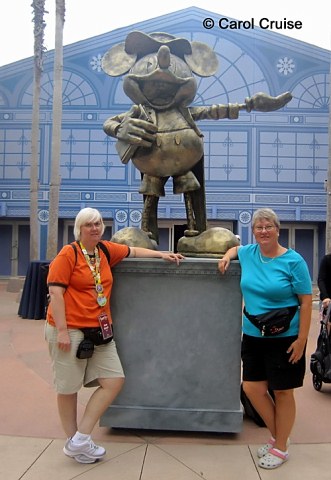 Inside the building the AC felt wonderful and once my eyes adjusted from the bright sun outside I could see that Disney once again outdid themselves with the decorations. It was magnificent! World ShowPlace was filled with building facades representing the buildings of Trade City USA and there were event pins which corresponded to most buildings.
There were several trading boards with roped queues that were already full of people. The queues on average took 45 minutes to get through. The rules were simple, you gave the cast member two of your pins and you got to select two pins from the board. The catch, you had one minute to make your choice and there were hundreds of pins on the board.
This year I had already traded for all the Hidden Mickey pins, so I focused on the newly released Road Sign pins to complete my Trade City Gift Book. Lots of people do look for other goodies, such as limited editions pins or AP (Artist Proof) pins. Apparently this year there were lots of them there, but I pretty much stuck to finding those elusive new event pins.
There was also a large stage set up in the middle of the pin board area and there were numerous activities going on all day. Throughout the day there were visits from some of the Disney cast who entertained us, including the sheriff, a cowboy and a saloon girl. Of course Scoop Sanderson was there too!
In the back half of the room there were rows of tables and the traders were setting up their bags and books. It was fun to walk around and see everyone's traders. This year in addition to lots of pins there were also Vinylmations. I was actually more interested in trading my Vinylmations than I was my pins. I admit I am hooked on these little guys.
I met up with some of my friends and our group staked out a table and some chairs. We alternated between the table and the boards. I also took some time to walk around and look at the displays presented by Walt Disney World Pin Trading, Disneyland CA, Disneyland Paris Pin Trading and Vinylmations. Each of the booths displayed the upcoming designs for 2011.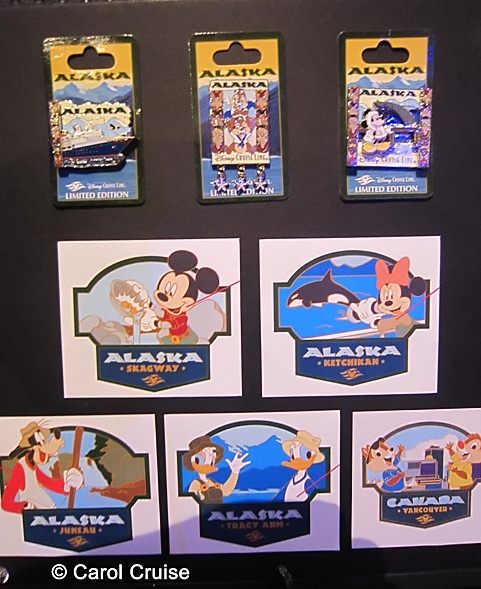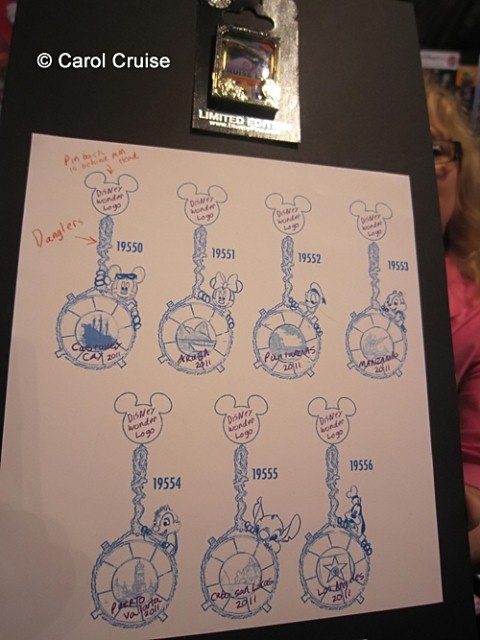 We pretty much stayed inside all day with the exception lunch. We ran out for a quick bite which we brought back to the table to eat. It was way too hot for me to be anywhere that didn't have AC.
At 6 p.m. we packed up our stuff and headed out of the park. There was another pin trading gathering being held at Port Orleans Riverside. It was organized by Central Jersey Disney Pin Traders (CJDPT), founded by our friend John Rick. We dropped off our event gifts and pins at All-Star Sports and then hurried to the next pin event. We wanted to get there early so that we could have some dinner before the pin action started. I have to say that the food court at Riverside is very good; I really liked the pasta bar.
Soon the area that we were in started to fill with familiar faces and the pin trading began. For me it was more of a social event, I chatted with lots of people and did very little trading. It was a nice relaxing way to spend the evening. After a few hours we were all getting tired so the four of us headed back to our resorts. It was soon lights out for us.
Saturday was another beautiful sunny day, too bad it was just so darned hot! We arrived at EPCOT a little later this day, no need to rush. We made our way though the special entrance and sniffer dog Max gave us the go-ahead through security.
The entire day pretty much mirrored Friday, pin boards and more pin boards. When the event closed at 6 p.m. we all went to Sunshine Seasons for dinner, then at 7 p.m. Susan and I went back to the World ShowPlace for a special Illuminations Dessert party. This was something new this year and we both thought we would enjoy it. The dessert was very good. There were also some pin boards that were operational for trading but the lines were very long.
It was raining pretty hard so neither one of us was too fussy about going to watch Illuminations. We decided to track down the rest of our buddies. They were just going to go in to see Captain EO so we made our way over to Imagination and joined them. It was fun to watch this after so many years. By the time we got out of the show the park was closed and we were tired, so we trudged to the car and back to the resort. Another night where we just didn't have enough energy left to go to Downtown Disney.
Sunday we were excited and up early; this was the first Disney Vinylmation Event and we wanted to be there when the doors opened. It was exciting to be experiencing something new. We arrived at EPCOT and we could still enter through the special entrance for pin traders, there was a different sniffer dog today, Max must get Sunday off.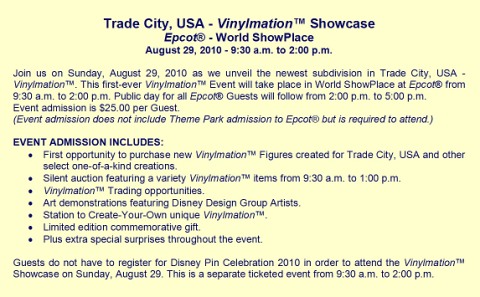 We got to World ShowPlace just as the doors were opening. There really wasn't anything different in the way the room was set up or the decorations. The pin boards were gone and in place of them were trading stations with Vinylmations. Some of the lines had flat boxes with about 20 Vinylmations in each box. You waited your turn and then basically swapped your Vinylmation for any of the ones in the box. There were also a couple of lines that had the mystery boxes. They were the same mystery boxes that you see out in the stores. There are 24 squares and you pick a number – whatever Vinylmation is behind that number is what you are trading for. The exciting part was that Disney had put lots of the older series out in the trading boxes. Park Series 1 & 2 and Urban Series 1 & 2 have been out of circulation for a while, so this gave you a chance to get some of the earliest and rarest Vinylmations. They also had lots of chasers in the boxes so the challenge was to be near the front of the line when the "refresh" was done. Each refreshed trading box they brought out had about 4 really hard to find Vinylmations.
It was a lot of fun and not too crowded; it seemed to go by too fast. Once the "official" event was over the room opened to the public. This was the chance for people who did not register for the pin or Vinylmation event to purchase items that were left over. This year there were only a few pins that sold out so there was a good selection.
Our gang was heading over to the Electric Umbrella for lunch but I still wanted to do a bit of Vinylmation trading so they left and I headed to the back room. I had an ace in my pocket! It was a chaser from the Urban Series 1 that I had been hanging onto. I knew it was a scarce item and there were a couple of older Vinylmations which I really wanted. After working the room and talking to several traders I was able to make a good trade, my Gold Chaser for three other Chasers, the prize for me was Pongo. (If you are new to Vinylmations, a "Chaser" is the rarest form of them. Since Chasers are scarce, they are highly sought after.)
I left the event a happy trader and I was still able to catch up with my friends at the Electric Umbrella. I had a quick lunch and then we all made our way over to the Magic Kingdom. It was very hot and we were moving slow. We wandered through the shops along Main Street and decided that we should have an ice cream. We went into the Bakery to eat our treat and cool down. When we were done we decided to go to Adventureland and ride Pirates of the Caribbean. There was no line and we had our own boat – it was great. From there we went over and rode the Haunted Mansion, again there was no line.
It was getting near dinnertime but after the ice cream we were not very hungry yet. Susan and I decided we would try and track down our Canadian friends Juanita and Carrie since we knew they were at the Magic Kingdom. We said our good byes to our friends Ann, Mike, Aimee and Donald and found Juanita sitting by the bakery waiting for Carrie. We went with them to the Columbia House and had a cold drink while they had their dinner, it was nice to just sit and chat for a while.
We left them and decided to go to Downtown Disney since it was our last night. By the time we got there we were both hungry so we went into The Earl of Sandwich and both had the BLT. It tasted so good! When we were done we made our way to the Pin Station and then over to D Street for one final check before we went back to the resort. It was 11 p.m. and everything was closing. We were tired!
It had been a fun few days with good friends but all too soon it was over. I had my suitcase packed before I went to bed so that when I got up I could just get in the car and go to the airport. In the morning I said goodbye to Susan, she had a late flight, and made my way to the airport. It was an easy drive, my plane was on time and I was walking in the door at home in time for dinner. I can't wait for next year! It's scheduled for September 9 – 11, 2011 and the theme is "The Florida Project"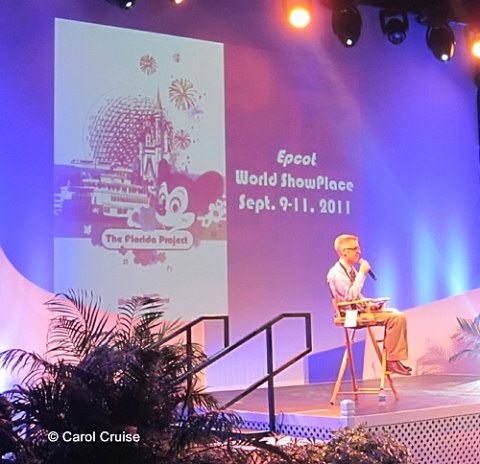 Gary says we might take the motor home and make a longer trip of it! Yahoo!