Winning Design Revealed During Special Celebration at
17th Annual Epcot® International Flower and Garden Festival
Tinker Bell throws a pixie dust salute to Zoe P, winner of the pixiehollow.com "Design a Fairy House" contest at Epcot.
WALT DISNEY WORLD® RESORT – LAKE BUENA VISTA, FL – April 3, 2010 – Disney Online announced today the winner of its "Design a Fairy House Art Contest," which ran in February on the popular online world for girls, Disney Fairies Pixie Hollow (www.PixieHollow.com). The fairy house, inspired by 15-year-old winning designer, Zoe P., from Frazier Park, Calif., was revealed during a special ceremony in the Pixie Hollow Garden at the 17th Annual Epcot® International Flower and Garden Festival. Zoe and her family were in attendance to celebrate the momentous occasion, as the fairy house will be on display for the duration of the festival.
Zoe P, winner of the pixiehollow.com "Design a Fairy House" contest closely examines her Fairy House at Epcot. Her design was chosen from thousands of entries and built by the horticulture team at Walt Disney World Resort.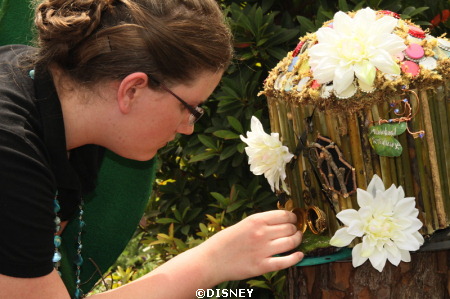 The winning house design was selected by DisneyToon Studios filmmakers, currently working on the upcoming "Tinker Bell and the Great Fairy Rescue," coming to Disney Blu-ray and DVD this Fall. Director Brad Raymond, and the film's Producer, Helen Kalafatic, attended the celebration to personally congratulate the winner, meet with Tinker Bell fans and sign autographs.
Tinker Bell and Terence were on hand to celebrate with Zoe P, winner of the pixiehollow.com "Design a Fairy House" contest at Epcot. The pixie dust salute was enjoyed by Director, Brad Raymond and Producer, Helen Kalafatic of "Tinker Bell and the Great Fairy Rescue" and VP of Epcot, Dan Cockerell.
"We were thrilled to honor Zoe and her winning design at this very special celebration," said Jason Everett, Disney Fairies Pixie Hollow product director. "This contest offered the Pixie Hollow community an exciting opportunity to utilize their love for Disney Fairies as inspiration to create their very own fairy house art design. To see that design come to life and be featured in the Epcot® International Flower and Garden Festival is truly a delight for everyone."
About Disney Fairies
Disney Fairies is rooted in Disney's rich heritage of children's storytelling. The franchise builds upon the enormous popularity of Tinker Bell and introduces girls to her secret, magical world and a new circle of enchanting Fairy friends – Fawn, Iridessa, Rosetta and Silvermist – each with an incredibly diverse talent, personality and look. Launched just a few years ago, the $800 million franchise boasts a thriving publishing and lifestyle merchandising program. To date, over 575 Disney Fairies books and over 125 Tinker Bell movie books have published worldwide in 60 countries and 35 languages, selling nearly 18 million copies; Disney Fairies magazines have sold over 7.5 million copies in 28 countries and an array of products from apparel and toys to electronics, home décor and stationery has extended storylines into many girls' homes across the globe. DisneyFairies.com is now available in more than 20 territories across North America, Latin America, EMEA and Asia Pacific. Fans have created more than 25 million personalized Fairy avatars to date that can take flight in the virtual world of Pixie Hollow. Disney theme parks have also launched a Pixie Hollow attraction where fans can meet the Disney Fairies. Following the success of Walt Disney Pictures Tinker Bell on Disney Blu-ray and hi-def DVD, Disney released Tinker Bell and the Lost Treasure as the second title in the series in October 2009. The Disney Fairies are highlighted in the production of Disney On Ice presents Worlds of Fantasy, and additionally, Tinker Bell is in four other Disney On Ice shows touring the world.