The holiday season began a little earlier at the Disneyland Resort this year than it has for the past couple of years – it began on November 13 and runs through January 3, 2010.
Lee and I visited on Friday, November 20 and managed to catch most of the special holiday events. If you're familiar with Disneyland's holiday activities, then really, not much has changed this year.
DCA still has pretty minimal holiday decorations. With all of the construction they have moved the Christmas tree from the entrance to Paradise Pier to the boardwalk area next to Ariel's Grotto. Santa has a little holiday gazebo there where he does meet and greets.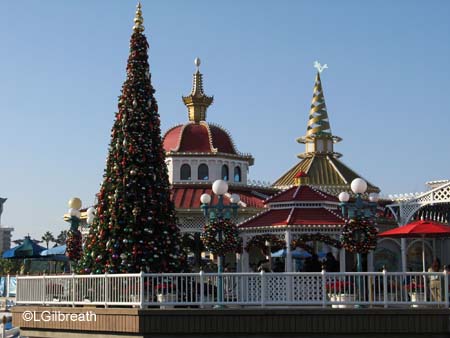 There's still oversized holiday decorations at Flik's Fun Fair:
And the city sidewalks in the Hollywood Studios Backlot are decorated in tinsel – what else would you expect from Tinseltown?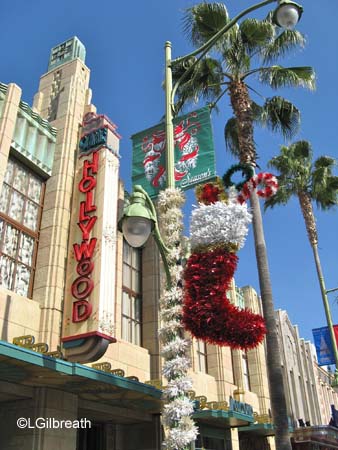 Is it just me, or does anyone else think it would be really cool if they put a big Santa hat on Grizzly Peak???
There's a big Christmas tree at the end of Downtown Disney, but otherwise it didn't seem very festive to me.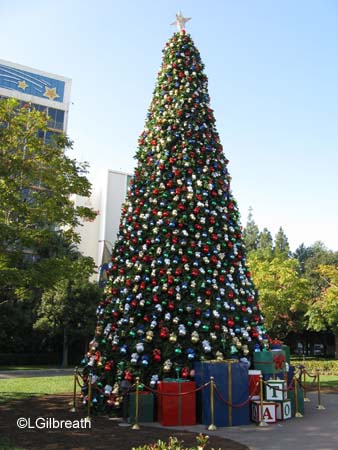 It looked like the front of the tree was a nice place for a holiday family photo-op, though: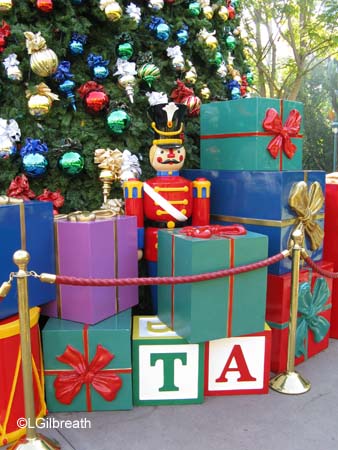 The shops had some holiday merchandise, though – of course World of Disney had a pretty good selection, but there is also holiday merchandise at Build-a-Bear, Basin and Marceline's Confectionary. Ralph Brennan's Jazz Kitchen has a gingerbread house decorating workshop with sessions on December 12, 13, 19, and 20. Though maybe more geared towards kids it still sounds like a lot of fun to me – if any of you have done it, let me know what you thought of it!
Though Downtown Disney and DCA seem a little under-decorated, of course there's still lots of decorations at Disneyland! Snowflakes over the entrance turnstiles, a big Santa floral Mickey just inside, and the "can't-miss-it" Christmas tree in Town Square.
We watched the A Christmas Fantasy parade from the hub – where the parade turns left onto Main Street after coming out of Fantasyland. Nice spot, since the parade was coming straight towards us before turning, so we had an excellent view of the floats.
New this year were the sleds that Pooh and Tigger were riding (and driving!) – they replaced the sleigh with Genie, Aladdin, and Jasmine.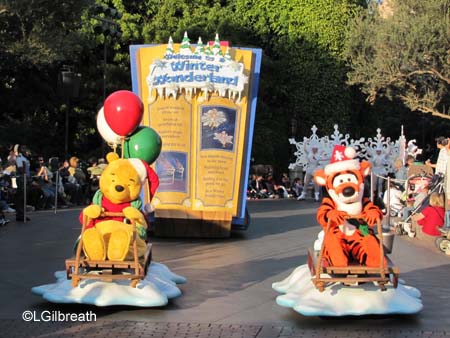 And Eeyore also got a new sled…but his got overturned and he has to pull it along himself! Poor Eeyore. 🙁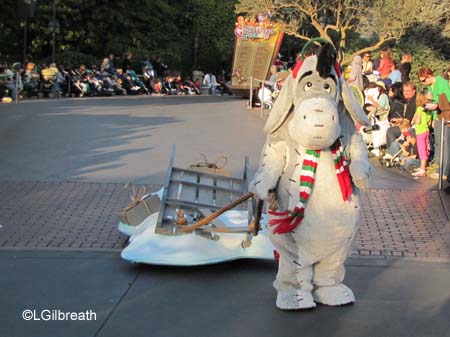 Lee and I both commented on the snowmen – they have fixed expressions, and are so roly-poly they can't move much, but even so, they manage to display a lot of personality – you can tell who is flirtatious and who is a little shy.
Over at Santa's Reindeer Roundup at Big Thunder Ranch they have had to squeeze things together since the Celebration BBQ takes up half of the space. The reindeer still inhabit the corral, though – at least until Christmas Eve when they will have other work to do, I suppose! There is a small area next to the cabin with several tables set up where kids can do crafts – either coloring or making some reindeer finger puppets.
Santa and Mrs. Claus were both posing for pictures when we were there – I don't remember seeing Mrs. Claus before. Santa was inside the cabin, and Mrs. Claus was sitting on a bench outside. When Santa went for a cookie break he took a brief moment to sit with the Mrs. and pose for this picture.
When we left Big Thunder Ranch it was about 4:45 – and there was a veritable gauntlet of characters all along the Big Thunder Trail from the ranch entrance back to the Fantasyland exit. There must have been at least 20 characters – I don't remember them all, but we saw Brer Fox and Brer Bear, Woody, Jessie, Friar Tuck and Little John (from Robin Hood), Meeko, four or five of the Country Bears, Koda and Kenai, and four penguins from Mary Poppins. Quite an opportunity for those interested in seeing the less common characters (I don't think I've ever seen Friar Tuck before!) – I have no idea if that's something they do every day, or if we were just in the right place at the right time.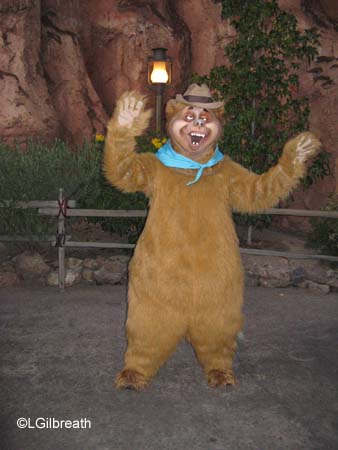 The Castle lighting was supposed to start around 5:00, but it was almost 5:30 when it finally did its little show. It's very sparkly and shiny! 🙂 While we were waiting, we noticed the wonderful soundtrack of holiday music that plays on Main Street during the holidays – with some less-well-known songs like The Christmas Waltz, Caroling, Caroling (Christmas Bells are Ringing) and I'll Be Home for Christmas.
Holiday "it's a small world" is a little different this year. For the past few years they had been using the projectors that they use during the fireworks show to do an animated holiday sequence on the facade every 15 minutes after dark…but they aren't doing that this year. 🙁 Though just the "normal" lights are beautiful, too.
It's a little different inside, too – some of the Disney characters that they added early this year have been a bit dressed up for the holidays. There's Alice in Wonderland and Cinderella wearing holiday aprons: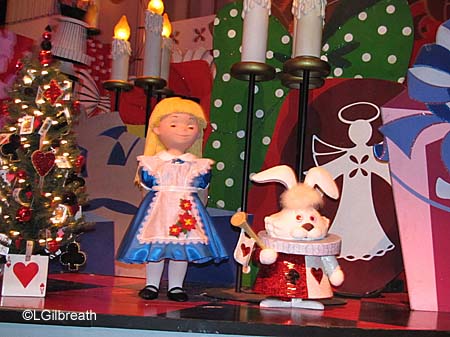 In the Africa scene, there's a nice gift of bugs from Simba to Pumba.
My favorite, though, is the new "America", scene, where the pop-up prairie dogs are wearing Santa hats. 🙂
The Believe…in Holiday Magic fireworks show is unchanged as far as I could tell. On the night we saw it there was almost NO wind, so the smoke wasn't getting blown away and it actually obscured some of the fireworks!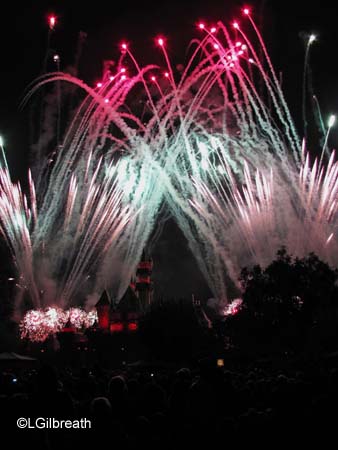 Everything seemed to be running 15-20 minutes late that evening – I mentioned the castle lighting. Fantasmic! also started about 20 minutes late, and so did the fireworks. Did someone forget to wind the clocks???
We had a great day, though unfortunately I didn't get a chance to research/sample any of the special holiday treats that are available at this time of year. I saw the seasonal krispie treats and the Mickey-eared gingerbread men, but that's all – I know there are others!