We've had a number of Disneyland dining experiences over the last six weeks that I have been meaning to write about…since there's so many of them, this won't be quite as detailed as I would usually do. (What's that I hear? Wild cheering???)
Back to the weekend of D23…
One night Lee and I walked over to the Anaheim GardenWalk – we'd never actually been there before. It's really not far from Disneyland at all – maybe a 10-15 minute walk. There are a lot of restaurants there, including Bubba Gump Shrimp Co., The Cheesecake Factory, California Pizza Kitchen, McCormick & Schmick's Grille, Roy's and P.F. Chang's. We opted for California Pizza Kitchen, mainly because we could get in immediately. The food was good – the big surprise was that they gave us a 20% discount for being Disneyland Annual Pass Holders! That's a bigger discount than you get at any of the Disney restaurants! Our server told us that most of the restaurants at the GardenWalk offer a Pass Holder discount.
We walked around the rest of the area afterwards – there are a lot of interesting places there, including a place called FiRE + iCE. According to the web site, it "is a smokin' hot dining experience featuring an incredible variety of fresh meats, seafood, vegetables, pasta and sauces cooked on an open grill in a refreshingly fun and colorful atmosphere. Featuring an outdoor patio with a fire pit, it is the perfect destination for those seeking a creative and entertaining dining experience!"
There's also Mrs. Field's, Rocky Mountain Chocolate Factory, Cinnabon, Submarina, Johnny Rocket's and Tacone, among others. La Salsa and Auntie Anne's are coming soon. (Love Auntie Anne's pretzels – but I've only ever seen them in airports!)
On another D23 evening we had dinner with Deb and Deb at Catal in Downtown Disney. I'd never been there before, but we will definitely be returning! We had a wonderful dinner – great food, a terrific server, and, as an added bonus, we could see the Disneyland fireworks from our table!
The menu is HERE. Some of the things we sampled were the Compressed Salad, Bucatini Pasta, Colorado Lamb mix grill, New York Steak, and rotisserie chicken. I think I'm the only one who ordered dessert but it was awesome – the Chocolate Flourless Fudge Torte. One of the better chocolate desserts I've had anywhere in a while.
On the first day of Halloween Time, Lee and I had lunch at The French Market, since they were one of the locations that was serving special menu items for Halloween. I love the decor in there at Halloween – they really decorate the place. (I wish they would sell the zombie gingerbread men in the park!) They were supposed to have Zero's Ghostly Goulash, but that was not on the menu, though they had a couple of Halloween-themed desserts.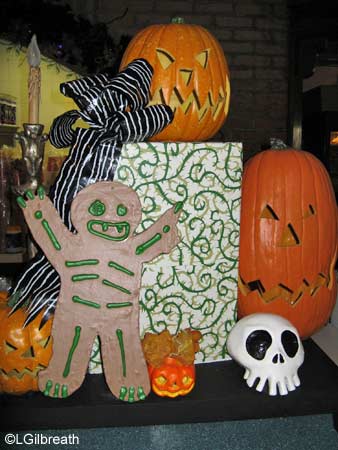 I should know better by now than to eat there…I really do NOT care for the food. This time I tried the Dixieland Cajun Chicken Salad, and didn't like it at all – the chicken and avocado was soaked in some kind of a citrusy-lime marinade that was overpowering. And once again the so-called "Cheddar Cornbread" was really orange cornbread. Lee had the Chicken & Seafood Jambalaya, which he said was ok – he doesn't like the cornbread, either.
Dessert was good, though – it was four red velvet madeleines served in a plastic coffin. Really very tasty!
The menu is HERE.
That night we ate at the Wine Country Trattoria at DCA. That remains my favorite in-the-park restaurant – I've enjoyed everything that I've had there. This time I ordered something different, the Pizzetta Salad, and I think I have a new favorite dish. It's romaine hearts, roma tomatoes, smoked bacon, crumbled blue cheese and Kalamata olives with a creamy Italian dressing served on a warm pizzeta crust. SO good, and very filling. I ordered the dressing on the side and ended up dipping the pizzeta crust in it. Yum. Lee ordered his favorite, the Lasagna Rustica. I think my only complaint about this restaurant is that they don't serve warm bread.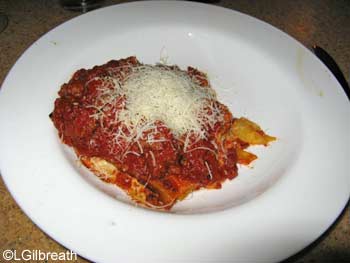 For dessert we had the Trattoria Chocolate Creme – Freshly baked silky double chocolate creme with a vanilla wafer cookie. Sort of a cross between mousse and pie. It was pretty good, and definitely big enough for us to share! We also treated ourselves to glasses of the Magicale sparkling wine – we love that.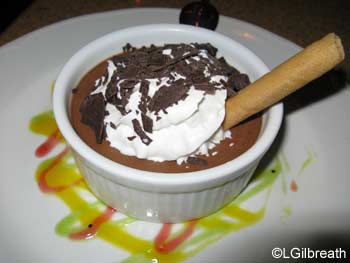 The menu is HERE.
The next morning after we'd enjoyed Magic Morning we had breakfast at Tomorrowland Terrace. This has got to be the best bargain at Disneyland – for $6.99 you get a nice breakfast which *includes* a beverage (coffee, tea, hot chocolate) – normally the beverage by itself is $2.69! I ordered a vegetarian version of the Breakfast Burrito, which was filled with scrambled eggs, potatoes, and cheese (they left out the sausage for me). It was not haute cuisine but it was good and filling – it would have been nice if they'd had something other than little packets of taco sauce to put on it, though.
Lee got the Sunrise Breakfast – your standard breakfast platter of scrambled eggs, bacon or sausage, potatoes and a mini-muffin. Again, it was just fine. The other $6.99 breakfast specials are French Toast Sticks and a Fruit Plate. (The rest of the day the Fruit Plate costs $6.99 and *doesn't* include a beverage!) Like I said, I think breakfast there is a really good deal!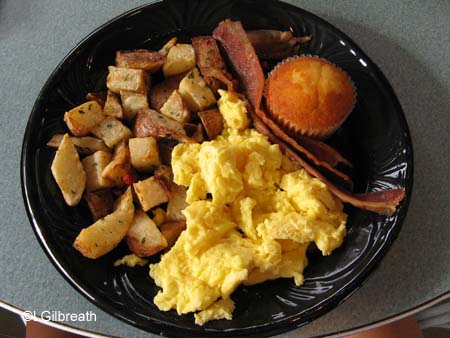 The menu is HERE.
On the Sunday morning of Columbus Day weekend Lee and I decided to try breakfast at Catal I showed Lee the menu on AllEars to see if he was interested and he said something like: "Wow…I'm not even all the way through the menu and I see three things I'd like to try!" And we had a very nice breakfast, and had the place almost all to ourselves – there were very few parties in the restaurant. We opted to eat outside since it was a very pleasant morning. They offer an express continental breakfast buffet for $7.95 or a full breakfast buffet for $14.95, but we both ordered off the menu. I had the Chilaquiles – Tortilla chips tossed in ranchero sauce with potatoes, cheese, cilantro, fried egg and sour cream. It was quite good, and really a lot of food – I couldn't finish it, and Lee helped too. It had a little bit of a kick, but not bad. I ordered the egg scrambled rather than fried.
Lee was torn between the Malt Waffles and the Wild Mushroom Omelet but eventually decided on the omelet. It came with caramelized onions, thyme and a drizzle of creme fraiche. He said there really wasn't much in the way of caramelized onions, but the mushrooms were very good.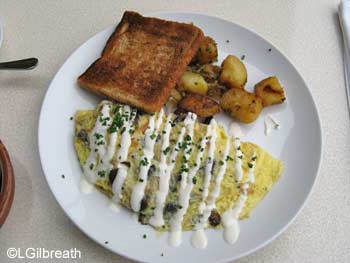 It's Halloween Time…and that means pumpkin muffins! We picked up one of those on our way out of Disneyland on Saturday night. Yummy.
So that catches me up with Disneyland food…just in time to head off to Epcot's Food and Wine Festival, where you know you can expect lots more food reports and photos!
This has nothing to do with dining…but Disney Parks has started their own set of blogs, and there's a blog entry which talks about filling the lagoon at DCA. It has a cute video of Mickey and Goofy.
Mickey Helps Fill Paradise Bay Lagoon for "World of Color"