Dateline: August 29, 2009 Yellowstone National Park
Today's Theme: Untamed Nature
The Itinerary
We board our motor coach and take a 1.5 hour tour through Yellowstone National Park. We will take a hike to the Grand Canyon of Yellowstone.
Lake Yellowstone is the location for our lunch today.
Time to check into the Brooks Lake Lodge and enjoy a Disney movie night.
Here are some additional facts about Yellowstone National Park (from the National Park Service website):
67 species of mamamals, 332 recorded species of birds, 16 species of fish, 6 species of reptiles and 4 species of amphibians reside in Yellowstone.
The Park has 5 entrances, 466 miles of road, 15 miles of boardwalk, 1,000 miles of backcountry trails and 301 backcountry campsites.
Enjoy Today's Photos (remember we are on Mountain time) :
Beci writes about 8 a.m.: "Good morning! The adventurers are on the bus heading out for day 5. Cell/net will be iffy again so well update when we can."
A beautiful water feature on our morning hike.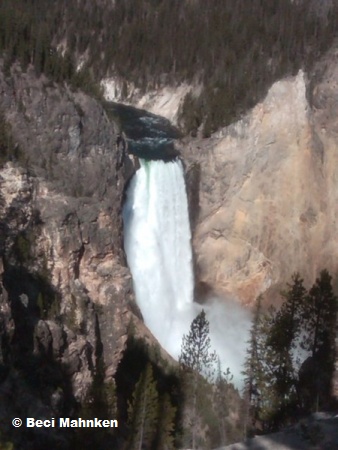 Hiking the grand canyon of Yellowstone.

Beci at the real Artist Point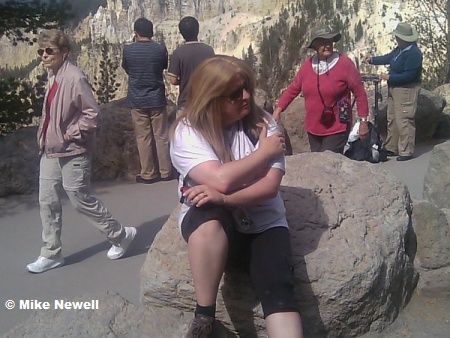 Barb and Bill at the real Artists Point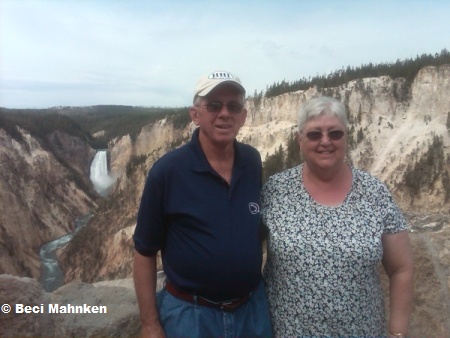 The historic Lake Hotel is the location for lunch the to our home for the next two nights Brooks Lake lodge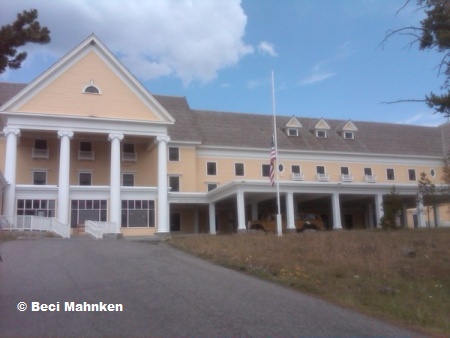 Lunch at the Lake Hotel. Having the Caesar salad with beef tenderloin tips.

It really is all about the chocolate!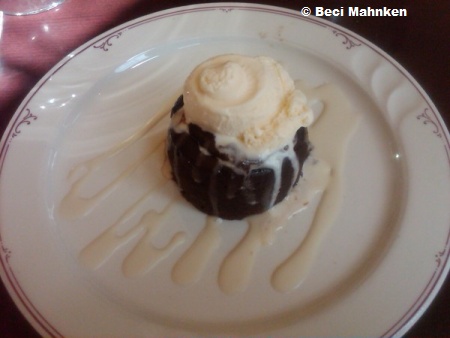 Brooks Lake Lodge
On our way to Brooks Lake Lodge, we met some wild life… up close!

Arrived at Brooks Lake Lodge – Here is the beautiful view from my cabin porch.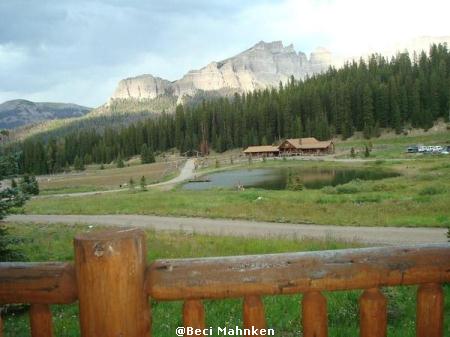 Brooks Lake Lodge also comes with entertainment… Moose & Trapper!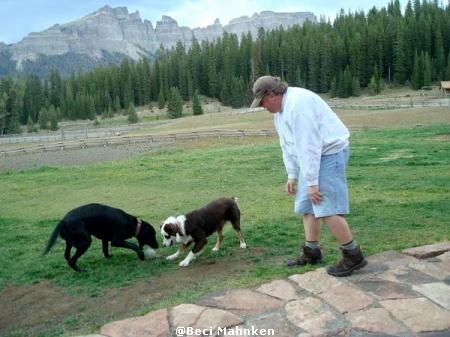 The Adventure group and "Moose" outside the Lodge.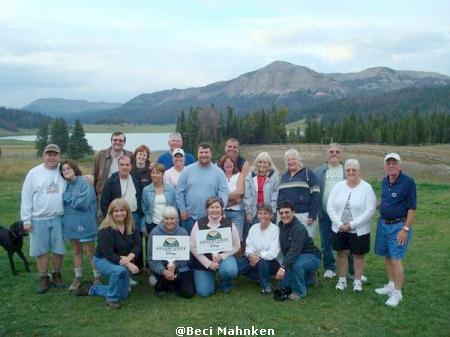 Mike and Trapper

Lots of space to stretch out and relax in the main bldg at Brooks Lake Lodge.

And a great view from the back of the main bldg too!

Dinner at the Brooks Lake Lodge dining room. Then off to bed for a packed day of horseback riding, fishing, and spa treatments!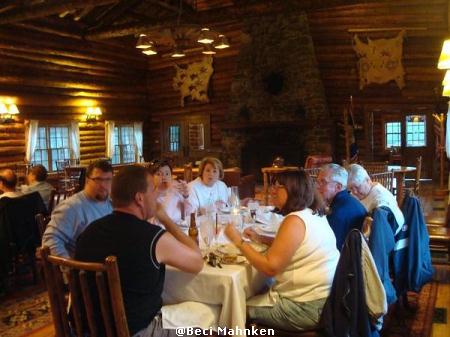 HOW TO FOLLOW OUR ADVENTURE!
Once the Adventure by Disney begins on August 25th, there are THREE ways you can follow us! With new social networking, we plan to do something a little different.
TWITTER
There is a program called "Twitpic" that allows one to send photos via a mobile phone directly to Twitter. Mike Newell and Beci Mahnken will be posting photos "live" via the Twitter network.
Mike Newell: http://twitter.com/MouseWorldRadio
Beci Mahnken: http://twitter.com/beci_mousefan
FACEBOOK
We also have our twitter accounts transmitting automatically to our Facebook accounts. So those of you who are "friends" can follow our adventures that way!
BLOGS
At the same time, AllEars team members Jack Marshall and Debbie Koma will be back home copying our Twitter photos and combining them this daily blog. So, you can follow us either here, on Twitter or on Facebook.
We have been told that there are areas where we will travel that have limited, if any, cell phone service, but we'll make it up once we get service back.
I hope this provides some cool ways for you to follow us on the adventure of a lifetime, an Adventure by Disney to Wyoming!