Water, water, everywhere – it's Florida after all! Our Pic of the Week theme this week is watercraft. One of the things I love about Walt Disney World is how many different opportunities there are to ride on the water. Ferries and water taxis of all sorts transport guests from resorts to the theme parks and Downtown Disney. All over the property, there are marinas where guests can rent Sea Racers and canopy boats. There are fishing excursions and fireworks cruises. And on really special occasions, it's a treat to a sail on Breathless or the Grand1 yacht!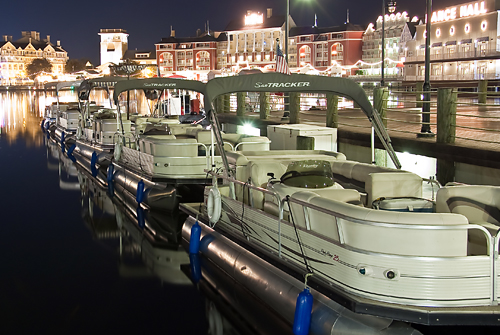 Copyright © 2007 Barrie Brewer, Nikon D50, 18-200VR lens, 14s shutter, f8
Late one night I happened upon these pontoon boats docked at the marina at the Yacht and Beach Clubs. Earlier that evening they were used to take guests on Illuminations Cruises.