Motion is this week's theme.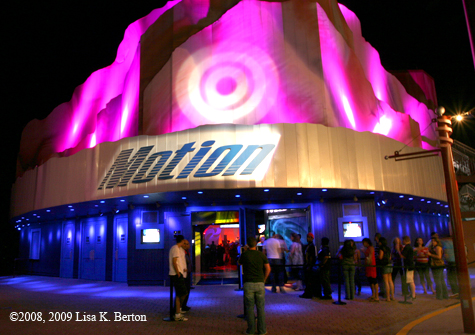 This club closed down on Sept. 27, 2008 along with the rest of Pleasure Island's nightlife.
Canon 30D, Canon 17-40mm L IS, ISO 250, f14, 1.3 seconds
Do you think I am being too literal?
OK, OK all or some joking aside, there are several ways to both capture and show motion in still photos. What I did is I set my camera up on a tripod and slowed down the shutter allowing light in for a longer period of time but also leaving it possible for people walking by to create a blur. If I'd left the shutter open longer, let's say for 3 seconds, the partygoers would have looked like faint streaks but the neon may have bled. Do you see how in the bottom right side of the image, it looks like there's a faint tan/yellow cast? That's the effect of a woman who walked by in a beige tank top. She was closer to the camera than the people in line.
There's plenty of room to play with digital cameras and all you have to do is keep trying. I know you can do it.
Next up, Barrie and Scott give the subject a spin.