This was Challenge #70:

And here's the answer: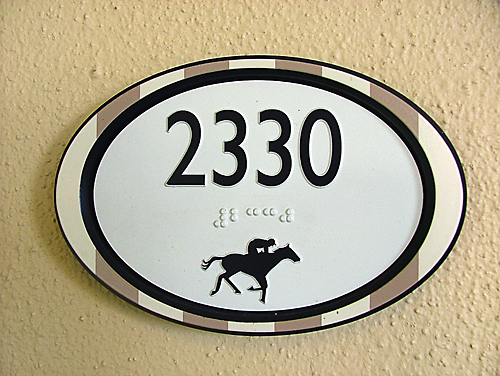 Copyright © 2005 Barrie Brewer, Fuji Finepix S5000, 1/20s shutter, f2.8
This is one of the doorplates at Disney's Saratoga Springs Resort and Spa. Saratoga Springs is one of the Disney Vacation Club properties. If you mentioned Saratoga Springs in your answer this week, even if you said it was the elevator, I put you on the winners list. I'm feeling generous, but don't get used to it! I'm going back to being a tough cookie on this new challenge.
Paul Cooper was the first to send in the correct answer for the challenge! Congratulations to Paul and all the readers who got the answer right: Michelle Thompson, Elisa Dillon, Kevin Toomey, Lee Anastasi, Tim Wingfield, Sharon Lee, Jackie Purcell, Hillary W, Curtis Bille, Leslie Dameron, Tommy Carty, Densie Owen, Lynn Barber, Derek Carty, Margie Thomas, Krista Penno, Dave Cole, Nick Straka, Elizabeth Kormesser, Tim Johansen, Amanda Campbell, Jen Cerce, Stephen Wilson, Diane Cripps, Jennifer Tremley, Maryann Eckenrode, Kye Layton, Bob Paterson, Denise Cayz, Bryan Timko, Hayley Lawson, Lisa Berton, Suzanne Kennedy, Sharon Dale, Theresa Rucando, Kris Nixon, Anjanette Tournillon, Bryan Fencl, Tim Rachuba, Jeffrey Dunne, Sherry Klinefelter, Daniel Record, Sarah Smee, Joyanne Johnston, Dan Mangini, Laura Pranaitis, Brian Haas, Laura Barnes, Blake Schmidt, Sue Mcdonald, Paul Ignudo, Jr, Tricia Noble, Bethany Mattiuz-king, Katarina Whitmarsh, Gary E Genteman, Willie Tople, Melissa Schipper, David Coates, Debra Moscara, Bill Mckim, Dan Mcdonald, Bonnie Smith, Diane Ramos, Marie Phillips, Noreen Rachuba, Christi Ison, Anne Hainsworth, Karen Schlumpf, Amy Miller, Heather Stevens, Robin Mcconnell, Nicole Cyr, Tom Koval, Joseph Tempel, Al Desimone, Karen Dresser-smith, Danielle Berkovitz, Liz Moreau, Cathy Adams, Kathy Lowe, Laura Miller, Jacquelyn Law, Robert Flaherty, Melissa Kuehnle, Jacque Schmidt, Hollie Hinton, Baines Family, Jeffrey Kontur, Sherri Pell, Paul Amico, Cheri Palmisano, Aruna, Kathy Berry, David And Melissa Lizewski, Dylan Weidner, Steven Long and Travis Grim. Each of you will be entered in the February winners' drawing.
_______________________________________________________________________
Challenge #71: Where in the world is this?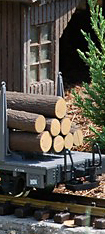 Do you know? Do you have a guess? Send in your answer, before the end of the day on Thursday, February 5, by clicking HERE!
_______________________________________________________________________
Everyone who sends in a correct answer to a Where in the World Challenge this month will be entered in a drawing at the end of the month for some special AllEars® goodies and a cool Disney book!