Before I start to discuss Main Street, I need to give you a little background about the Disneyland Paris Park.
When Walt built Disneyland in California, he did it on a shoestring. It was all he could do to scrape together enough money to buy the land and get the park open. Today, Disneyland is physically one of the smaller Magic Kingdoms; however its diminutive size gives it a wealth of charm.
When plans were being drawn up for the Magic Kingdom at Walt Disney World, the Imagineers were excited about the abundance of land they had at their disposal. When the park opened in 1971, its larger size handled crowds significantly better than its California counterpart. But much of the charm that can be found at Disneyland was missing from the Florida project.
When the Oriental Land Company came to Disney and said they wanted to build a park in Tokyo, they used the California and Florida parks as a shopping list. They selected what they considered to be the best attractions and designs from these parks and combined them into their new Magic Kingdom. When they were done, Tokyo Disneyland had a disjointed feel with mediocre transitions between lands. Don't get me wrong, it's a wonderful park, but it lacks continuity.
When Disneyland Paris was being planned, Michael Eisner, with Frank Wells at his side, were willing to spend money. They were prepared to do things the way Walt would have with Disneyland if he'd had the means. Combine this attitude with senior Imagineer Tony Baxter's brilliant designs, and a magnificent park emerged – a park big enough to handle large crowds yet has intimacy, charm, and seamless transitions. For me, it all comes together at Disneyland Paris and it's my favorite of the five Magic Kingdoms and my second favorite park after Tokyo DisneySea.
Like California, Hong Kong, and Florida, you walk under the Train Station to reach Main Street U.S.A.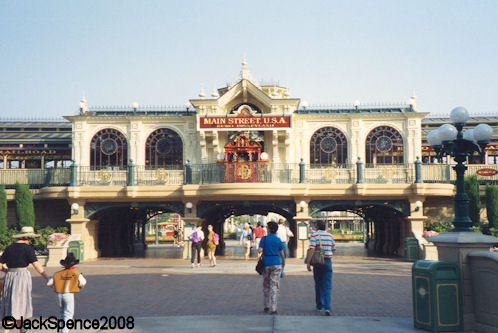 Below is a view of the Train Station as seen from City Hall.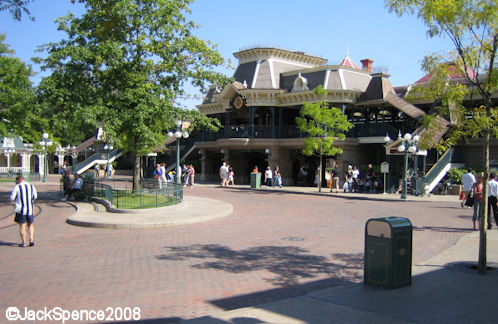 It's difficult to know how best to describe the steam trains. Do you divide the description into sections depending on what land you're discussing? Or do you talk about the entire attraction, even though it crosses many lands? I think I'll choose the latter and start at Main Street and give you the complete tour.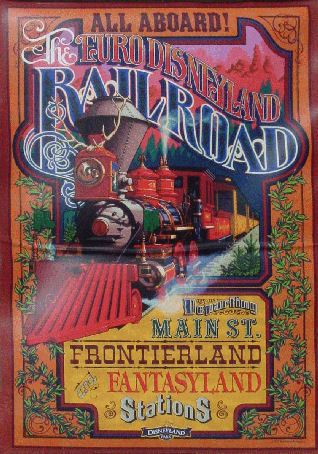 Even though I vote Tokyo's steam train as my favorite, Disneyland Paris is a VERY close second – and for the same reason. You see more sights on these two lines than you do on the rails of California, Florida, or Hong Kong.
Shortly after leaving Main Street Station, you enter the Grand Canyon Diorama, a copy of the one found at Disneyland, California. Once again, you hear the music of Grofe as a full day of the Canyon unfolds before you. At Disneyland in California, the Grand Canyon backs up against Tomorrowland. But at Paris, it appropriately backs up against Frontierland.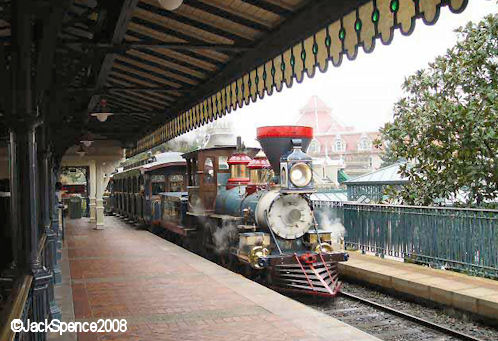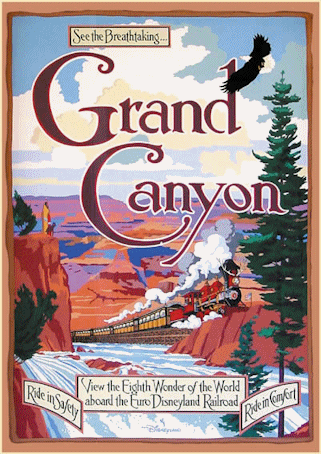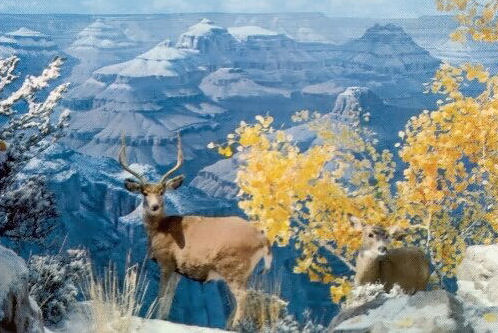 Emerging from the Grand Canyon diorama, you travel next to mud pots and geysers with Big Thunder Mountain towering in the background. Then a section of the Rivers of America comes into view. Here you may see the Mark Twain or the Molly Brown sail by.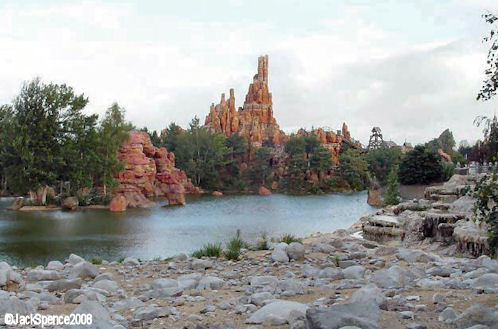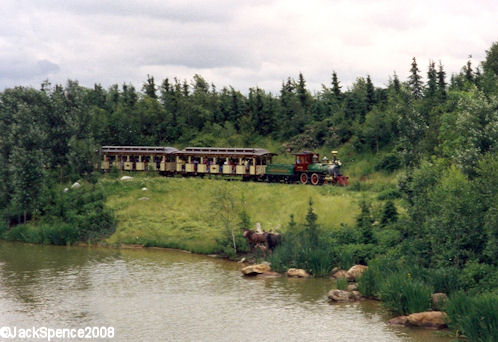 Eventually you pull into the Frontierland Station.
The rolling stock at Disneyland Paris is unique in that the cars are better enclosed due to the variations in weather and they feature an interesting seating pattern. Instead of forward or side facing benches, these trains use a "U" shaped or "booth" configuration. Each car is divided into six sections and within each section you'll find a "U" shaped bench with one portion facing forward, another facing sideways, and one backwards. The idea was to give everyone a better view. Personally, I found this configuration a little cramped. When sitting in a "corner" seat, your legs and knees are pressed against those of your fellow passengers. You can see this seating configuration (and me) in the following pictures.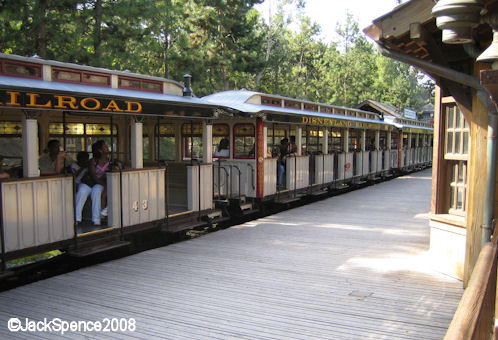 Up until just recently, the fences, barns, and animals of Critter Corral came into view as you left the Frontierland Station. Now a new attraction, Woody's Roundup Village, occupies this space. You soon leave Frontierland on your way to Adventureland.
If you look quickly, you can see the Indiana Jones and the Temple of Peril attraction in the distance. In the foreground is a grassy meadow and a jeep. You soon enter a tunnel and a quick glimpse of the inside of the Pirates of the Caribbean can be had (similar to seeing Splash Mountain from the train at Disney World). Unfortunately, I was unable to catch a picture of "Pirates" while in the tunnel.
When you emerge from the tunnel, you're at the Fantasyland Station.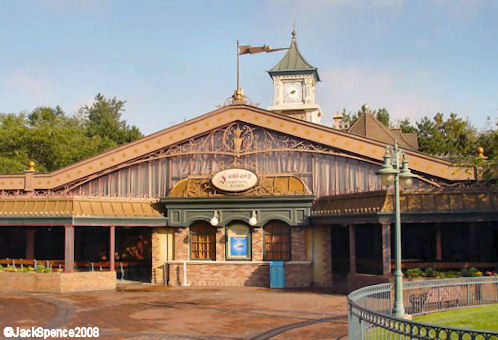 As you skirt the edges of Fantasyland, you see Alice's Curious Labyrinth and the Old Mill before crossing a trestle. You then pass in front of "it's a small world" in the same manner that you do at Disneyland, California.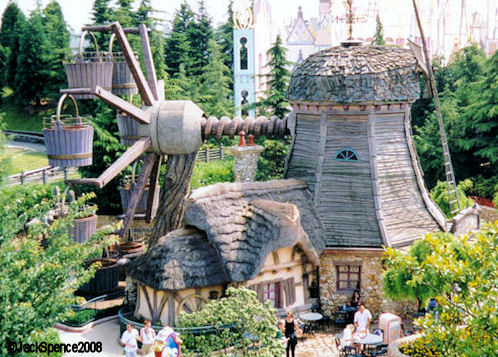 A few chugs later and you're at the Discoveryland (Tomorrowland) Station.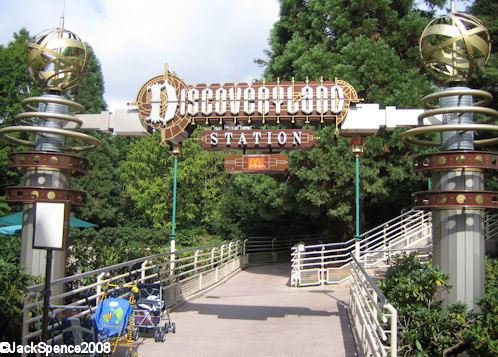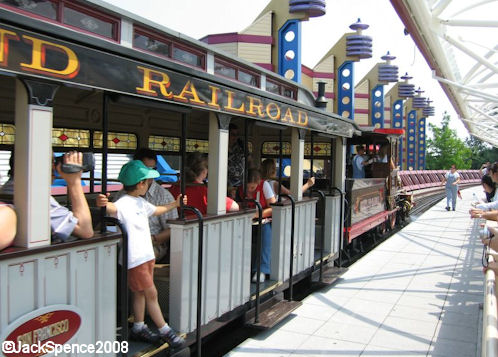 While traveling through Discoveryland you are afforded views of Star Tours and Space Mountain. After 7,150 feet of track, you're back at Main Street.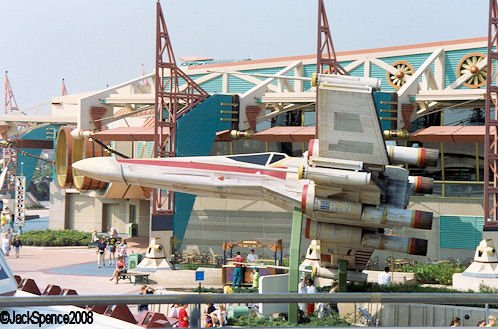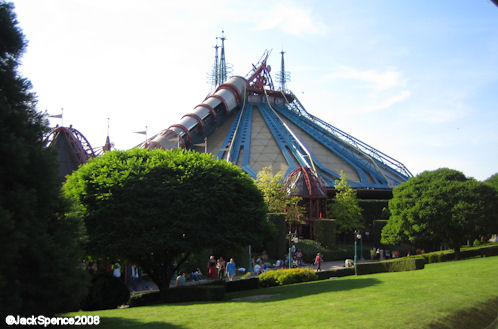 In my next blog I'll talk about the Town Square section of Main Street.