The weather in central Florida has been a bit cool lately. I've worn my windbreaker several times this winter already, but this day in Epcot did not quite require a jacket. It was a short sleeves day.
Early March is typically a great time to visit Walt Disney World, since the bulk of the Spring Break crowds hasn't materialized just yet.
In the early afternoon, I spotted fewer than ten guests in the walkway up to the entrance to Spaceship Earth, so I hopped in line for a minimal or no wait. As you may know, this attraction has been a work in progress for the last few months. I wanted to check out the most recent changes and look around inside for new Hidden Mickey images.
In the ride vehicles, each guest faces an interactive computer monitor. After some initial questions posed on the touch screen, your photograph is snapped. During your descent back to earth near the end of the ride, your smiling mug appears on the interactive touch screen as you make choices that determine your future. (This future choice addition is reminiscent of the retired Horizons pavilion.)
I want to ask for opinions about two images along the ride.
Kim Lamb reports: "on the right side of the ride vehicle, in the section with classic black and white movies playing, a chalkboard marquee has listings of upcoming features. One of the features is "The Band Concert", not an image of Mickey, but a reference to him." Does this qualify as a Hidden Mickey? (Yellow arrows were added to the photo).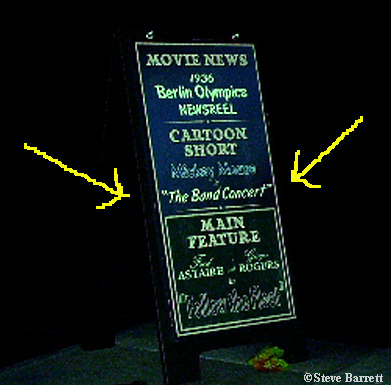 Another image in the same section of the ride, across from the chalkboard marquee on the left side of the vehicle, is a radio announcer. His microphone flag has the letters "WDI". Tim Devine suggests that these letters are a tribute to Walt Disney Imagineering. It's a cool image, but I don't think this qualifies as a Hidden Mickey. Let me know if you disagree.
The exhibit area at the exit of Spaceship Earth has been remodeled several times recently. Now you can spot your face photo on a large overhead screen, and you can e-mail your photo to someone from one of several computer monitors that face the screen. (I didn't have a chance to try this out, but I believe that's what guests were doing at these monitors).
Anyway, this new overhead screen replaced other screens that contained a cool classic Hidden Mickey made of star clusters. Alas, this now Lost Hidden Mickey was short-lived indeed!

Read more about Steve's Hidden Mickey finds on AllEarsNet.com
Steve maintains a Catalog of Hidden Mickeys on the Hidden Mickeys Guide.