Last year Cafe Orleans at Disneyland was remodeled, and reopened last summer as a
table service restaurant instead of the buffeteria it had been before.
We ate breakfast there a few months ago and dinner recently, so I
thought I'd post a review of the two dining experiences.
For breakfast
we were there on a Saturday at about 8:15 just after the park had
opened, and there were only about two other tables occupied the whole
time we were there! There is seating inside and outside – we sat
outside, in a table up against the wrought-iron fence, where we had a
view of the people passing by.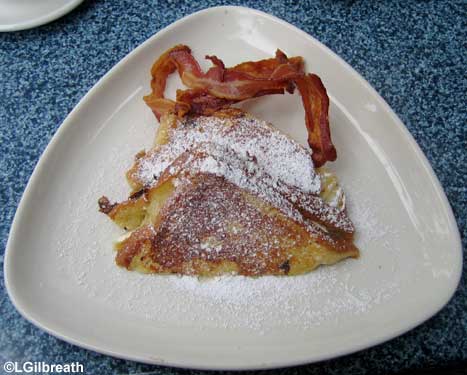 You can view the breakfast menu HERE.
We both tried the Three Cheese "Monte Cristo" French Toast – "hearty egg
bread filled with Brie, Swiss and mozzarella cheeses, then grilled and
finished with a berry compote and applewood-smoked bacon." I would not
order it again – it was just too much cheese, which cooled off and
congealed into a sort of disgusting rubbery layer rather quickly.
The "toast" part was fairly thin slices of bread – I was expecting
something thicker. The berry compote was good – once we finally
got it – it didn't come on our plates and I had to ask our server
for it.
Considering how un-busy they were the service was not very good, and
they seemed rather slow and disorganized.
I wish we'd tried the Mickey-shaped beignets – I've heard those are
pretty good. And what's not to like about fried dough with lots of
sugar? 🙂
I'm happy to report that our dinner experience was a lot more positive.
We walked up to the restaurant at about 5:10 on a Friday evening and
were seated in less than 10 minutes even though I hadn't made Priority
Seating in advance. Had we arrived 30-40 minutes later I don't think
that would've worked nearly as well, though. We were again seated
outside, which was fine with us, though as it started to cool off I had
to put on a light jacket. It took a little while for our server to get
to us, but once she did she was prompt with taking our drink and food
orders.

We decided to try a selection of things off the menu. (You can see the
menu HERE.) I ordered the
French Onion Soup, which was served in a nice personal-sized
tureen. It was good – not the best french onion soup I've ever
had, but tasty.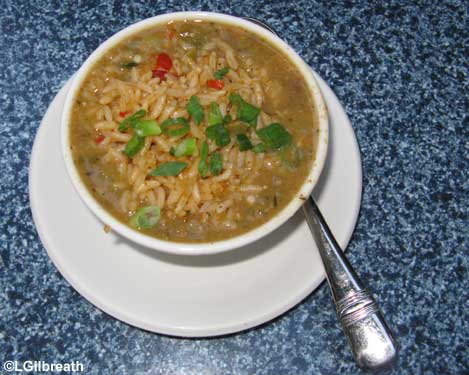 Lee got a cup of the New Orleans Gumbo –
"a rich, flavorful stew with chicken, andouille sausage and tasso
ham, served with Cajun-style 'dirty rice'." He really enjoyed it,
but it was a little too spicy for me.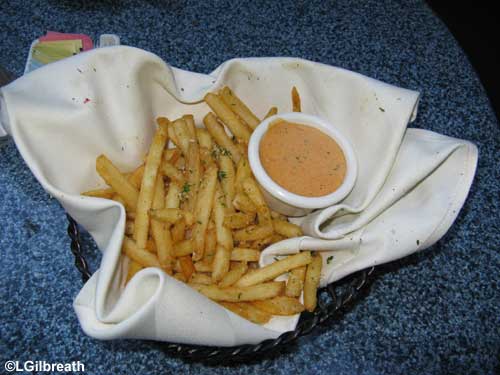 We also tried the Pommes
Frites – "Traditional French-fried potatoes tossed with Parmesan
cheese, garlic and parsley, served with a Cajun spice remoulade."
These were REALLY good – evilly good. Nicely crisp but not greasy,
with just the right amount of seasonings. Lee didn't care for the
remoulade sauce served with them, but I liked it.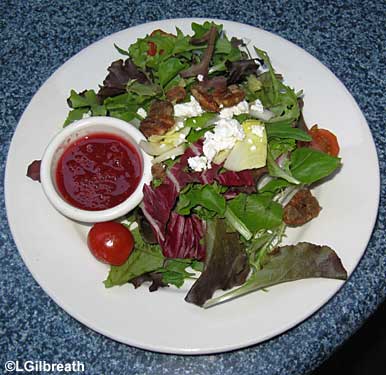 I ordered La Salade de Maison as an entree (even though it's on
the "Starter" menu). It's your basic salad with baby greens, topped
with cherry tomatoes, crumbled goat cheese (I love goat cheese!) and
caramelized pecans. It's served with raspberry vinaigrette which I
asked for on the side, and I'm VERY glad that I did, because it was way
too sweet. Had they poured it on for me, I'm afraid it would've been so
sweet as to make the salad inedible.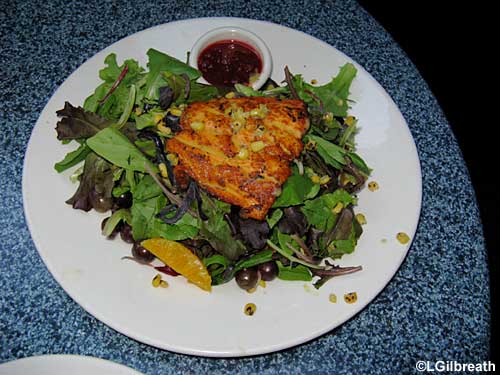 Lee decided to try the "Crescent City" Salmon Salad – "Fresh
spinach and mixed baby greens, tossed with carmelized pecans, red
grapes, navel orange segments, roasted sweet corn, and orange-cilantro
vinaigrette – crowned with sauteed and pan-seared Atlantic Salmon." He
doesn't care for cilantro so he requested the raspberry vinaigrette
instead, which he said went pretty well with the salad and salmon –
though he also used it sparingly.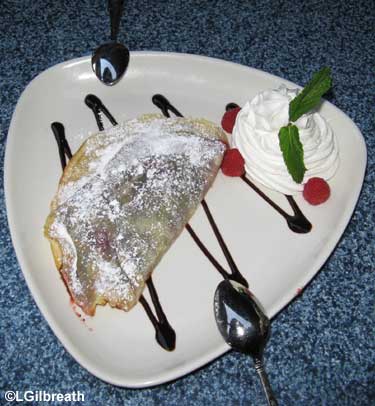 For dessert we split the Chocolate Crepe. Our server told us it would
take about 15 minutes for that to be prepared, and she checked back with
us a couple of times to assure us that it would be coming soon. (I
think it took closer to 20 minutes.) The
crepe was apparently cooked and filled and THEN baked – it was certainly
very hot when it came out and the filling burned my tongue on my first bite.
It was filled with a chocolate and
raspberry filling – I don't much care for fruit with my chocolate, but
this had only a slight raspberry flavor, so it was quite good. We both
enjoyed it.
It was a very nice meal and the service was ok (better than I was
expecting, given what I'd heard), though a little uneven. We had a
little bit too much of a wait before our appetizers came out, but
then our entrees were served to us before we had finished eating
our appetizers. And although they came around to refill Lee's iced
tea glass several times, no one ever refilled my water glass. I'd heard
stories of how a meal can be incredibly slow, but we had appetizers,
entrees, and dessert and were paid and out of there just over an hour
after we were seated.
I think we'll go back – for one thing we want to try the Mickey-shaped
Beignets! 🙂 And I'm curious about the Creole Ratatouille – it looks
intriguing.
Bon appetit!