The Vineyard Room is the "fine dining" table service restaurant at Disney's California Adventure. It's located on the second floor of the Golden Vine Winery and is an open-air/patio restaurant – most of the tables are under a roofed area, but there are no walls. (There's also an uncovered patio area.) There are views of the park from most of the tables, either looking out towards Paradise Pier and the Pacific Wharf or "a bug's land" with the Tower of Terror in the background.
The restaurant was not really that busy – we arrived about 10 minutes before our 5:50 Priority Seating Time (which I'd just made that morning!) and very few tables were occupied. The restaurant wasn't full at any time during our leisurely dinner, though about 75% of the tables were occupied by the time we left.
In addition to the regular menu items, the restaurant offers a three-course prix-fixe menu – on past menus this has looked pretty intriguing, but the current offerings of Watermelon Soup and and Filet Mignon just didn't sound that appetizing to me.
Our server started us off with some excellent (and very chewy!) sourdough bread, with olive oil and balsamic vinegar to dip it in. I would've preferred warm bread, but this was still pretty good. They have a very nice wine list, with a fairly large selection of wines available by the glass – I recognized many of the labels as wineries that have appeared at the Food and Wine Weekends the past two years. We both ordered a glass of the Miner Rosato Sangiovese. It was served chilled, and was quite refreshing on a warm summer evening. A member of the wait staff brought us an appetizer "compliments of the chef" – this was goat cheese and candied nuts and some minced herbs atop a thin slice of toasted bread. It was very good – we'd have been happy to have the chef serve us appetizers all evening! 🙂
We saw Executive Chef Gloria Tae at one of the Food and Wine Weekend cooking demonstrations several months ago. Interesting background – she actually did not attend a cooking school, but started working in an entry-level position at the Vineyard Room back when Robert Mondavi ran it when DCA first opened. She stayed after Mondavi pulled out and has worked her way up to her current position. She seems to be very creative in the ingredients she combines together, and everything has a lot of flavor.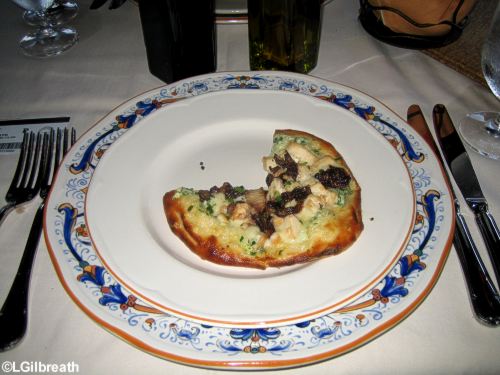 For our appetizers, I ordered the Smoked Chicken Flatbread, and Lee ordered the Soup of the Day – mushroom soup. The flatbread was absolutely incredible – smoked chicken with small dices of spinach and pieces of braised radicchio, with ricotta and fontina cheese, all atop an excellent crispy crust. We both really enjoyed it. Lee's mushroom soup was in a light broth rather than a creamy soup – it looked like the mushrooms had been sauteed in the broth and then lightly pureed – there were still small pieces of mushroom in it. He said it was very good – I tried it, but I'm not a mushroom fan, and it tasted like mushrooms. (There's no picture of it because, to be honest, it doesn't look very appetizing in a photo – looks like a bowl of mud!)
Lee ordered the Rib-eye Steak, which was served pan-roasted with sweet corn gratin, balsamic onions and haricot verts in a cabernet reduction. While not quite as tender as the tamarind beef filet that California Grill used to serve, he said it was really good. I had the Roasted Vegetable Fondue. This was a plate of nicely roasted vegetables (potatoes, carrots, red and white onions, asparagus, eggplant, green and yellow squash and red peppers) that came with a white cheddar fondue, which was served in a toasted brioche box. There was also a bit of apricot mostardo sauce drizzled on the plate. It was really good – the veggies were so nicely prepared that they didn't really need to be dipped in the fondue, but tasted very good with the cheese, and once most of the cheese was gone, the brioche box itself was excellent – Lee helped with that.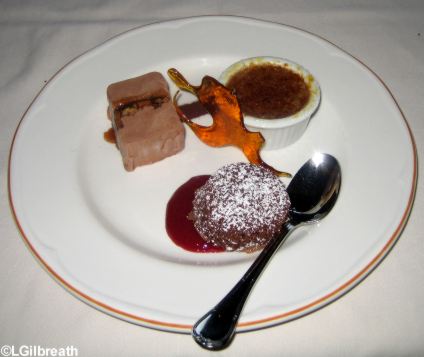 For dessert I had the Chocolate Variations. This was a sampler of three different desserts – orange milk chocolate creme brulee, guanaja chocolate turtle ice cream, and manjari chocolate hazelnut torte with cherry coulis. That wasn't quite what I received, though – the creme brulee was milk chocolate and hazelnut, while the torte was chocolate and orange. I detest chocolate and orange together, so I knew I wouldn't like that part, but the creme brulee and ice cream were good. (My chocolate creme brulee is better, though – I use the recipe from Fulton's Crab House which I found on AllEars – it's HERE, though I use dark chocolate and not milk chocolate, and bake it at 325 for about 30 minutes. It's really easy!)

Lee had the Apple Blueberry Crostata – roasted Granny Smith apples and blueberries, Drambuie caramel sauce and vanilla bean gelato. He enjoyed it, but said the berry crumble I made recently was better. 🙂 The pastry had an interesting texture – not quite as crisp/flaky as puff pastry, but crisper than pie crust.
It was an excellent dinner, leisurely paced – we were there for about an hour and a half. Our server was just ok – he didn't ask us if we wanted more wine, nor offer us coffee or after-dinner drinks with our dessert. The rest of the wait staff was pretty good, and kept our water glasses filled, though one of them was in a bit of a hurry to remove Lee's dinner plate when he still hadn't quite finished eating!
Two thumbs up from us – we'd definitely eat there again.
The menu is available HERE.
Bon appetit!