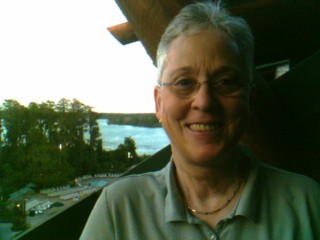 We've arrived! I got goosebumps checking in when Al, the security guard, welcomed the Princeses Home!!! I just love the Wilderness Lodge. It was actually the first deluxe resort I ever stayed at in the 90s and still remember Ranger Stan taking care of our bags. We got a super MouseFanTravel.com group rate and are splurging with a stay in concierge!
When Al checked our name at the gate, there was a note on our parking pass to let the valet stand know we were staying at the Old Faithful Club. When we arrived at the Valet Stand they called upstairs and Cast Member Rob came down to greet us. He got a bellman for us and wouldn't you know, it was Arnie, the same gentleman that helped me on my last stay. He is just wonderfully magical and it started the stay out on a very high note. The Lodge appears to be pretty full to capacity..there are folks everywhere!
It was 6:30 when we arrived. We were famished, so went into the Lounge and got some dinner. Really awesome vegetable soup (and I"m not a big soup person) was the hit. We also munched on some celery and cheese….and of course a glass of wine for me, and Linda had a bottle of Bass Ale.
We've unpacked and are now trying to decide what to do. MK is open very late so I'm thinking of taking the boat over since it's such a beautiful evening. Not even sure I'll go in the park.
On the other hand, the weather here is awesome (compared to home) and the balcony door is open…there's a gentle breeze.
Tommorrow morning I'll take off running with several pages of Book Questions to research.
Linda will be playing golf at Eagle Pines.
Til tomorrow….
Deb
Life IT too short!!!