TOURING
AT A GLANCE...
COMMISSARY LANE
HOLLYWOOD BLVD.
SUNSET BLVD.
ECHO LAKE
STAR WARS:
GALAXY'S EDGE
- COMING IN 2019!
TOY STORY LAND
- OPENING JUNE 30, 2018!
(Currently PIXAR PLACE)
ANIMATION COURTYARD
ENTERTAINMENT
SPECIAL EVENTS
DISNEY'S HOLLYWOOD
STUDIOS ARCHIVES
OTHER WALT DISNEY WORLD
THEME PARKS
OTHER DISNEY THEME
PARKS
Toy Story Land
-- Opening June 30, 2018

Disney's Hollywood Studios

MAY 2, 2018: You can book FastPass+ NOW for the new attractions opening at Toy Story Land.
Also, note that in July and August guests staying at select Walt Disney World resort hotels will be able to access Extra Magic Hours daily to experience favorite attractions at Disney's Hollywood Studios, including the attractions in the all-new Toy Story Land.
Walt Disney World has been sharing regular updates on what to expect when Toy Story Land at Disney's Hollywood Studios opens to guests on June 30. Below is a video of the backstory of the new land, as told by Imagineer Ryan Wineinger.
Recently, Walt Disney World Imagineers welcomed Woody, the cowboy from the Toy Story movies, to his permanent place in Toy Story Land. Standing nearly 20 feet tall, Woody is a part of the new Toy Story Land marquee, which sits just in front of one of the land's most anticipated attractions, the Slinky Dog Dash coaster. Woody tips his hat (which measures 7 feet across), next to the marquee, which is made out of alphabet blocks and a 4-foot-tall yo-yo -- just a few of the many toys that make up Toy Story Land.
Woody, Buzz Lightyear and Jessie the Yodeling Cowgirl will be greeting guests throughout Toy Story Land on a daily basis. And each character (along with the rest of the gang) will be joining in on the fun in a land where guests "shrink" to the size of a toy. In addition to Toy Story Mania, which has been in operation since 2008, guests will be also be able to take a ride on Slinky Dog Dash, a roller coaster Andy has assembled from his Mega Coaster Play Kit, or take a spin on Alien Swirling Saucers, a galactic play set that Andy won at Pizza Planet.

Count down to Toy Story Land's June 30 opening with our other updates:

INTRODUCTION
At the 2015 D23 EXPO, Walt Disney Parks and Resorts Chairman Bob Chapek unveiled plans for Toy Story Land, to be built at Disney's Hollywood Studios at the Walt Disney World Resort. Here's the official press release of the announcement.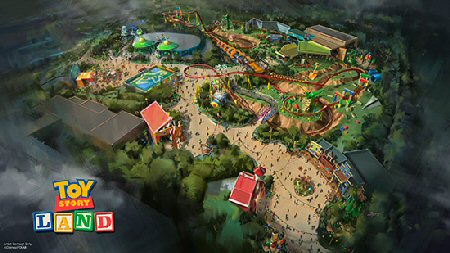 According to Imagineer Kathy Mangum, Toy Story Land was inspired by the overwhelming guest response to Cars Land at Disney California Adventure park at the Disneyland Resort.
"As all of you know, here in Anaheim, we've been quite successful with taking immersive experiences to a whole new level as we did with Cars Land. In fact, one of our favorite stories from opening day is that we overheard a little boy asking his mom, 'Is this where they filmed the Cars movie?'" Kathy said. "That's exactly how we want people to feel – like they've stepped onto the set of their favorite film … like the quaint town of Radiator Springs or, in the case of 'Toy Story,' the wild and adventurous outdoors of Andy's backyard."
ATTRACTIONS
When Toy Story Land opens at the park, guests will be able to play with some of their favorite toys at two new attractions that will be unique to the Walt Disney World Resort, plus one expanded favorite:
• Slinky Dog Dash, a family-friendly roller coaster - Guests board Slinky Dog's back for a thrilling toy-filled coaster adventure that's ideal for the entire family.
• Alien Swirling Saucers attraction – The famous little green aliens from the movie will take guests around for a spin in their very own flying saucers – but beware The Claw!
• Toy Story Mania! – This current guest-favorite attraction, which allows guests to take aim at 3D objects in into the Toy Story Midway Games Play Set, has been expanded with more midway track that takes you into the world under Andy's bed where he's built a carnival-style midway.
Here's the video of the announcement:

Here's video of the proposed coaster:


TOURING TIPS
DINING
Toy Story Land will have a themed counter-service restaurant called Woody's Lunch Box, which will feature quick meals and old-fashioned ice cream sodas and floats.
Disney's Hollywood Studios Restaurants At A Glance
Menus From Around the World
Vegetarian and Other Special Diets
SHOPPING
KIDS AND CHARACTERS
You will find lots of Disney Characters at a variety of Meet and Greet locations throughout the Studios. Check your Guide Map for times and locations.
Disney's Hollywood Studios Characters At A Glance
Character Meet and Greet FAQ!
INTERESTING FACTS
Toy Story Land will open on June 30, 2018.
More than 400 toy blocks fill Andy's backyard.

In Toy Story Land, Andy's footprint is about 25 feet long or the equivalent of a size 240 shoe.

It would take a Green Army Man roughly 12 steps just to travel the length of one of Andy's
shoeprints.
You would need a backpack the size of a school bus to carry the Buzz and Woody figures that
tower over Toy Story Land.
Together Rex and the Jenga Tower are as tall as 7½ Green Army Men standing on top of one
another.