When to Go
Where to Stay
Ticket Information
Transportation
"Mini-mizing" Costs
Helpful Hints
Tips
For Families
For Guests without Children
ADD/ADHD
Autistic Spectrum
Disorders (ASD)
Dietary Needs
Vegetarian/Vegan
Epilepsy
Hearing
Medical Needs
Mobility
Motion Sensitivity
Service Animals
Size Concerns:
Visual Impairments
For International Visitors
Florida Residents
Other Resources
Service Animals
Tips Before You Leave Home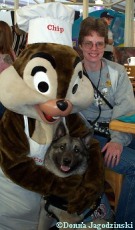 Donna Jagodzinski shares her tips!
1. Get a certification from a veterinarian that the dog is healthy LESS THAN 10 days before you leave. Keep it with you all the time. We've never been asked for it yet, but we always get it because the first time we don't, someone will ask for it.
2. You should get a collection of medications that you can keep with you...stomach medicines, ear medicines, ointments, etc., that you'd have trouble getting on vacation. You need a very good relationship with your vet for this! But anybody with a service dog will probably have a very good relationship with their vet already.
3. It would be a good idea to have some kind of certificate for the dog as a service dog. We've always taken the one that was printed up on a computer when Gracie got her certification. We've only needed it once or twice (she goes many places with us, not just Disney World!), but we've always had it, and we were glad we did.
4. Gracie rides in the back of the Club Cab of our pickup truck. She doesn't have to be crated because there's no place she could go even if we had an accident and there's no room for a crate anyway. But before we started taking her in the cab of the truck, she always rode in a crate in the back of the pickup truck. A dog should always be crated. Never let them ride in the pickup truck bed unless they're crated. Always crate them in a car as well. It's MUCH safer for them and for you!
5. Most people are familiar only with Seeing Eye-type service dogs. They often have never even heard of mobility dogs or any of the other types of service dogs, so if yours is one of those types, allow a little extra time whenever you have a reservation or you need to get the dog into someplace because you will probably have to take extra time to explain what the dog does for you. But they must allow the dog to do its job, unless the dog is in someway unruly and being a nuisance. Then you can be asked to leave.
6. When you're making reservations for dinner (or lunch, or breakfast), reserve a place for at least all the people in your party and add space for a high-chair so the dog has room under the table. We always make reservations for 2 plus 1. Then when we get there, we have to make sure the table is okay. It has to be high enough to give Gracie room underneath with her harness on (it has about a 24" rise). We always have room when we book for three folks. Occasionally we have to explain it to the waiters, but they've always worked it out for us.
Back to main Service Animal Page