On a recent trip we decided to check on the progress of the Skyliner station. We also snapped some pictures of the impact the construction is having on bus transportation and the walkway that connects Epcot to Disney's Hollywood Studios
Walking is just about our favorite way to get around the Epcot/Studios area, especially since we like to stay at one of the Epcot area resorts. But we have to say that all this construction is really throwing a wrench in the works!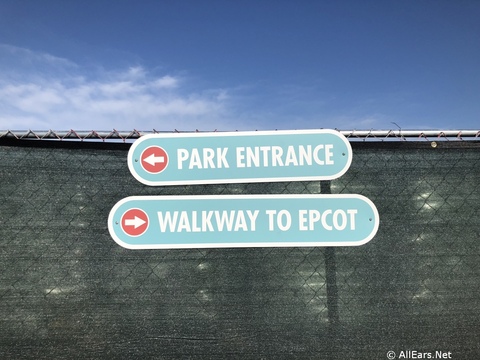 If you attempt to walk to the Studios from Epcot, here's what you'll encounter.
When you exit Epcot's International Gateway, you can see that Skyliner station construction has already made an impact. Walls surround the FriendShip boat dock and the opposite space where the station will be, creating an almost tunnel-like effect.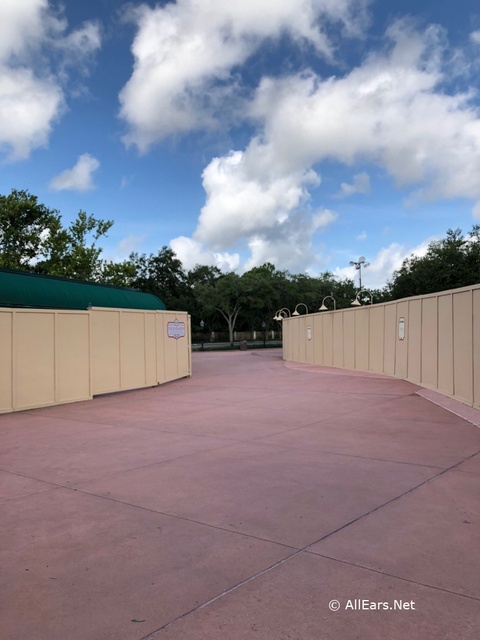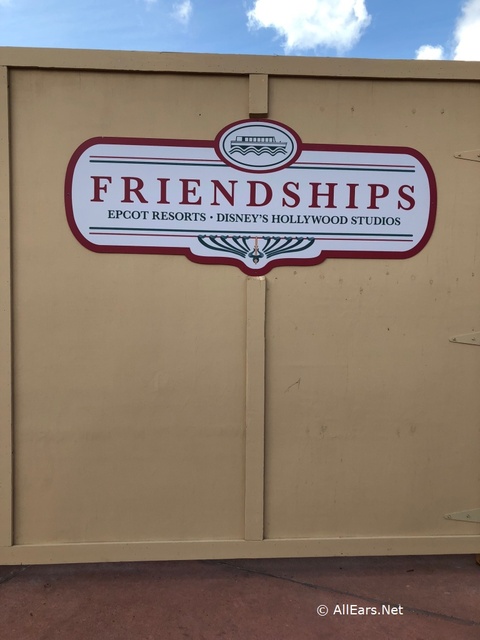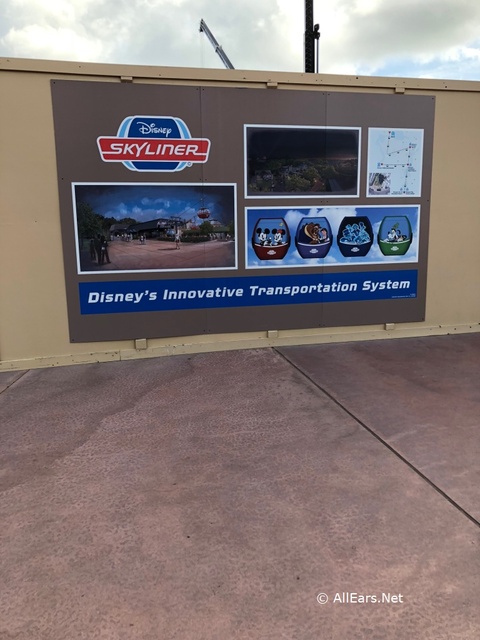 Once you get past that construction, the walk from the International Gateway past the BoardWalk is largely unaffected.
The changes start when you emerge from the walkway — you are now routed just short of the usual exit point. Here's a view of the sidewalk taken from the Hollywood Studios' parking lot, looking toward the Studios.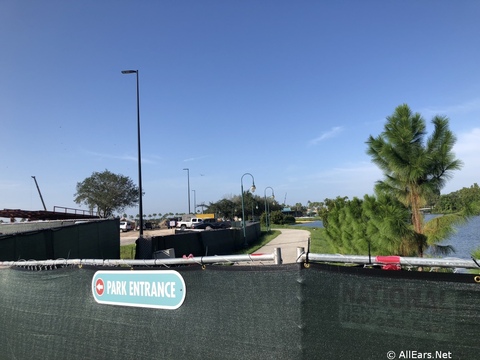 As you continue along the sidewalk, you pass the entrance to Hollywood Studios' Skyliner station construction site.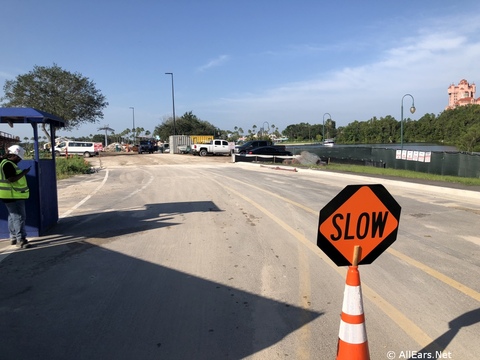 You also walk past where the bus stops have been relocated during the construction. This is where the non-Disney, charter buses usually congregate. It's a little confusing at this point, and could definitely use a few more directional signs.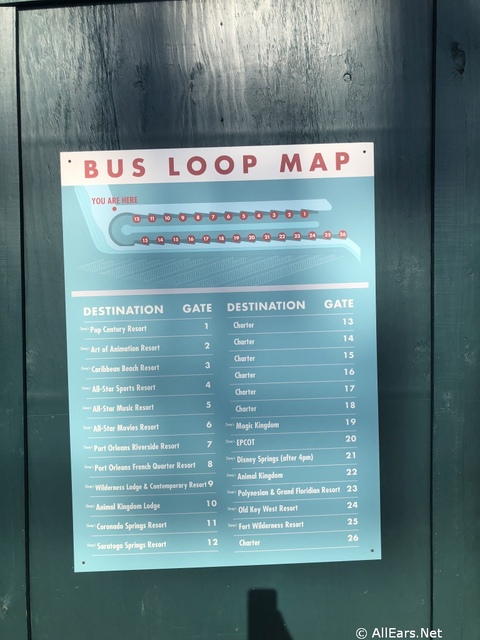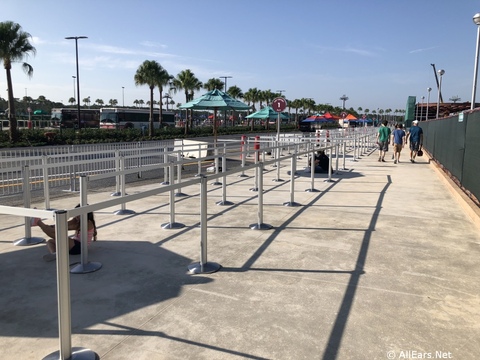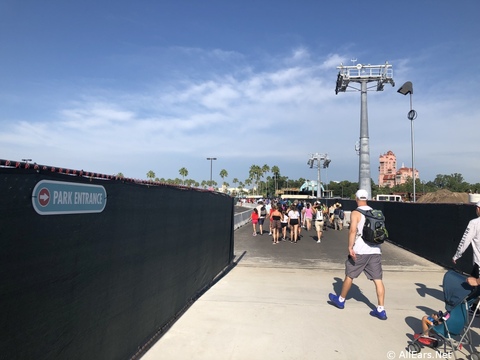 As you walk along the path, you're treated at times to a behind-the-scenes look at the construction.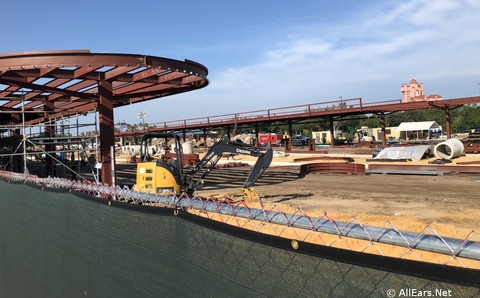 There's temporary fencing all along the sidewalk so that you really feel like you're in a construction zone, which is, we think, unusual for Walt Disney World.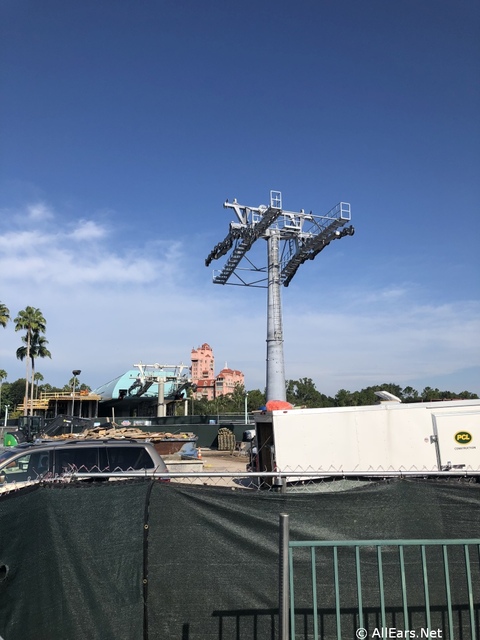 We took this photo from the Studios boat dock while waiting for the FriendShip that would take us back to the Walt Disney World Swan.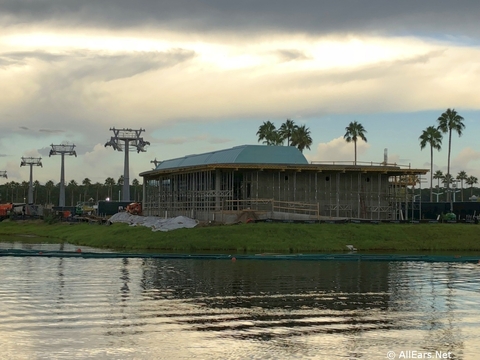 You can see it's progressing, but nowhere near finished yet. Do you think it looks anything like the artist rendering Disney shared a few months ago?
We haven't heard an exact opening date as to when the Skyliner is supposed to open, but we can tell you one thing — we can't wait until all this construction along the walkway is finished!
What do you think of the new Skyliner? Will you use it? And how has the construction affected you? Let us know below!