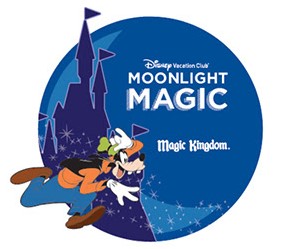 by
Gary Fisher
AllEars® Guest Blogger
How often have you wished that you could have the Magic Kingdom all to yourself with no lines? Moonlight Magic is a complimentary, after-hours event offered to Disney Vacation Club Members that comes close to doing just that.
We participated in Moonlight Magic at the Magic Kingdom on February 6. The event lasted from 9 p.m. until midnight, but Members and their guests could enter the Magic Kingdom as early as 6 p.m. without a regular ticket, and were given a special arm band like for some other after-hours events. These are distributed at the main gate, at DVC resorts, and at one of more locations inside the park for those guests who are already inside. The full party must be present and a photo ID and DVC Membership Card must be presented. A guide map is provided that lists attractions that are open, special activities, and locations for food and refreshments.
Most popular attractions were open with very short or no lines. They actually started letting people with arm bands enter attractions when the park officially closed at 8 p.m. We rode Pirates of the Caribbean, Jungle Cruise, Haunted Mansion, Peter Pan (no wait!), Voyage of the Little Mermaid, The Many Adventures of Winnie the Pooh, and the Seven Dwarfs Mine Train (also no wait!). Splash Mountain was the only major attraction that was not open.
DVC provided free refreshments at several locations, including hot dogs, chicken nuggets, snacks, beverages, and Mickey ice cream bars. We enjoyed a quick meal at Columbia Harbour House, and then later got a Mickey bar at Storybook Circus.
One unique feature of Moonlight Madness is an abundance of photos with characters, found at 15 stations around the Magic Kingdom. The photos are taken by Disney's PhotoPass photographers, which for anyone with a Gold or better Annual Pass means free photo downloads.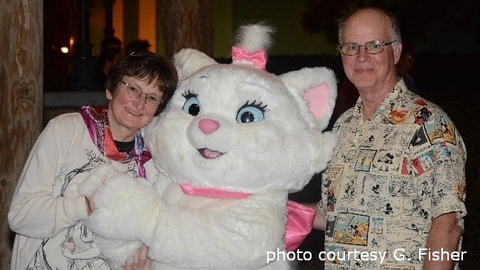 What's great is not just that there are so many photo stations, but that they include characters that are rarely seen, such as Shenzi, Banzai, and Ed from The Lion King; Esmeralda and Clopin from The Hunchback of Notre Dame; Robin Hood, Friar Tuck, and Little John from Robin Hood; the Big Bad Wolf and Three Little Pigs; and many others. We saw long lines for Moana and Oogie Boogie (from The Nightmare Before Christmas), and I am sure others were as popular, but the lines we waited in were reasonable.
All of the characters were very personable and took plenty of time to interact with each guest, listening to comments and responding with gestures. Watching the Hippos and Ostriches from Fantasia interact with guests was a comedy show all by itself. We had photos with Baloo & King Louie, Mickey and Minnie, and Marie. Marie's cat gestures magically brought back memories of the affection from our own beloved cats from many years ago.
The climax of the evening was at 11:30 p.m. — an exclusive and spectacular fireworks show that was as good as any we have seen at Disney World over the last 45 years. The mix of music and fireworks was perfect, with impressive aerial choreography. We watched from New Fantasyland, which allowed a great view of those fireworks above Cinderella Castle as well as the high ones from behind Fantasyland. Although you don't get the combined view like you do from Main Street USA, one advantage to this location is that you are almost directly beneath the biggest fireworks.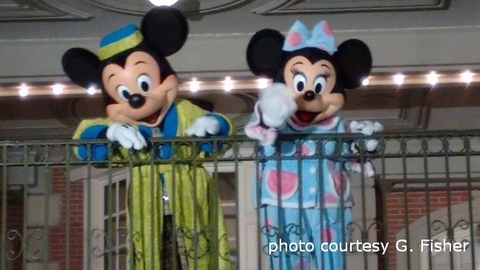 DVC has been presenting Moonlight Magic for about two years now. These events have been held at a specific park over a few nights only once a year and have capacity limits, so snagging a reservation is difficult. DVC opens up reservations a few months before an event, and allows for up to the number of guests on a resort reservation, or six total people if not staying on property. Those with confirmed DVC resort reservations get priority before the event is opened to other Members, and the events always fill to capacity quickly. Only Members who are fully eligible for DVC Perks can make a reservation, and must be present to enter the event.
We are fortunate to have also attended Moonlight Magic at Animal Kingdom (September 2016) and Epcot (December 2017) during prior trips, so we have seen it develop and become better each time. Each event included the most popular attractions, some food and refreshments, music performances, a dance party, character photos, and a chance to meet DVC executives. The food offerings have improved each time we have attended, with the Magic Kingdom having the best options yet, including some vegetarian selections.
The Animal Kingdom Moonlight Magic was the most laid back, which fit the setting of that park. Our highlight that night was a nighttime Kilimanjaro Safari. The Epcot evening included most attractions in Future World, plus Mexico and Norway, and also had custom fireworks at 11:45 p.m. The fireworks were not as good as those we saw in Magic Kingdom, but they were still "ours." Epcot's event went until 1 a.m., so it was really surreal to wander an almost empty Future World at that time of night. Our most interesting experience that evening was viewing the Pixar Shorts right at 1 a.m. with fewer than 10 people.
We will do any of these Moonlight Magic events again if we get an opportunity. Like the Disney parks, it is hard to say which one is "best," but the Magic Kingdom was our best yet, with Epcot a close second.
If you are a DVC Member, check out the upcoming events on the DVC Member pages. If you are not a DVC Member, find one who will invite you to tag along!
Read about the Moonlight Magic experience at Animal Kingdom!
Disney's Official Theme Park products are now available anytime at shopDisney! Shop ear hats, collectibles and toys today.