To all who come to this photo trivia game, Welcome! Along the way, the photos can make us relive memories and see details Walt's Imagineers put into everything we love in Walt Disney World!
It looks like we had a liiiiittttttlllle glitch last week. The post was published last Sunday but didn't show up on the site for a couple days at least. (I also forgot to update the answer's deadline date like a ninny.) Many of you wrote in asking if I was okay. Thank you! I am so touched that you would think of me.
Bruce Nash, my maiden name is Nash! We could be related! Hey, where are you going?
Grumpy's Groupies, thanks for sharing your story! A few years ago, different Disney fan sites competed in a scavenger hunt. Whenever AllEars started getting a little ahead, someone on the other teams would shout, "Look over here! It's Deb Wills of AllEars and her team!" Deb's fans would come running over and the team would fall to dead last. LOL! Totally worth it though to meet so many people who enjoy AllEars!
From last week: Challenge #314:

And here's the answer: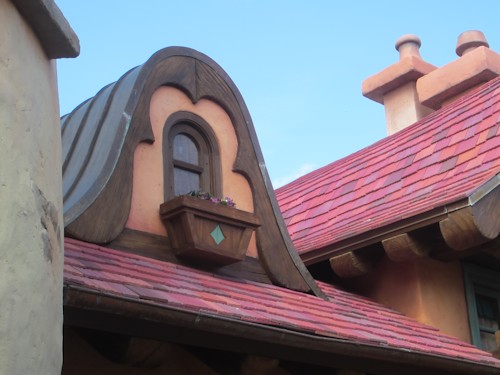 Copyright © Erin Blackwell
It's one of Pascal's friends who hide around the Rapunzel rest area, down the path from her Meet N Greet in Magic Kingdom's Fantasyland! I had no idea he had more than one friend in this area; now I know to look for all of them the next time I go back!
Look at the cutie! Do you think he's giving us "the smolder"?
I know, this area is amazing and all for rest rooms! But it is gorgeous; I have so many pictures of this area and I always take a ton more. On my last trip, a woman asked a cast member in Liberty Square where the closest bathrooms were. I had to chirp in: "You HAVE to go to the Rapunzel rest rooms!" The cast member eagerly agreed and off wen the guest. She returned saying: "Best restrooms ever!" Sarah And Chris agree, right?
Warren Handy, it's going to be fun at your house when you two read the answer! lol
Paul Silagyi was the first to send in the correct answer! Congratulations to Paul and all our winners this week! Paul Silagyi, Bud Luskus, Jennifer Harmon, Sarah, Leah, And Sophie Orman, Nancy Johansen, Jen Arabian, Linda Ranatza, Carol Ney, Pamela Vanaustin, Stacey Kelsall, Orlando Larosa, Mary Ann Lamay, Matthew Jadro, Donna Begley, Ed Elder, Jennifer Page, Mike Haven, Michelle Norris, Tricia Petty, Yvonne Marchione, Samantha Watson, Sara Alaimo, Jason L, Fiona Knight, Brian Mickle, Chris Bauman, Sara Holloway, Karrie Duffey, Jim Finley, Will Gates, Carolyn Como, Mary Greger, Beth Landis, Erin Hammer, Carla Nale, Theresa, James Steele, Theresa Rucando, Mary Beth Tarbet, Warren Handy, Jennifer Walker, Jack Lynch, Stefanie Vandiver, Leigh Mertz, Craig, Vicki Edwards, Jennifer Rowell, Lindsey Nozal, Jeremy Reichelt, Rob Hepler, Wayne Chadourne, Maryann Eckenrode, Debbie Desimone, Chris Scott, Al Desimone, K Beasley, Carla C, Karen Costa, Ashley P. , Jason Gravette, Betsy Silvestri, Claire Gregory, Dave Carriere, Hillary Waldroop, Kathy Morris, Teala Van De Ven, Nan Amor, Matt Petty, Bruce Nash, Ken Clark, Belicia Cullen, Vicki Britt, Scott Cullen, Kate Nejman, Rebecca Keenan, Team Meeker, Helen Amer, Shelly Borella, Melody O'donnell, Jim &Lorie Sonnen, Phyllis, Mike Gillardi, Les Stewart, Rob Blundin, Desiree Soppick, Kathryn Perkins, The Gunnels Family, Ken Maikowski, The Patterson Family, Jodi Lupp, Patti Mccaffrey, Peg Readinger, Scott Greenbaum, Maggie Klotz, Erin Loring, Dennis Loring, Heather Pedulla, Elaine Kleinhenz, Mary Thatcher, Fran Rendulic, Ashley Collins, Jen Cerce, John P, Daniel Record, Sharon Pierce, Chloe Mayhew, Eva Mayhew, Ansley, Pollyanna Buff, The Tisdale Family, Kathy Huckabee, Team Hill, Kelly Sroka, Scott Precise, Murr Family, Joseph M. Zafia, Melissa Such, John Bickers, Trina Noggle, Chris Kelly, Jackie Graebel, Cynthia Stinson, The Kertes Family, Rebecca Smith, Judy Simonsen, Jessie L Regan, Linda Overfield, Michael Frisbee, Susie Howard, Mike Malampy, Theresa Lucotti, Laurie Walker, Jane Johnson, Diane Curfman, Michelle Darabaris, Craig Livingston, Dwayne Fontenot, Bob Ruer, Josette Gabel, Tom Koval, Jeremy Hardy, Vanessa Gordon, The O'meara Family, Sarah And Chris, Robert Wescovich, Tricia Noble, Vicki Vaught, Barclay Bakkum, Scott Sangston, Melissa Littman, David Ballard, Kristi Strembicki, Becky Norman, Gail States, Peggy Saeger, Katey Davis, The Olszak Family, Duskin Henard, Stacy Guarracino, Steve And Ruby Jordan, Annie Snodgrass, Hobbes And Snorky, Mickey Eckert, Chris, Gretchen, And Katie Barnes, Deb Ragno, Jessica Iglesias, Emily Hudson, Matt Holley, Mike Haeberle, Alex Gamill, Jenn Steele, Alan Mize, Randy Thomas, George Mundy Jr, Cheri Palmisano, Grumpy's Groupies, Danielle Harsley, Agnes Ciotti, Doug Olson Family, Josh Carney, Lauren Thomas, and Paul Silagyi. Each of you are entered in this month's winners' drawing.
_____________________________________________________ _____________________
Challenge #315 Where in the world is this?
Still in the parks. This might be tougher since it's so new or you might immediately recognize a landmark in the Hidden Mickeys!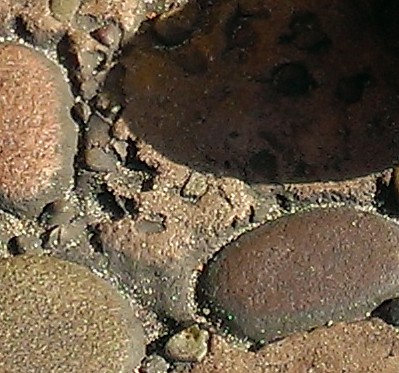 Do you know? Do you have a guess? Please send in your answer, before the end of the day on Thursday, January 23rd, by clicking on the blue box below.
Please do not post answers using the Feedback Form link at the bottom of this post.
See you next week, Players!



_______________________________________________________________________
Everyone who sends in a correct answer to a Where in the World Challenge this month will be entered in a drawing at the end of the month for some special AllEars® goodies!