WDW Chronicles: When Mickey Mouse Met Ronald McDonald
by
Jim Korkis
Feature Article
This article appeared in the January 7, 2020 (#1059) edition of ALL EARS®
Editor's Note: This story/information was accurate when it was published. Please be sure to confirm all current rates, information and other details before planning your trip.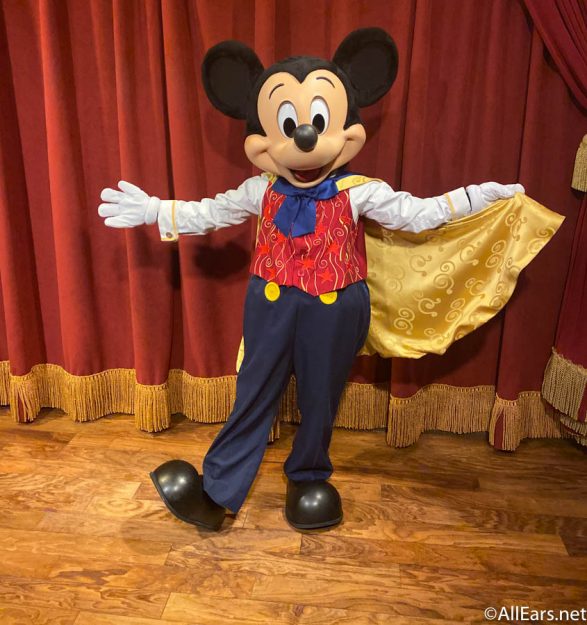 Mickey Mouse would never be able to meet Ronald McDonald because the costumed character guidelines clearly indicate that Mickey Mouse can never be photographed with another corporate sponsor mascot.
In the first place, according to the guidelines, they exist in different "universes" and, in the second place, it might indicate an unintended endorsement of the other company.
However, there has been a long relationship between McDonald's and Disney.
When I first came to Orlando, Florida in 1995, there was a McDonald's fast food restaurant at Crossroads that was a mini-Disney museum. Behind rounded plexiglass display cases in the indoor seating area were Disney items like toys, artwork and comic books.
Unfortunately, the strong Florida light eventually faded some of these treasures and during one of the rehabs of the location, all of that was removed and the restaurant became like other McDonald's locations. I never took photos and most Disney fans today do not recall that mini-Disney display.
I had always hoped they would revive that type of Disney display when a large location opened in the Downtown Disney area in December 1997, but it didn't. Instead, there were oversized McDonald's artistic elements.
An Orlando Sentinel newspaper article from September 1997 declared: "Themed as 'Ronald's Fun House', the restaurant features specially designed rooms and decor inspired by Ronald McDonald and other McDonaldland characters.
"Ronald's Fun House will feature 'Ronald's Dining Room' with a formal 20-foot serpentine dining table, 'Birdie's Music Room' featuring a giant French fry organ, and 'Grimace's Game Room', with an interactive video/game wall."
It soon became perhaps because of its WDW location among the top five McDonald's restaurants in the United States and in the top one percent in the world in sales volume.
The location closed in April 2010 but another McDonald's still exists near the All Star Resorts that originally opened in 1998, as well as the still operating McDonald's at Crossroads (until that whole area disappears for road changes sometime soon as part of the I-4 improvements) that I haven't visited in quite a while.
Disney has a long history with McDonald's. McDonald's executive Ray Kroc who was responsible for transforming the McDonald Brothers idea into a template for fast food service wrote the following letter to Walt Disney on October 20, 1954:
"Dear Walt, I feel somewhat presumptuous addressing you in this way yet I feel sure you would not want me to address you any other way. My name is Ray A. Kroc…. I look over the Company A picture we had taken at Sound Beach, Conn., many times and recall a lot of pleasant memories…I have very recently taken over the national franchise of the McDonald's system. I would like to inquire if there may be an opportunity for a McDonald's in your Disneyland Development."
A young Walt Disney was assigned to the American Red Cross Ambulance Corps unit training in Sound Beach in 1918 and eventually went to France even after the Armistice officially ended World War I. A young Kroc was also in that same unit but did not go to France.
Walt responded with a warm letter informing Kroc that his request had been sent to C.V. Wood who was in charge of Disneyland concessions because things were too hectic at the moment for him to handle it personally. Kroc claimed he never received a response from Wood.
McDonald's did get a presence in Disney theme parks due to an agreement with Disney from 1997 to 2007.
Starting January 1997, McDonalds entered into a ten-year exclusive agreement with the Disney Company for promotions of Disney films, videos, TV properties and theme parks. It ended January 2007.
The exclusive contract with Disney did not allow McDonald's to tie in with other blockbuster movies such as the Star Wars franchise or Shrek thus leaving such titles to its fast food competitors even when those movie studios would have preferred to tie in with McDonald's since it had a higher profile and market share.
In addition, while at the beginning of the deal, Disney was producing a number of blockbuster films, that situation slowly changed and animated films like Treasure Planet and Home on the Range didn't come close to matching the drawing power of their more popular competitors in the marketplace. Kids weren't interested in Happy Meal toys from those films.
As part of the arrangement, Disney allowed McDonald's to open six food locations in the four Disney parks as well as those actual McDonald's restaurants at Walt Disney World at Downtown Disney and another near Disney's All-Star Resorts.
At Disney's Hollywood Studios, McDonald's sponsored Fairfax Fries at the Sunset Ranch March. Fairfax is a reference to the street where the famous Los Angeles Farmers Market (the inspiration for the Sunset Ranch Market) is located.
At Epcot, at the entrance to the World Showcase promenade, McDonald's handled the Refreshment Port where sometimes international cast members from Canada brought Canadian Smarties (a candy like American M&Ms) for the food and beverage location to make a Smarties McFlurry. Not only were custom McFlurries available but also Chicken McNuggets and French fries.
The McDonald's Fry Cart that opened in 1999 was located near Pecos Bill's Tall Tale Inn and Café in Frontierland at the Magic Kingdom and sold its famous French fries and soft drinks.
Disney Imagineers wrote the following back story for that location: With the rush of prospectors passing through Frontierland in search of gold, lots of folks in town started looking for ways to cash in on all the excitement. Back in 1853, ol' McDonald (who had a farm, "ei-ei-o"), a potato farmer, decided to set up his cook wagon on the hill under the big oak tree, just off the main trail.
To drum up interest in his French fried delicacies, McDonald even came up with a catch phrase and posted it on the front of the wagon: "There's gold in them thar fries!" (with a symbol of a golden arch to emphasize the fact).
Business was booming for a couple of good years, right up until the great flood of 1855. Legend has it that white men disturbed the spirits of the mountain by removing gold from Big Thunder, causing all sorts of havoc from earthquakes and avalanches to storms and floods.
In fact, the nearby river rose so much, the water reached right up to McDonald's wagon on the hill. The wagon survived, but when the water receded, the wagon started to go with it. It slid down the hill, crashed through a fence (and sharp-eyed guests could see the poorly repaired fence and a broken wagon wheel), and got lodged in the mud down below.
This didn't stop ol' man McDonald, though. He just laid down some planks so folks wouldn't get their boots muddy, and he has kept right on selling his delicious French-fried potatoes until the Disney agreement ended.
There was also a sign placed nearby that proclaimed, "Same location since '53." The "53" was scratched out and painted over with a "55." Not only did this help support the story that the wagon had moved, it was also a reference to McDonald's history.
Brothers Dick and Mac McDonald opened their original restaurant in San Bernardino, California, in 1953. Kroc, who pitched the idea to the brothers of expanding their restaurant into a franchise, opened his first location in Des Plaines, Illinois in 1955.
The Frontierland Fry Cart closed in December 2007. The Golden Oak Outpost opened in the location on January 11, 2009. The name is a tribute to Disney's Golden Oak Ranch in California, an 800-acre movie ranch where Disney filmed a great many live-action television shows and films.
As part of the arrangement, McDonald's also agreed to sponsor the entire Dinoland section of Disney's Animal Kingdom theme park that opened in 1998. Everything from the Dino Institute with the Countdown to Extinction attraction to the Boneyard to Restaurantosaurus were branded by McDonalds.
In fact, Restaurantosaurus offered a fuller McDonald's menu than at other park locations but renamed items as Dino-Sized Double Cheeseburger and Hot Dog-osaurus. In the Happy Meals, the toys were T-Rex, Stegosaurus, Pterodactyl, and Triceratops water pistols.
The Restaurantosaurus back story is that it was a student commissary in a building that also served as a dormitory and classroom.
During McDonald's tenure in the area, there were two signs illustrated by famed dinosaur artist William Stout. One featured a T-Rex gobbling down a smaller dinosaur and the slogan "Have you had a Crocodilian today?" to parody McDonald's slogan of "Have you had a break today?"
The second sign was a mock movie poster for a dinosaur on the loose in modern times film entitled It Came Through the Drive-Thru. "Starring Hap. P. Meal, Hanover D. Fries, and I. C. McNuggets. Produced by Gordon Arches and Presented by Prehistoric Pictures."
To promote the park nationally, McDonalds Disney's Animal Kindom Happy Meal available at all its fast food locations featured twelve animal toys. There was a Triceratops, Toucan, Gorilla (with her baby), Elephant, Lemur, Dragon (that flapped its wings), Iguanodon, Zebra, Lion, Cheetah, Crocodile, Tortoise and Rhino. They all had different actions including the Gorilla spinning her baby, the Zebra being a wind-up toy that galloped forward and the Tortoise sticking his head in and out of his shell.
The purple, fire-breathing dragon intended for the never built Beastly Kingdom was not just a toy but appeared on Happy Meal boxes and on beverage cups since it was to be the icon for that land.
For Japan and other countries, McDonald's released a set of four Happy Meals figures not available in the United States: Minnie Mouse with a baby gorilla from Gorilla Falls Exploration Trail, Mickey Mouse in a Kilimanjaro Safaris jeep, Goofy digging for fossils with an Iguanodon and Donald Duck in a Discovery River Boat.
While Disney netted more than $100 million dollars in royalties during the decade long agreement, McDonald's netted more than one billion dollars even promoting Disney's box office bombs like Dinosaur (2000), Atlantis: The Lost Empire (2001), Treasure Planet (2002), and Home on the Range (2004).
McDonald's promotion for a film might exceed Disney's budget for advertising so in addition to the royalty money, Disney got additional visibility for its films. However, the agreement prevented McDonald's from promoting non-Disney films in its franchises and that helped sour and finally end the relationship.
McDonald's said that Disney denied the claims that Disney wanted to end their relationship based on a fear of being associated with childhood obesity. Officially, both companies issued statements that not continuing the exclusive contract was by mutual agreement.
Both Disneyland and McDonald's have become worldwide icons of America (just like Coca-Cola, another long time Disney participant) but few Disney fans know how closely the two empires have had their histories entwined over the decades.