WDW Chronicles: The History of Disney Topiary
by Jim Korkis
Disney Historian
Feature Article
This article appeared in the August 20, 2013 Issue #726 of ALL EARS® (ISSN: 1533-0753)
Editor's Note: This story/information was accurate when it was published. Please be sure to confirm all current rates, information and other details before planning your trip.
While they are sometimes taken for granted today, Disney topiaries helped popularize the use of the art in the United States.
This year marks the 50th anniversary of Disney topiaries, which are distinctly different than the traditional ones. By 1963, there were roughly two dozen topiaries inside Disneyland. They included a waltzing hippo, a poodle, a pig, bears, elephants, seals, and giraffes.
These were relocated in 1966 to the area in front of the "it's a small world" attraction, where they became one of Disneyland's most popular photo locations.
As the late Disney Legend Morgan "Bill" Evans, who landscaped both Disneyland and Walt Disney World, remembered in an interview with me more than 30 years ago about the original Disneyland topiaries, "Walt had been to Europe and had seen some fine topiary and he was suitably impressed. Conventional topiary goes back some 3,000 years. The plant material customarily employed to produce topiary figures was very, very slow growing. It takes years and years to respond to the desired effect.
"Walt was a bit too impatient for that. 'Let's get some topiaries in the park in a year or two,' he said. He didn't see any point in waiting 20 years. The animators would do illustrations that they wanted. We blew them up to full size and then took a lot of reinforcing rods and warped it around into the shapes we needed. In effect, we built a kind of skeleton out of steel.
"We persuaded these plants that they should grow to correspond to that skeleton. You bend them a little bit in January and a little bit more in February and a little bit more in March until you get the bones of the plant around the basic shape and finally you get to what you want. The difference in doing this short order topiary is that this stuff grows fast.
"That is a great advantage for the opening, but it is a great disadvantage in the long haul. That European topiary is hundreds of years old. This stuff isn't going to last a hundred years. We can get maybe 10 years out of it. We have to have stand-ins behind the scenes ready to come aboard because this stuff outgrows and we can't hold it down indefinitely."
Traditional European topiary (which inspired the Disney version) has been around since the time of Julius Caesar. It fell out of favor for a period of time but was revived in the mid-1800s. By the turn of the 20th century, Americans had incorporated the art of topiary in their gardens.
In 1963, topiaries were introduced into just Fantasyland at Disneyland, even as construction was beginning on the attractions for the 1964 New York World's Fair. As Walt shared on one of the episodes of his weekly television program, his plan was to bring those attractions back to Disneyland.
For "it's a small world" he planned an elaborate white facade (so colored lights could dance across it at night) designed by Mary Blair, and on the ground an intricate topiary garden with the figures on grassy turntables that would spin slowly so it would look like the figures were dancing. (That never happened because of the final weight of the figures.)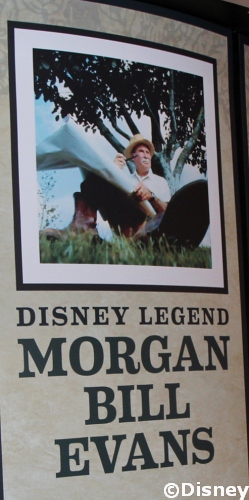 "Although viewed best only from the excursion train (that circles the park), a topiary garden is properly part of Fantasyland," wrote Evans in 1965. "Here you will find giraffes, camels, elephants, and waltzing hippos, motionless, but alive and well. This inanimate zoological garden is made up of thuyas, junipers, cypress, ficus and African boxwood.
"A laughing pachyderm, fashioned from golden thuya, a relative of the juniper family, sitting on a grass ball with its trunk raised high in the air and growing in a green wooden box brings joy to many visitors."
That laughing elephant, along with a two-humped camel, a giraffe and an elephant doing a handstand, were uprooted along with roughly a dozen others like a hippo to take up residence in the front of "it's a small world" when it opened in May 1966.
"At Disneyland we didn't have time, so we devised other methods of topiary gardening. Over-simplified, these amounted to lifting old plants out of the ground, confining their roots to containers and persuading them to assume shapes they hadn't planned on," wrote Evans. "For example, a camel with four feet on the ground requires four individual trees, and you draw straws to see who gets the neck. On the other hand, if the hippopotamus is poised on one toe the problem is simplified, providing you can produce enough plant above that point.
"Now that our chlorophyll circus is past its growing pains, the gardeners who bent, tied, clipped, and manicured the troupe can relax a bit, but only a bit, because these animals lead a somewhat precarious existence. It is possible to kill these plants with kindness. Over-watering is quite as dangerous as under-watering.
"Having in mind that beauty is only skin deep, we are understandably concerned with the welfare of our animal charges. Too much water, too little water, too much fertilizer, too little pest control, could materially damage or destroy 24 months of hard work in making them."
Topiaries have been a part of Walt Disney World ever since its opening, but the needs of the vacation destination changed the nature of Disney topiaries over time.
When Magic Kingdom opened in October 1971, one of the biggest challenges was getting the guests from the parking lot to the park itself. There were three monorails and a pair of "Osceola class" steamship side-wheelers that along with smaller watercraft, quickly brought in to service at the last minute, to do the job.
However, half the parking lot trams were also used to haul guests from the Ticket and Transportation Center, passing the Contemporary Resort hotel along the way, to the park entrance but they kept overheating and breaking down. Six months later, more powerful tractors were introduced.
Guests taking these trams missed out on the experience of the elegant and beautiful journey across Seven Seas Lagoon so Imagineering (not Horticulture) was asked to quickly create a topiary garden strung out along the pathway to entertain guests. Of course, there wasn't time to grow new topiaries even using Evans' technique, so Imagineer Tony Baxter came up with faux topiaries. He cut and burned some real foliage and then painted it so that it resembled a real plant.
Mary Poppins holding her parasol high as if she were ready to fly away, a train of elephants holding each others' tails by their trunks as they seemed to be marching slowly toward the Magic Kingdom, a giraffe casually munching on the leaves of a nearby real tree and other creations were quickly installed with plastic leaves enhancing the figures.
This light-hearted series of botanical tableaus helped transition guests from the real world to the fantasies that awaited ahead, just as the monorails and the watercraft were originally intended to do. There was a cluster of these figures near the tram terminal area located approximately where the buses load and unload today at the front of the Magic Kingdom.
A decade later, this grassy "temporary" menagerie began to dwindle with the construction of a second monorail terminal for Epcot Center and the replacement of trams by buses. A handful continued to survive, but gradually disappeared, until by 2003 only two acrobatic elephants outside the Magic Kingdom, no longer showcased as they once were, remained.
The last remaining topiary, one of those elephants, quietly disappeared in 2011 with no one noticing.
Disney cast member Eric Darden, who has spent 20 years working the Epcot International Flower and Garden Festival, has pointed out that WDW's first real topiaries, like Disneyland's original creations, were merely representations or simple silhouette outlines of the characters without any detailed features. For the most part, they were generic animal figures, not specific Disney characters, grown from trees and shrubs. However, by the mid-1990s, more accessories and a splash of color were added, beginning with topiaries to promote "The Lion King" animated feature, to make more distinctive features and expressions. For instance, the villain Scar's actual scar became more visible.
The addition of so much color was inspired by the floral floats in the Pasadena Rose Parade where Disney horticulturists could see how a variety of natural materials could be weaved into a figure to provide something more distinctive and suggestive. Today, some of that natural color is enhanced by paint as well.
As Walt Disney World topiary specialist Renee Worrell has pointed out, by the time of the opening of Epcot in 1982, the traditional Evans' method was not working as well because of the necessity for more speed and flexibility. So there was the introduction of specialty character topiaries (like for the Epcot International Flower and Garden Festival) that were grown using heavy steel frames but stuffed with sphagnum moss and planted with close-growing vine material.
The steel frames are wrapped with chicken wire and then stuffed with unmilled sphagnum moss. Small plants or "plugs" are then planted into the sphagnum and require daily watering. Because the plants in these sphagnum figures are planted into the frame itself, they do not require any type of container — just a metal stand to keep them upright. Consequently, they are easily moved from one location to another and are adaptable for use as stage decorations or for special occasions.
These topiaries did not take months to create but a few weeks. They also expired quickly without a root system, but the frame could be cleaned out and re-used. This new version presented its own unique problems, though. Keeping the figure properly hydrated became a big issue.
Each topiary has its own irrigation system due to the differing needs of different parts. For example, the arms and other extremities dry out quickly, while the bodies would rot if they were watered too much. The amount of water for each area is controlled with a system of hoses with holes for each living sculpture. Elaborate, slow-drip irrigation systems were installed in the 1990s, and that is primarily the procedure today.
Some people, myself included, long for the enchantment of the original simple, green craftsmanship of the earlier topiaries that took months to grow, but like most things that have changed at a Disney park, they will probably never return, especially since guests seem to enjoy the much more colorful but temporary offspring that decorate the parks today.
-=-=-=-=-=-=-=-=-=-=-=-=-=-
RELATED LINKS
See some recent topiaries from 2013's Epcot Flower and Garden Festival:
http://allears.net/tp/ep/fg13/epcot-flower-garden-future-world-1.htm
http://allears.net/tp/ep/fg13/epcot-flower-garden-world-showcase-1.htm
http://allears.net/tp/ep/fg13/epcot-flower-garden-illuminated-topiary-gardens.htm
Other features from the Walt Disney World Chronicles series by Jim Korkis can be found in the AllEars® Archives:
http://allears.net/ae/archives.htm
=-=-=-=-=-=-=-=-=-=-=-=-=
ABOUT THE AUTHOR:
Disney Historian and regular AllEars® Columnist Jim Korkis has written hundreds of articles about all things Disney for more than three decades. As a former Walt Disney World cast member, his skills and historical knowledge were utilized by Disney Entertainment, Imagineering, Disney Design Group, Yellow Shoes Marketing, Disney Cruise Line, Disney Feature Animation Florida, Disney Institute, WDW Travel Company, Disney Vacation Club and many other departments.
He is the author of two books, available in both paperback and Kindle versions on Amazon.com:
— "Who's Afraid of the Song of the South"
— "The REVISED Vault of Walt": Paperback Version / Kindle version
-o-o-o-o-o-o-o-o-o-o-o-
Editor's Note: This story/information was accurate when it was published. Please be sure to confirm all current rates, information and other details before planning your trip.