How to Become a Super Star… Without Really Trying: Audience Participation at Walt Disney World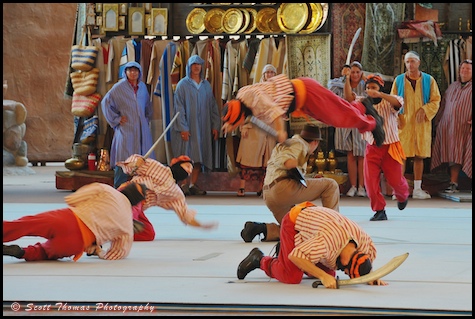 Andy Warhol was right.
The famous Pop Art artist pronounced that in the future everyone would be famous for 15 minutes, and I believe it.
Of course, I'm still waiting…
But what about you? Have you had your turn yet? Or do you think Fame is going to pass you by?
Well, you could get your big break the next time you visit Walt Disney World! Did you know that there are lots of places when you can be "discovered"? There are shows with audience participation, there are street performers who enlist the aid of volunteers — there's even a show where audience members are an integral part of the program!
AllEars® reader Linda E. shares her story of how Disney made her a Short-Term Super Star:
A while ago, when I went on a spur-of-the-moment weekend in early January, my friend and I decided not to plan very much, just take things as they came. (Usually when we travel, we plan a busy itinerary.)
One morning, we made it over to Disney's Hollywood Studios shortly after opening and checked on the show times we were interested in. As it turned out, the Indiana Jones Epic Stunt Spectacular, which I had never seen, was due to begin soon. We made our way toward the front of the theater and were able to sit about five rows from the stage. Upon settling in, I asked my friend what was going to take place. All she would say was, "Be patient, and wait and see." So I was!
Eventually, the cast began to appear and the "Casting Director" introduced herself, asking for audience members 18 or older who wanted to be in the movies. With that the audience clapped, whooped and hollered, so I joined in! The noise died down for a moment and my friend nudged me, telling me to stand up and wave my arms and scream — basically, to make a fool of myself. Without thinking, I jumped up. To my disbelief, the Casting Director chose me as an extra and instructed me to come down to the stage. I was both stunned and excited. I'm normally a shy person and don't usually do well in front of large crowds. But my adrenaline was pumping!
Three other people and I made our way to the stage, then we all had to "act"! The Director asked us to laugh hysterically, then show fright, surprise, and shock. But that wasn't all! She sent us to Wardrobe, located at the top of the stairs in the corner, where we were each given a cloth cap to place on our heads. Being a clean freak, I started to panic and began a conversation in my head: "Who had this on before me? Is it clean? How gross is this?" I finally calmed down and told myself to just do it. (I later discovered that everyone gets a clean cap.) While in the process of dressing, each of us had to sign a waiver and then we were escorted to our seats to wait our cue.
Then came our shining moment. We were led on stage with our instructions. All I could think of was how I was on the stage and seeing everything up close and personal! We were introduced to the director as well as Indy and Marion. How exciting! The Casting Director stayed with the group the entire time we were on stage to ensure our safety around the props and wires and to tell us where to stand and what expression to portray.
We had a blast. Those of us with friends or family in the audience waved with silly grins on our faces, hoping to get our photo taken. Let's face it, how often does one get to be on stage? When our jobs were done, we returned to wardrobe and turned in our costumes, then returned to our original seats to watch the final scene of the show.
After the show was over, my head was spinning, and I could feel that I had the biggest grin on my face. I pulled out my cell phone and began to call all my relatives and friends to let them know I was a "Super Star" for a brief moment!
I would encourage everyone to try to become an extra! It happens so quickly you don't have time to think about what you're doing or get nervous — and I believe that is what makes the experience. Plus it gives you just one more piece of "Magic" to talk about when you return home!
---
Although it's one of the more well-known audience participation shows at Walt Disney World, the Indiana Jones Epic Stunt Spectacular isn't the only place you can be "discovered." Following is a list of places where you might have the chance to join in or be selected to participate. Conversely, for those of you who want to avoid the spotlight at all costs, this list can serve to prepare you for experiences you may want to avoid. If you know of any others please send them along! (Be sure to check park guide maps and times guides for the shows mentioned.)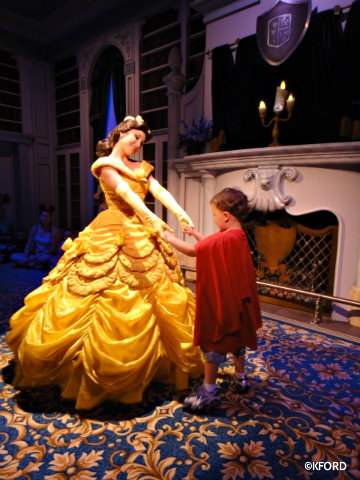 In the Magic Kingdom:
— Enchanted Tales with Belle in Fantasyland — You can interact and dance with Belle as part of the Beauty and the Beast story.
— Royal Majesty Makers in Fantasyland — This improvisational troupe engages boys and girls in random acts of "royaldom," endowing them with the skills needed to become princes and princesses.
— Monsters Inc. Laugh Floor in Tomorrowland — You might be chosen randomly to have your image projected on the screens around the theater, or you might be "That Guy." The spotlight will be on you and you may be the butt of some jokes from the characters on stage, but you will not be pulled out of your seat.
— Captain Jack Sparrow's Pirate Tutorial in Adventureland — Children can participate and interact with Captain Jack Sparrow and his First Mate as they learn how to be a pirate.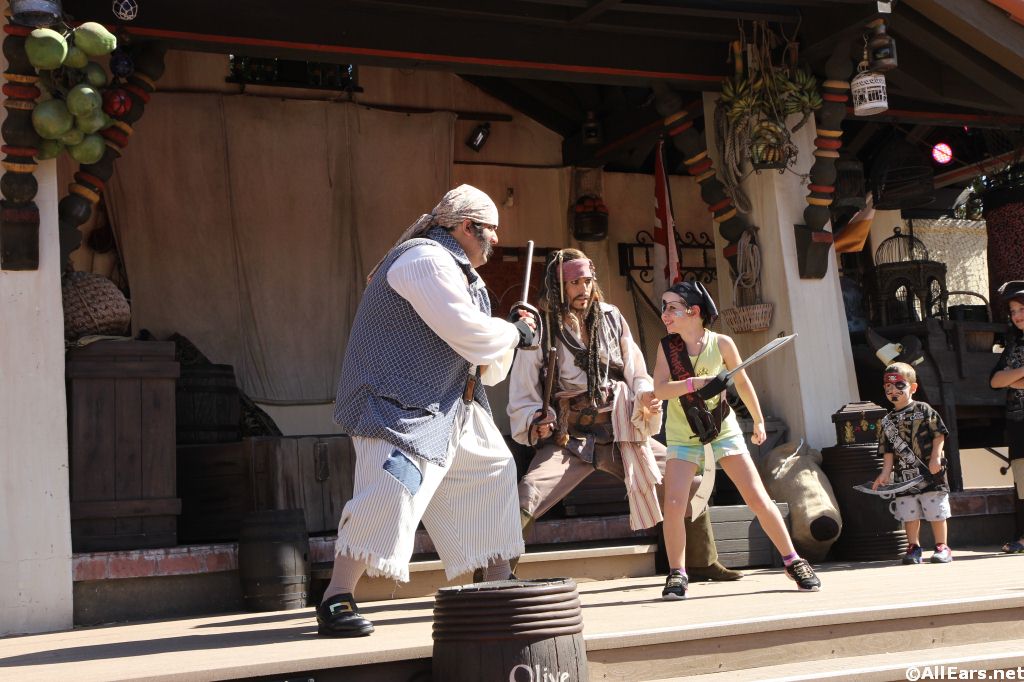 In Epcot:
— Biergarten Restaurant in the Germany pavilion — Diners have the chance to dance with the band performers on stage.
— Restaurant Marrakesh in the Morocco pavilion — The bellydancer here invites diners, adults and children, to join her.
— The Voices of Liberty at the American Adventure — During some songs, like "Oh Susanna" or "Skip to My Lou," the singers may involve an audience member in a little role-playing.
— The Spectaculab in Innoventions — Children are selected to participate in demonstrations.
In Disney's Hollywood Studios:
— Indiana Jones Epic Stunt Spectacular (extras must be over 18!) — As described above, audience members are selected to participate in the show on stage!
— Along Hollywood Boulevard, with some of the roving Citizens of Hollywood characters will try to engage you and involve you in their improvisational skits.
— '50s Prime Time Cafe, where the servers might put you in the corner for not eating your vegetables!
— Jedi Training: Trials of the Temple (for children ages 4 – 12) — Children have the chance to interact with Star Wars characters Darth Maul or Darth Vader, or perhaps the Seventh Sister, as they learn the ways of The Force.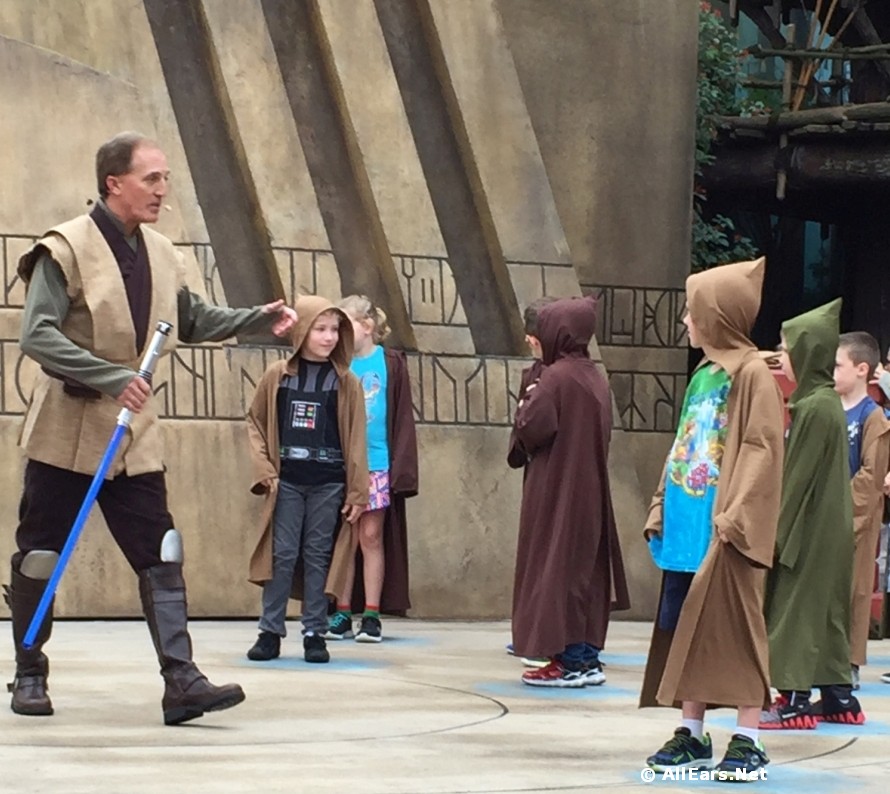 In Animal Kingdom:
— UP! A Great Bird Adventure, in which audience members have the chance to volunteer to help with the amazing bird stunts.
— Festival of the Lion King: At the show's beginning, children are selected to help reenact animal sounds for the various sections of the theater.
Outside the Theme Parks:
— Hoop Dee Doo Musical Revue, at Fort Wilderness — Audience members are recruited for an on-stage skit.
— Spirit of Aloha Polynesian Luau, at the Polynesian Village Resort — Guests may be called on stage to participate.
— Whispering Canyon Cafe at the Wilderness Lodge — Diners might be corralled for asking for ketchup.
— 'Ohana at the Polynesian Resort, where the ukulele player may get you to stand up and do a hula dance!
---
A few other AllEars® readers relate their experiences below, along with some tips on how they were "chosen."
After hearing all those stories, even the most shy among you is probably wondering, "Hey! Where can *I* go to be discovered?! I want to be a Super Star, too!"
Debbie M. of Illinois: On one trip to Walt Disney World we encountered the Streetmosphere (now known as Citizens of Hollywood) performers in Disney's Hollywood Studios. My 14-year-old son Teddy and I were resting on Hollywood Boulevard when Dainty Debbie and two other players sat by him and started asking him questions. Teddy, who had had this experience the year before with a wannabe actress named Lotta, went along with it and eventually they drew quite a crowd. These players make the whole experience so much more memorable!
Donna: One of the true highlights of our recent trip was when our 4-year-old daughter and I stopped to see Enchanted Tales with Belle in the Magic Kingdom. My daughter was lucky enough to be in the cast. Belle's helpers brought a group of the kids and adults who had been chosen and began outfitting them with simple costumes. Under the guidance of Belle's helper, the children were able to interact with Belle and follow a few other simple stage directions. After the show, Belle gave each participant a small token (a bookmark) of the experience.
Natalie H.: Our youngest daughter was chosen to play the part of Beast at Enchanted Tales with Belle. I was in tears watching her waltz around the room with one of her favorite princesses.
Laura: Last time we were on the Jungle Cruise at Magic Kingdom the driver of the boat asked our daughter if she would like to drive… needless to say, she loved turning that big wheel to the delight of all on board!
Robin M.: My middle child, Erin, got to demonstrate the lion roar for the "lion section" before the Festival of the Lion King show. Then, while we were listening to Voices of Liberty in the American Adventure Pavilion, they were one girl short for "Skip to my Lou" and picked Erin! They talked to her, asked her where she was from and if she had a boyfriend (she said yes and I about fell over — she was 6!), then finished singing it with one of the singers holding her hand. Afterwards they talked to us and one cast member in the group gave us a ride upstairs in the elevator! We sure felt like stars that trip!
Becky A.: For my son's 14th birthday – we went on the Magic Kingdom railroad and the CM at the rear of the train noticed his birthday button (from town hall). She announced his birthday to the whole train. He got to stand at the rear of the train with her and got to push the buttons to play the announcements. We also road in the front of the monorail and the driver announced his birthday to the whole monorail!
Terry: Don't forget the Festival of the Lion King at Animal Kingdom. A person is chosen from each section to be the 'lead' animal and make the sound. I believe there is an elephant, giraffe, warthog and lion section.
---
Finally, we get a lot of questions about how to be selected to participate in one of the parades. Our stock answer? An honest, "We don't know." It's never happened to any of us. But, AllEars® reader Nancy T. may have hit on one solution:
Several months before our trip, I wrote a letter to WDW telling how my husband had a secret dream to be the Grand Marshal of the parade. I didn't receive any reply, so I figured my letter had been placed in the round file. But our first night, when we returned to our room at Caribbean Beach, there was a phone message to call Ray on Monday morning as he wanted to talk to Daniel about his secret dream.
When Daniel finally called Ray, he told Daniel that he had been chosen to be the Grand Marshal in that afternoon's Magic Kingdom parade. We met Ray at 2:15 at City Hall, and he was extremely kind. He told me that he had been so impressed by my letter that he had kept it on his bulletin board, waiting for our arrival. I really wish I could remember what I had written!
Ray had special coins for us, Mouse Ears with our names on them and "Grand Marshal" on Daniel's, and certificates with our names on them as well. He also gave us tickets to see the Diamond Horseshoe Review after the parade (this was back when you had to get reservations to see it).
I couldn't help but be excited when I heard our names announced again and again as the parade made its way up Main Street and along the parade route. Ray had our cameras, and kept popping up to take snapshots and video of us along the way. They stopped the float to let us off just before the parade went off-stage, and there was a special place reserved for us to stand and watch the rest of parade go by. A lot of the performers made a point of coming over to say hello, or to wave to us from the floats. It was the perfect ending to a truly magical experience.
---
So have we given you enough ideas as to how YOU can be the next Super Star of Walt Disney World? Well, what are you waiting for? Put aside your stage fright and start planning so you or your loved ones can nab some of the spotlight for yourselves!
And don't forget to drop us a line if you think of any places we missed, or you'd like to share your experience!