3rd Annual Holiday RADP Meet Weekend

3rd Annual Holiday RADP Meet Weekend
December 1998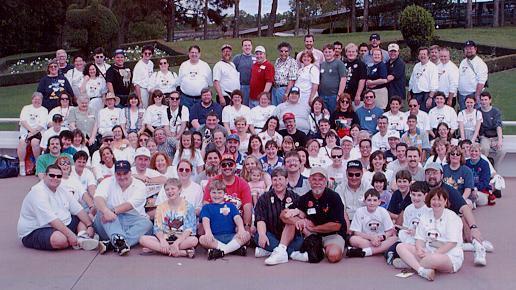 Disney Fans from around the world gathered the 2nd Weekend in December
for the 3rd Annual Meet!! Folks came from as far away as Australia, the
United Kingdom, Austria, Canada, and all across the United States.
Here is
the "Official Group Photo" from the meet. Unlike previous years where
we had to stand while 40+ cameras were snapped, this year we had a Disney
Photographer do the pictures and they were easily picked up at the Main
Street Photo Shop!
Actually,
I have gotten a bit ahead of myself here. Planning for the 3rd Annual
meet begain late summer when a group of folks graciously volunteered
to help with the planning. Some of us had met each other, most hadn't…but
we worked hard together and managed to have a very smooth and enjoyable
3rd Annual Meet.
Folks
began arriving at Disney World prior to the weekend and the Planning
Crew decided to also meet, so we'd know what each other looked like!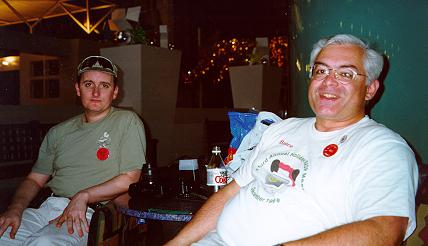 We met in the Outer Rim lounge at the Contemporary Hotel. Here is Andy
(from the United Kingdom) and Bruce (now residing in Orlando).
Members
of the Planning Crew included: Bill Abrams, Susie Bennett, Jan Bordelon,
Alicia Calsyn, Pam Cohen, Pat Edaburn, Kim Fajerski, Jim and Eureka
Freeman, Laura Gilbreath, Liz Jennings, Judy Lew, Bruce Metcalf, Judi
Mouse, Rob Olsan, Andy Sewell, Jeff Spencer, Deb Wills and Rusty Wyatt


Kim, Susie (kmom) and Czar Jim discuss strategies for Saturday's meet.

The first
"Official Event" of the 3rd Annual Meet was our traditional gathering
to watch the fireworks during Mickey's Very Merry Christmas Party. The
MVMCP meet was hosted by Pam Cohen and Susie (kmom). A special Guest
appearance by RADP's Czar and Czarina highlighted the evening.
Folks
were meeting up with each other all over the Magic Kingdom that night
and photos were taken everywhere.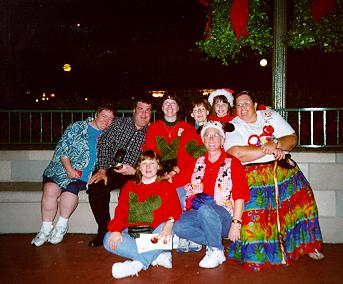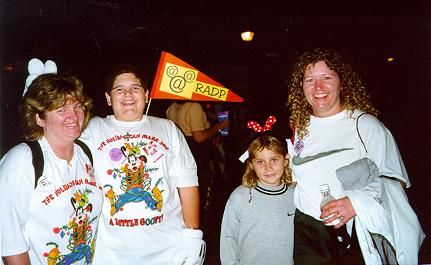 Pam's son Craig was a huge help all weekend. Here he is with Pam and
Susie proudly holding the RADP pennant!
I don't
think we ever got an official photo of all the MVMCP meet folks, but
I think there were over 40 of us all together. Being a warm gentle night;
a group of us went to Splash Mountain after the Fireworks!
Folks
were meeting up with each other all over the Magic Kingdom that night
and photos were taken everywhere.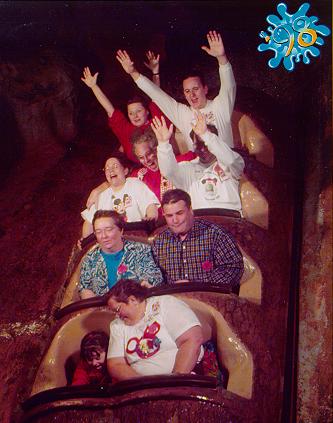 Seated
in the Log from Front to Back and Left to Right: Katharine Warner and
gardenia; Eureka and Jim Freeman; Liz Jennings, Deb Wills and Bill Abrams
(yes there were 3 of us in one seat!); Michele Warner and Andy.
Other Photos
from the meet can be found at Laura
Gilbreath's RADP Meet Photo Links
COMING
SOON! Continue with Dec 98 Meet