Walt Disney World Chronicles: Three Things We Take for Granted at Walt Disney World
by
Jim Korkis
Feature Article
This article appeared in the March 2, 2021 (#1126) edition of ALL EARS®
Editor's Note: This story/information was accurate when it was published. Please be sure to confirm all current rates, information and other details before planning your trip.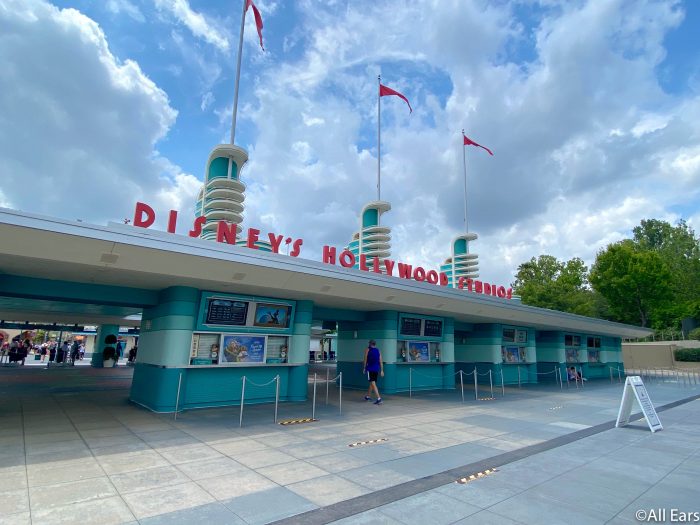 Readers of AllEars are the Disney experts for their friends and family so I always want to find things that are out-of-the-ordinary to share rather than the typical items that always seem to pop up everywhere.
During this unusual time, I began thinking how I just took for granted that I could go visit Walt Disney World and not worry about social distancing or making a reservation. Then I began thinking of all the other smaller things that I took for granted at WDW because they were so seamless and seemed to have been there forever so I never questioned them.
I've chosen three things you may have taken for granted as well and never questioned why they were there or the history behind them.
Entrance Gateways
The concept for Walt Disney World was that guests would unexpectedly discover the vacation destination so there was only minimal signage along the highways to build anticipation.
The Ticket and Transportation Center was across a large body of water so that when guests finally arrived at the Magic Kingdom, they couldn't see the parking lot or any other references to the real world.
Surrounding the Magic Kingdom were "infinity roads" that twisted and turned seemingly forever without any evidence of fencing, signage or trimmed landscaping that would encourage drivers to turn around and go in the other direction because it didn't appear to be Disney property.
By the time Michael Ovitz was hired as president in 1995 to take the role previously held by Frank Wells, the attendance at WDW had grown so large that this intriguing conceit was no longer effective. When Ovitz and his wife visited the Walt Disney World property, Judy Ovitz complained that she couldn't tell where Disney property began.
Michael Ovitz approached CEO Michael Eisner with the complaint and as a gesture to show his willingness to work with the new president authorized the building of three gateways on the perimeter of Walt Disney World property.
Groundbreaking ceremonies were in April 1996 for three colorful gateways that would define when guests had arrived on WDW property. One gateway was planned for World Drive, another for Epcot Drive and the final one at the beginning of Hotel Plaza Boulevard. Ovitz had suggested that they be decorated by huge iconic smiling figures of Mickey and Minnie because the primary audience was families with children.
Retired Disney artist Don "Ducky" Williams told me: "Yes, that is my artwork of Mickey and Minnie but I didn't do it specifically for those entranceways. I did a lot of work of the Disney characters in poses that could be used on material and it was in the Disney Design Group files. Imagineering just took it which they often did and never told me and used it. That was not a problem. It was part of my job to do things like that."
The images of Donald and Goofy were done by Disney Design Group (now called Disney Creative Group) artist Darren Hunt.
The entranceways were officially completed in September of that year and were similar but with slight variations in size. Each gateway was thirty feet high with sixteen-foot-high characters and a purposely bright color palette of red, yellow, purple and green to match already existing property signage.
Arches with colorful flags adorned the World Drive and Epcot Drive entrances but no arch on the one at Hotel Plaza Boulevard.
According to Hal McIntyre, vice president of WDI Planning and Infrastructure in 1996, the goal of the collaboration between Imagineering (that designed the gateways) and Walt Disney World was to "create a first class, high quality image that marks the resort's boundaries. The gateways' message is simple: You have arrived at Walt Disney World!"
McIntyre pointed out that the idea of a prominent gateway to the property had continually been brought up over the years beginning as far back as 1988. At that time, gateways had been designed and were ready to move forward when for undisclosed reasons they were shelved at the next to last minute sometime in 1990.
Walt Disney World Purple Signs
Why are WDW traffic signs purple and not the typical green and white that are seen on the roadways leading into the popular vacation destination?
The road signs scattered around WDW are the work of Sussman/Prejza & Co, a Los Angeles design firm that was hired in 1989 to tackle the design for the wayfinding and traffic signs of Walt Disney World and EuroDisney (now Disneyland Paris).
Walt Disney World encompasses an area larger than the city of San Francisco and at this point in time all visitors arrive by highway or freeway until perhaps an expansion of the Sun Rail sometime in the future.   
Sussman/Prejza's task was to develop a vehicular signing system that would be unique in spirit, clean, easy to follow, and capable of being expanded as the area continued to grow. 
The theme park was divided into several major districts. A hierarchy of signs was established to first lead visitors toward a specific district, and once there, toward a distinct destination. The 1,000 sign system includes large freeway signs, major and minor road directionals, regulatory signs, gateways, and bus graphics.
The firm up until doing Disney signs was best known for its work on the design and signage for the 1984 Olympics in Los Angeles, which featured similarly bold color palettes as the ones chosen for WDW. It was how they attracted the attention of the Walt Disney Company in the first place with so many Disney executives and Imagineers living in Los Angeles.
As for the colors on WDW traffic signs, according to designer Deborah Sussman, the firm drew inspiration from the big cheese himself, Mickey Mouse. The black, red, and yellow colors used on the signs were chosen to mimic the color palette of Mickey Mouse.
The signs were further fleshed out with complimentary colors which are colors that lie on the opposite side of the color wheel. Red's complementary color is green, and yellow's complementary color? Purple.
Using those complementary colors makes the signs easier to read and, of course, a sign that was prominently black would be difficult to read at night. A traffic sign that was primarily yellow would be difficult to see clearly during the day and one that was largely red would detract from warning signs that were red.
Different colored flags were put out around the property to survey guests to see which color they best remembered. Apparently the purple and red flags had a higher instance of being clearly recalled and that helped confirm the final color choices.
In addition, purple helps define when a guest is actually on WDW property because it is a different color than the typical road signs. As usual, no detail is too small to be considered when it comes to defining Disney.
Why is Disney able to control the color of road signs?
Disney has their own governing jurisdiction called the Reedy Creek Improvement District. The district is responsible for overseeing the public services of the property, including roadways.
The Purple Martins
Speaking of purple, during the annual Epcot Flower and Garden Festival each year, purple martins, the largest of the North American swallows, return to comfy white homes behind the Mouse Gear merchandise shop to start new families.
Some guests imagine that those white PVC gourds with an alphabet letter on them are cameras or special lighting fixtures on a white pole, but they are actually safe havens for birds who sometimes have to battle other sparrows and starlings for the treasured space.
The letters help identify each gourd for documentation by the Animal Programs team at Walt Disney World.
Purple martins are dependent on man-made housing to nest, a situation that has existed for hundreds of years when local Native Americans first hollowed out actual gourds (instead of the artificial ones used most often today) and hung them on trees.
As part of the Disney Company's commitment to conservation efforts, there are approximately 60 houses at Epcot and between 160 to 180 houses backstage at Disney's Animal Kingdom.
The program first began almost twenty years ago as part of a backyard bird garden exhibit for the Epcot Flower and Garden Festival, but was kept to delight guests and to provide a habitat for these birds whose future at that time was threatened.
James Mejeur, a zoological manager at Disney's Animal Kingdom, has been in charge of maintaining the Walt Disney World colonies of purple martins since 2005 and I got to interview him several years ago: "It is a popular myth that we encourage the purple martins to return to Epcot because they control the mosquito population. Actually, the purple martins fly higher than mosquitoes. If the purple martins were dependent on eating mosquitoes they would have to eat tens of thousands a day and even then they would probably still be hungry.
"The birds are completely dependent on humans for homes and have been for centuries. They communicate with each other so they know where the man-made homes will be. The other birds follow them in. We have to check the houses two to three times a week.
"We watch when the eggs are laid and when they hatch and contact a national data bank. They are vulnerable to other more aggressive birds like starlings who will fight them for the nesting opportunities. Generally, by the second week in January, they have all arrived.
"There is a purple martin community out there and we all keep in touch online and are in a friendly competition to see the first one. By late July, the purple martins are gone again. During the period they are here, we help fledge hundreds of chicks, increasing the endangered population. Guests love purple martins because they are associated with happy memories and are a way to connect with nature."