Walk This Way: 20th Anniversary of Rock 'n' Roller Coaster Starring Aerosmith
by
Joan L. Feder
AllEars® Staff Writer
Feature Article
This article appeared in the July 9, 2019 Issue #1033 of ALL EARS® (ISSN: 1533-0753)
Editor's Note: This story/information was accurate when it was published. Please be sure to confirm all current rates, information and other details before planning your trip.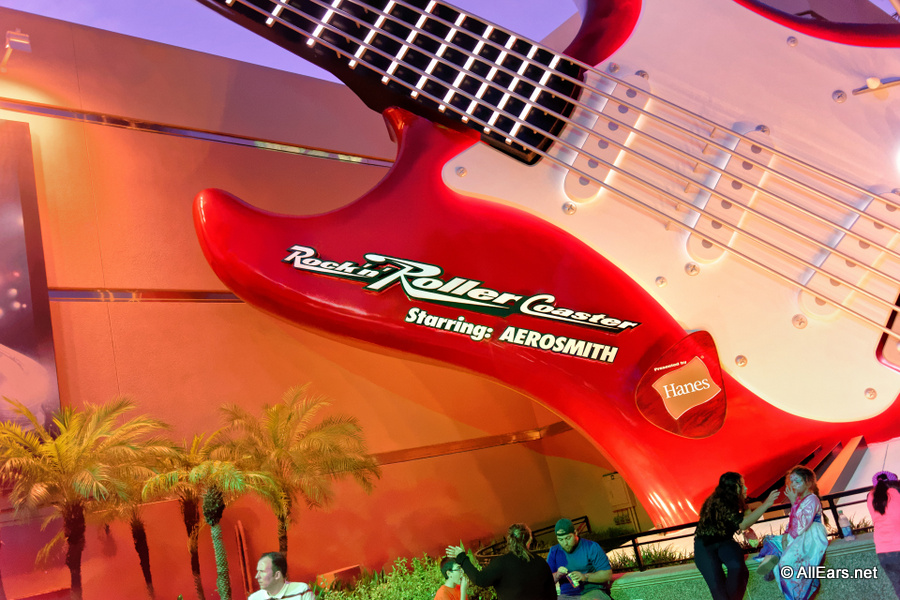 Would you believe that this month marks the 20th anniversary of the Rock 'n' Roller Coaster starring Aerosmith? It's true!
This attraction came along at a time when Disney World was looking to add more thrill rides to their family friendly line up. The route to this fan favorite has been an interesting ride.
Originally, Disney-MGM Studios (now Hollywood Studios) was more than a theme park, it was also a working movie and television production studio. When it opened on May 1,1989, there were very few attractions and no thrill rides whatsoever. The Imagineers already had an exciting expansion in mind. Five years later, on July 22, 1994, Sunset Boulevard and the Tower of Terror debuted. Around the corner was the spot where they planned to add a rock-themed roller coaster in the near future.
From the very beginning, Disney knew which rock band should anchor the new attraction: the Rolling Stones. Mick Jagger and Keith Richards were very interested, but also wanted a bucket of cash. They offered to let Disney use their likeness and excerpts of no more than six songs all for the low, low price of $10 million a year. Clearly they were too expensive. Other bands that had a shot at this attraction included U2, but Bono was not interested, and Kiss, who also asked for a small fortune.
Despite these setbacks, Imagineers continued to work on the ride. This enclosed roller coaster would be the first Disney World attraction to feature multiple inversions. Construction began in February 1998. The track was finished in June, but they still had no band. Finally, Disney decided to approach Aerosmith, the group that was working with them on the film Armageddon. The "Bad Boys of Boston" had been popular since the early 1970s, and were still mainstream favorites. It was a match made in rock heaven. Aerosmith eagerly agreed, and actively got involved. They helped pick the songs, rerecorded some lyrics (e.g. Love in a Roller Coaster) and even starred in the pre-show film.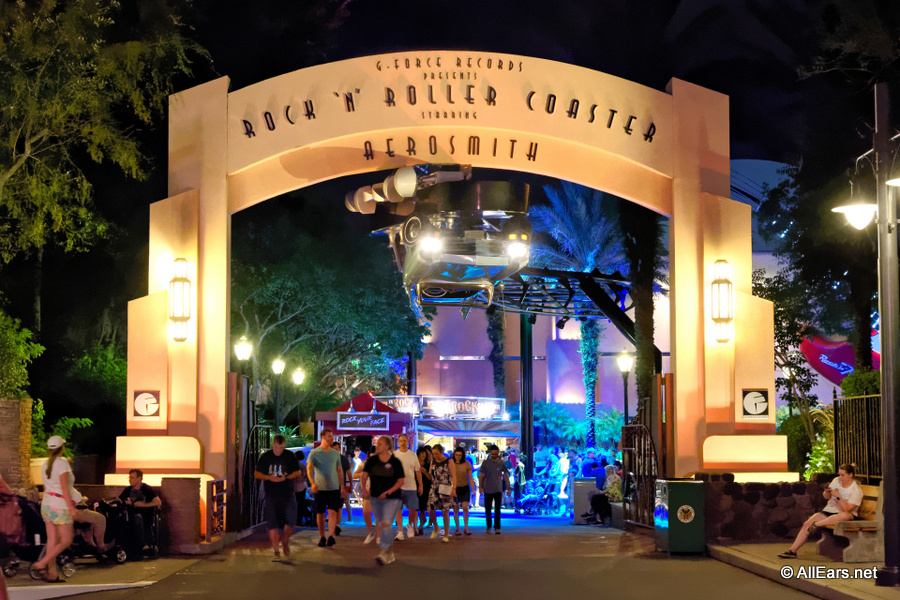 Both Disney and Aerosmith were enthusiastic about their partnership. Disney World president Al Weiss said, "This thrilling new attraction is a perfect fit for Disney-MGM Studios and its celebration of show business — film, television, theater, animation and now music. And Aerosmith, with its multi-generational, international appeal and ever-youthful approach to rock 'n' roll music, is a fantastic match for this new thrill ride." Aerosmith's lead singer, Steven Tyler said, "When you've toured the world as much as we have, it's a real thrill to find a new audience. Coming up with a soundtrack for this Disney ride really brought the kid out in all of us and has given us the opportunity to play audio gymnastics with our music."
The Rock 'n' Roller Coaster Starring Aerosmith debuted on July 29, 1999. The festivities began with Aerosmith immortalizing their handprints in concrete. They then attended an invitation-only party. Invitees were taken to the Studios in stretch limousines where there was an all-you-can-eat buffet and bar. Speed painter Denny Dent created portraits of the band members. Then partygoers got a chance to ride the coaster with a member of the group. The evening was a roaring success. Joe Perry and Steven Tyler loved the attraction; each rode it 12 times before they left the bash!
It is no wonder that they felt right at home. Riders are treated like rock stars. The adventure begins in the queue. Guests walk past a 40-foot-tall Stratocaster guitar, and into G-Force Records. Walking past memorabilia and show posters, riders head into a recording studio. There they find Aerosmith finishing up for the day and getting ready to head out to a concert across town. The band insists on giving everyone in the studio backstage passes along with a super-stretch limo ride to the show.
Guests head out to the Lock 'n' Roll garage and get into their 24-passenger limo, which is designed to resemble a 1962 Cadillac. Each car has an incredible audio system that includes 125 speakers, 24 sub-woofers and 32,000 watts of power. The steel track measures 3,403 feet. After everyone is secured in their seats, the limo pulls up to a highway tunnel. A sign overhead flashes messages like: "Traffic bug you? Then STEP on it!" Steven Tyler screams out the five-second countdown. And whoosh! The limo blasts off, going from 0 to 57 miles per hour in less than 2.8 seconds. The coaster careens past iconic Hollywood landmarks, and through three inversions, two rollovers and a corkscrew, as Aerosmith belts out their hits. The 75-second ride is so quick that guests experience a G-force (just like the record company) between 4 and 5 when they enter the first inversion of the track. That's more than astronauts experience during a rocket launch!
Every limo has its own soundtrack, which is indicated by its license plate. UGOBABE blares Love in a Roller Coaster and Walk This Way. The song Nine Lives plays on 1QKLIMO. BUHBYE features Young Lust, F.I.N.E and Love in a Roller Coaster. 2FAST4U plays Sweet Emotion, and H8TRFFC spotlights Back in the Saddle and Dude (Looks Like a Lady).
Disney World celebrated the ride's first anniversary in true rock 'n' roll style. In 2000, 80 Chevy Corvettes in red, white and black gathered in the Disney-MGM Studios' lot. There they parked in formation in the shape of the ride's signature Stratocaster.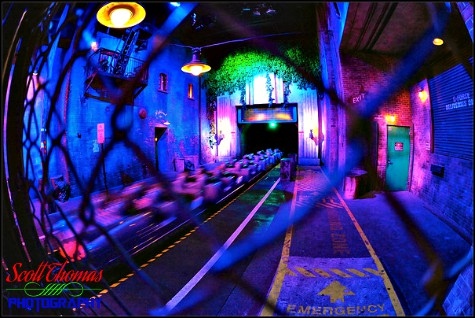 Disneyland Paris opened its own version of the Rock 'n' Roller Coaster on March 16, 2002. The ride track and songs are the same, but the theme is different. Here guests visit Tour de Force records. Instead of speeding over Los Angeles roads in a stretch limo, passengers ride a Soundtracker through an Aerosmith music video. It is the fastest roller coaster in France, but not for much longer. It was announced at the 2018 D23 Expo that this attraction was going to be closed for a complete overhaul. The new ride will feature Iron Man and other Avengers for a hyper-kinetic high-speed adventure. Paris' Rock 'n' Roller Coaster is set to close on September 1 of this year.
Don't look for similar changes to the Florida original anytime soon. Except for a couple of tweaks in the pre-show, the Rock 'n' Roller Coaster is the same today as it was when it opened three decades ago. The only other alteration was a one-night Star Wars overlay for the 2015 opening of The Force Awakens.
Planning to ride the Rock 'n' Roller coaster? Here are some important tips for getting the most out of your backstage pass: Limo riders must be at least 48 inches (122CM) tall. FastPass+ is available for this attraction. There is also a single-rider line. Oh, and if you can, just as you are launched into the ride, look to your right and smile for your ride photo.
============
RELATED LINKS
============
Rock 'n' Roller Coaster Starring Aerosmith Attraction Page
Rate and Review Rock 'n' Roller Coaster Starring Aerosmith
Rock 'n' Roller Coaster in Disneyland Paris
Also by Joan Feder for AllEars®:
I've Heard That Voice Before: Bill Farmer
I've Heard That Voice Before: Corey Burton
I've Heard That Voice Before: Paul Winchell
I've Heard That Voice Before: June Foray
Taking a Spa Break
Another World: Disney's Hilton Head Island
What's Disneyland Paris Got That We Don't?
= = = = = = = = = = = = =
ABOUT THE AUTHOR
= = = = = = = = = = = = =
Joan Feder is a lifelong Disney lover and aficionado. She is a writer who loves to cook, read and travel. Her favorite spot to visit is Walt Disney World, where you can find her several times a year drinking a Dorma Nesmond at the Hollywood Brown Derby.