Planning a Trip Using My Disney Experience
by Alice McNutt Miller
AllEars® Feature Writer
Feature Article
This article appeared in the November 12, 2013 Issue #738 of ALL EARS® (ISSN: 1533-0753)
Editor's Note: This story/information was accurate when it was published. Please be sure to confirm all current rates, information and other details before planning your trip.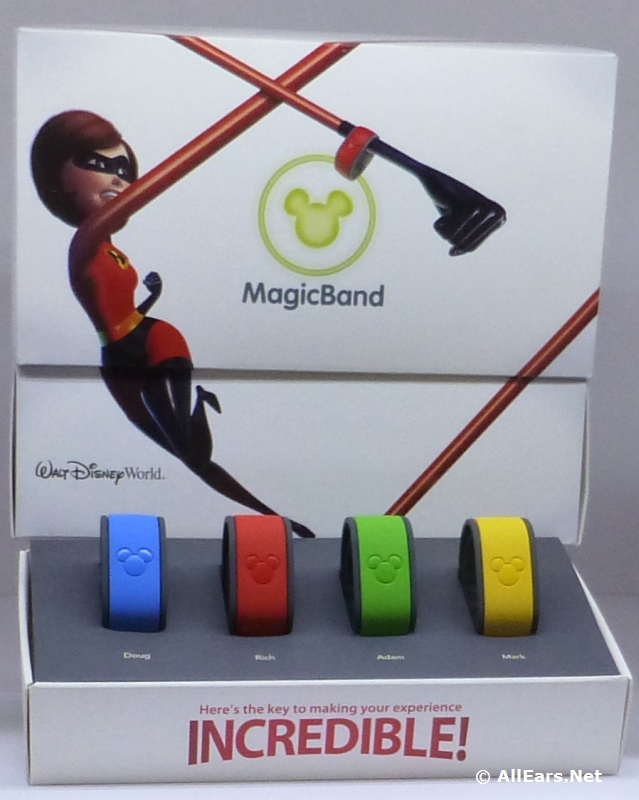 We recently returned from our annual trip to the World for Epcot's International Food and Wine Festival and had the chance to test, firsthand, the use of MagicBands and the My Disney Experience (MDE) planning tool on Disneyworld.com. About a month and a half before our trip, we received an email asking if we would like to participate in the testing. At the time we received the invitation, we had an existing DVC reservation, pre-purchased tickets and pre-existing dining reservations, so I was a bit nervous about throwing caution to the wind and putting all of my planning eggs into the MDE basket. I also wasn't sure whether the Miller family would prefer these newfangled planning tools to planning via "The Spreadsheet."
The general idea is that, after the initial set-up process on the MDE website, the MagicBands — colorful wristbands enabled with radio frequency technology — will: 1) operate as your resort room key; 2) allow you to make purchases with a touch of the Band (and a pre-set PIN); 3) operate as your park ticket; 4) allow you to manage "FastPass+" reservations; and 5) many other "magical things." Bearing in mind that this review is based solely on my single planning and vacationing experience with MDE and the MagicBands, and hence I did not test all of the functionality, here are a few things that you can expect:
1. Prior to your departure:
The invitation. If you have a Disney World resort reservation or vacation package already booked, or are making one in the near future, it is likely that you will be asked to take part in the "test." I'm not sure when Disney will roll MDE out completely, and cast members that I asked feigned ignorance, but we saw A LOT of MagicBands all over the World during our trip. One thing I did hear was that you cannot take part in the test without being invited to do so. (Note that no day guests or passholders have been invited unless they were staying at resorts that are part of the test.)
My Disney Experience Account. In order to take part in the test, you will need to have a Disney account, and be able to log into the My Disney Experience section of the Disney World website. If you and your family have multiple accounts (we don't), it would probably be easiest to use one to do most of the planning (although the website allows you to "invite" other guests to your planning page).
Once you have logged in, check your profile page to make sure that all of the information reflected there is correct. Next, create your "Friends and Family List," including all of the folk whose MDEs you will be managing. I entered information on my husband and my two daughters (even though only one daughter traveled with us on this trip). Next, you will need to link your existing resort reservation. I was a bit nervous that there would be difficulty linking our DVC reservation, as the DVC and "regular" Disney World reservation systems have had difficulty talking to each other in the past. However, no problem!
Customizing the MagicBands. Once you have successfully linked your resort room reservation, you can customize MagicBands for each of the members in your party, choosing the color of the band, and the name to be printed on the inside. After you have customized the Bands, they will be queued up for shipment to you (we received ours in the mail in about two days).
FastPass+. One of the hotly debated "benefits" of the MagicBands and MDE, is the ability to make advance FastPass reservations (FastPass+). Before making FastPass+ selections, I had to link the park tickets for each member of our party. Trepidation set in again. My husband and daughter both had partially used 10-day, no expiration tickets that we had bought through a ticket reseller, and I had to order a DVC discounted annual pass voucher, which couldn't be exchanged for the actual annual pass until we arrived at a park on the first day of our visit. Again, I was pleasantly surprised that the MDE website easily linked all of these ticket media without any problems. (Do make sure, however, that you link the right ticket to the right guest). Once the tickets were linked, I clicked on "Make FastPass+ Selections" and proceeded to do just that. The limits are three passes per day at only one park.
Advance Dining Reservations. Any Advance Dining Reservations that you make after setting up your MDE account will automatically show up in your "My Reservations" list. Getting ADRs that you might have made earlier, or over the telephone, to show up in the My Reservations page is trickier. I had a number of ADRs that I never could get linked properly, even after several very frustrating telephone calls. I finally gave up and just noted them on The Spreadsheet, as I normally do.
Other magical things. There are probably lots of other magical things that can be done one the MDE website prior to your departure, but I am sorry to say that I did not use them, so I can't report back. There are such enticing links as: "Discover My Disney Experience Benefits," "Find Things to Do," and "View Pre-Arrival Check List." We'd love to hear from our readers about how those features worked for them!
2. After your arrival:
Mobile app. If you have a smart phone, download the DME mobile app in order to get the most out of the experience. Using the app, you can see all of your plans for the day, including FastPass+ times and ADRs, and can change FastPass+ times on the fly. At least that is what is promised. The one time we tried to change one of our FastPass+ times, we were unsuccessful (no alternatives were available), and we essentially lost the FastPass. It was a bit frustrating, but I must admit that my difficulties could have stemmed from user error, since I found that app functionality not to be very user-friendly.
Park tickets and entrance "turnstiles." I traded my annual pass voucher for an actual annual pass at one of the ticket windows at Epcot. The friendly cast member assured me that the pass would automatically be linked to my MagicBand, and — amazingly — she was right! From my rather unscientific observation, it appears that there are no longer any paper ticket readers and actual turnstiles at any of the park entrances. Guests will need to either have a MagicBand or a newer, RFID ticket to enter the park (I understand that older, paper tickets can be exchanged for the newer ticket media, and I am guessing that that may have been one of the reasons that the line at the Guest Relations window was so long). Our take was that the entry has been speeded up slightly, but that with no barriers between them and the stampeding guests, the cast members seemed slightly harried by the entry process.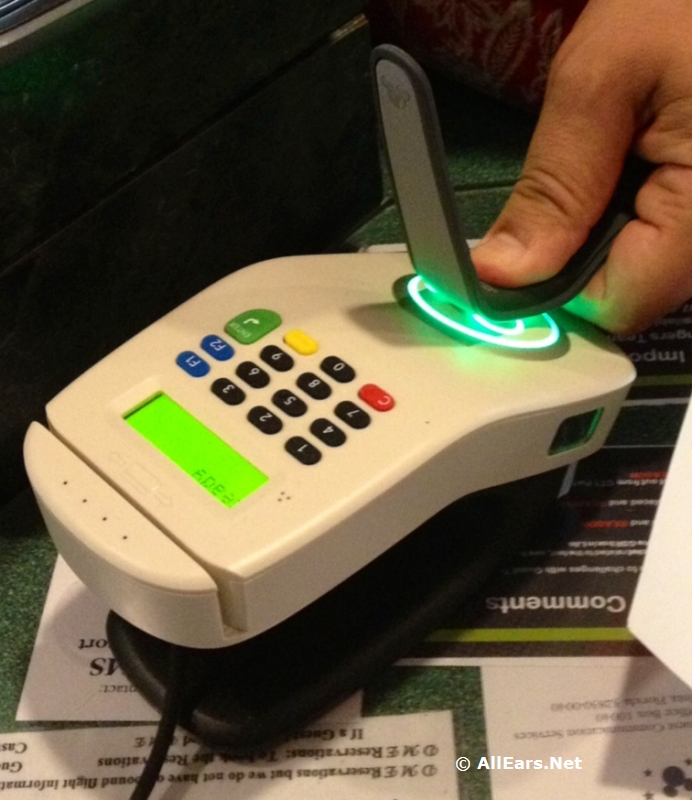 MagicBands and Keys to the World. I am assuming that Keys to the World cards for Disney resort guests will eventually be phased out, but when we checked into our resort, we were each issued one, as a back up for the MagicBands. The Keys can be used as room keys, and for charging. I'm not sure if they still have the park tickets "on them" for those guests purchasing the whole package. In any case, we tested everything on our door lock to make sure that they worked to open the door, then promptly filed the Keys to the World into our wallets, and removed them directly to the trash bin after we returned home.
Room charge. When you set up your MagicBands on the MDE website, you can indicate whether you want the Bands to be enabled for charging privileges. If you do, you designate those in your party who will have the privileges, select a four-digit PIN for each person, and provide a credit card number. This was one element of the MagicBands that I LOVED! It was so much easier to touch your wrist to the Mickey thingy and enter a PIN than to dig in a wallet, pocket or bag for a Key to the World card. The only issue that we ran into, was that the charging did not appear to be activated until after we had checked into our resort, which was AFTER we had already spent most of the day in Epcot, and were disappointed not to be able to use the Bands to purchase food at the International Food and Wine Festival booths. We returned again later in the trip and were very happy to be able to use the bands.
FastPass+. This was the part of the MDE approach to planning that I was most ambivalent about. I was a bit put out by the fact that we would be limited to only three FastPasses per day, in only one park per day. We love the FastPass system, and make good use of it in being able to do all of the things we want to do, and I was worried that we would be thwarted in our efforts. Also, I like to plan, really I do, but do I REALLY need to make FastPass reservations a month and a half in advance? REALLY? What happens if it rains and we decide to change parks? What happens if we can't get the ADR that we want, and decide to move on? Well, I took a deep breath and plunged in. I consulted The Spreadsheet, where I had already recorded park hours, and determined which parks we were going to visit on which days, and clicked on "Make FastPass+ Selections." I chose our three attractions, and waited for the website to spit out the FastPass times. For the most part, they worked. All of them were about an hour to an hour and a half apart, and were grouped close enough together that we wouldn't be waiting for hours between return times. It was simple to check the times on the app on my phone, and plan other attractions to visit between FastPasses. As mentioned above, I was not successful in changing one of the times that I wanted to, but I did speak to a couple of very friendly cast members stationed near Philharmagic in the Magic Kingdom who would have been very happy to help me with any MagicBand issues — including making FastPass+ changes — and I saw other similar kiosks scattered throughout the parks, as well.
The verdict. The Miller family had a relatively smooth experience, but I have heard that lots of other guests who have had a bumpier ride. Advance planning using the MDE site was time consuming and a bit cumbersome, but eventually got me to the intended endpoint. The mobile app was useful in some areas, but not very intuitive in others. FastPass+ is very limiting for guests used to making more use of the FastPass system during the course of the day and hopping to more than one park, but was easy to use. While I found it easy to link reservations and tickets, linking ADRs was much more troublesome. At one point, I wondered aloud, since I had made all of my reservations through a Disney website, using the same user name and password, WHY the website wasn't smart enough to know who I was. Hopefully, some of these wrinkles will be ironed out over time. Also, while I do love to plan, I wonder if the new system might be SO complicated that first-time visitors might simply throw up their hands in frustration and head north to Universal Studios. We'd love to hear what YOU think! Please visit our Rate and Review section and let us know:
http://land.allears.net/reviewpost/showcat.php?cat=198
=-=-=-=-=-=-=-=-=-=-=-=-=-=-=-=
ABOUT THE AUTHOR
Alice McNutt Miller is a lifelong Disney fan whose fondest childhood memories include "The Wonderful World of Disney" on Sunday nights and her first trip to Disneyland when she was 10 years old. Alice and her family are Disney Vacation Club members, and have now visited every one of the Disney parks throughout the world. They live in Vienna, Virginia.
=-=-=-=-=-=-=-=-=-=-=-=-=-=-=-=
RELATED LINK
Finger Scan and RFID Readers:
http://allears.net/pl/fingerscan.htm
-o-o-o-o-o-o-o-o-o-o-o-
Editor's Note: This story/information was accurate when it was published. Please be sure to confirm all current rates, information and other details before planning your trip.