I've Heard That Voice Before: Paul Winchell
by Joan L. Feder
AllEars® Staff Writer
Feature Article
This article appeared in the June 12, 2018 Issue #977 of ALL EARS® (ISSN: 1533-0753)
Editor's Note: This story/information was accurate when it was published. Please be sure to confirm all current rates, information and other details before planning your trip.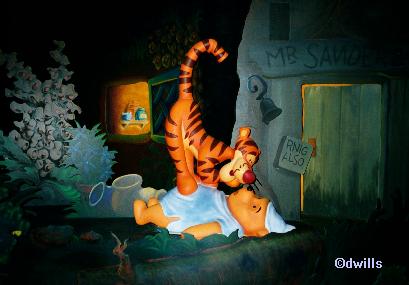 Have you ever heard of the term "polymath?" A polymath is someone who has a wide-range of knowledge covering many different subjects.
This is a perfect description of actor Paul Winchell. His biggest claim to fame was probably as a voice actor. After all, he was the man who gave Winnie-the-Pooh's friend Tigger his unmistakable sound ("T-I-double guh-rrrrrr", need I say more?) in the animated Disney classic films. He was also a well-known ventriloquist and a star of vaudeville, radio, and television. But his career, which spanned more than six decades, encompassed much much more. Winchell was also an author, humanitarian, and, believe it or not, inventor.
Paul Wilchinsky was born in New York City, on December 21, 1922. As a child, he had a stutter, and was stricken with polio. At the age of 12, he borrowed 10 cents to purchase a how-to pamphlet on ventriloquism. It was not long before Paul discovered that he had a gift. His grade-school teacher, Jero Magon, let him build a ventriloquist dummy as his art project. In gratitude, Winchell named his creation Jerry Mahoney. Jerry became his ticket to grade-school popularity, and even more importantly, a career.
In 1938, as Paul Winchell, he entered a radio talent contest, the Major Bowes Amateur Hour. (Other alumni included Frank Sinatra and a young Maria Callas.) Winchell won first prize, which gave him the opportunity to do his act at various vaudeville theaters. This led to being hired by bandleader Ted Weems to tour with his show, which made 16-year-old Paul a professional entertainer.
Winchell's career continued to gain momentum. In 1943, he had a short-lived radio show with Jerry Mahoney. In the '50s, he moved into television, hosting several programs, some for adults and some for children. When his act made the jump to the small screen, Winchell made his dummies unique through a startlingly simple innovation: he had actors put their arms through the figures' sleeves, so that they could gesture during their performances. The Paul Winchell and Jerry Mahoney Show ran on NBC primetime from 1950 to 1954. His most successful program, Winchell-Mahoney Time, was a kid's show that ran from 1965 to 1968. Unfortunately, almost no footage of this program remains because the 288 videotapes that existed were destroyed by the production company during a legal battle over syndication rights.
Winchell's celebrity continued throughout the 1960s. He made appearances on many popular television series, both with and without his ventriloquist dummies, including The Beverly Hillbillies, The Dick Van Dyke Show, The Lucy Show and The Brady Bunch. He also appeared on many variety shows, like Ed Sullivan, The Dean Martin Show and Rowan & Martin's Laugh-In. Winchell's television career was so renowned that he received a Star on Hollywood's Walk of Fame. Jerry Mahoney, and his sidekick, Knucklehead Smiff, were also well-recognized and wound up in the collection of the Smithsonian Institution.
As the '60s drew to a close, Winchell segued into doing more and more voice work. Clearly his most notable work for Disney was creating the voice of the irrepressible Tigger in 1968's Winnie the Pooh and the Blustery Day. Winchell was also responsible for coining Tigger's catchphrase TTFN, or Ta-Ta For Now. He won a Grammy for best children's recording for Winnie the Pooh and Tigger Too in 1974.
He continued doing Tigger on and off until his retirement in 1999, leaving Jim Cummings to continue his work. Winchell returned one last time to record Tigger's lines for the The Many Adventures of Winnie the Pooh attraction at Walt Disney World. Winchell's other voices for Disney included Shun Gon, the Siamese cat in The Aristocats, Boomer the Woodpecker in The Fox and the Hound, and the original voice of Zummi on Disney's Adventures of the Gummi Bears.
Winchell did a lot of work for other studios as well. At Hanna-Barbera, he played, among others, Dick Dastardly and the lead Banana Split, Fleegle. He was the voice of Sam-I-Am and his unnamed pal in Dr. Seuss on the Loose in 1973. From 1981 to 1986 he was the despicable Gargamel on The Smurfs. His voice was also widely used in advertising; Winchell performed the Scrubbing Bubbles for Dow Chemicals, and can still be heard today as Mr. Owl for Tootsie Pops ("How many licks does it take to get to the Tootsie Roll center of a Tootsie Pop?")
In the 1970s, Paul Winchell decided to pursue a formal education. He attended Columbia University as a pre-med student. He became an acupuncturist after graduating from The Acupuncture Research College of Los Angeles. He also worked at Hollywood's Gibbs Institute as a medical hypnotist.
During the '80s, he took an interest in solving the problem of starvation in Africa. Along with Richard Dreyfus and Ed Asner, he lobbied Congress to finance a pilot program to breed tilapia as a source of protein. Unfortunately, their request was declined.
Winchell was also a prolific inventor who held more than 30 patents. His inventions included a disposable razor, a flameless cigarette lighter and battery-heated gloves. More impressively, he received the first patent on an artificial heart. Through his interest in medicine, he became friends with Dr. Henry Heimlich (of the maneuver fame) with whom he worked on his invention. On February 6, 1961, Winchell filed for a patent on his artificial heart, which he received in July 1963. This was long before Dr. Jarvik came up with the device that he implanted into Barney Clark in 1982.
Over the years, Winchell published several books on a range of topics. He updated the pamphlet that gave him his start: Ventriloquism for Fun and Profit. He also co-authored Pressure Points: Do It Yourself Acupuncture-Without Needles. Winchell explored his interest in theology in God 2000 Religion Without the Bible. He also wrote his autobiography titled "Winch." In it, he revealed a darker side to his life, including his mother abusing him as a child, and his struggles with mental health issues. His autobiography also had grim consequences. Paul Winchell was married three times, and had five children. "Winch" contributed to his estrangement from the children of his first two marriages.
Paul Winchell died of natural causes on June 24, 2005, in California. He was 82 years old and survived by his wife, children and three grandchildren. He left behind inventions, entertainment and memorable characters. He also left us with a successor; one of his children followed in her father's footsteps. April Winchell is a well-known voice actress and many of her roles are for Disney. She can be heard in television shows and movies, including Monsters University, Phineas and Ferb, Gravity Falls and Kim Possible. She even has a Disney character she can call her own — she is the official voice of Clarabelle Cow. Consequently, we will be able to enjoy the Winchell legacy for years to come.
= = = = = = = = = = = = =
RELATED LINKS
= = = = = = = = = = = = =
Also by Joan Feder for AllEars®:
I've Heard That Voice Before: June Foray
= = = = = = = = = = = = =
ABOUT THE AUTHOR
= = = = = = = = = = = = =
Joan Feder is a lifelong Disney lover and aficionado. She is a writer who loves to cook, read and travel. Her favorite spot to visit is Walt Disney World, where you can find her several times a year drinking a Dorma Nesmond at the Hollywood Brown Derby.
-o-o-o-o-o-o-o-o-o-o-o-
Editor's Note: This story/information was accurate when it was published. Please be sure to confirm all current rates, information and other details before planning your trip.