Muppet*Vision 3D Hollywood Pictures Backlot Disney's California Adventure
Muppet*Vision 3D has closed. It has been replaced by the Sunset Showcase Theater.
Introduction | Attraction | Touring Tips | Kids/Characters | Dining | Shopping | Interesting Facts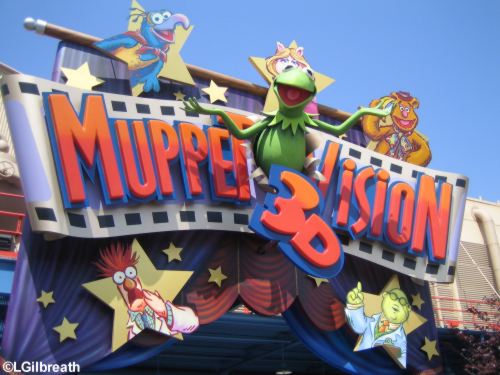 INTRODUCTION
Zany humor and outlandish pranks are the order of the day as you join Miss Piggy, Kermit, Gonzo, Sam Eagle and many other familiar Muppet faces in the three-dimensional film, Muppet*Vision 3-D, located in the Hollywood Pictures Backlot.
ATTRACTION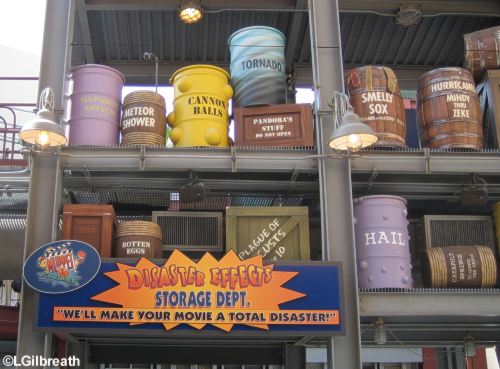 Pre-Show — Prior to the show, you'll enter the theater's "warehouse" to wait. A very funny 12-minute video on overhead monitors entertains you with typical Muppet musical mayhem. Scooter, Gonzo, and Sam the Eagle prepare for the show with everything from sound checks to a little soft-shoe. You'll also have the opportunity to browse among prop boxes filled with goodies that belong to the Muppet stars.
MuppetVision 3-D – After taking your seat in the plushly appointed 584-seat theater, don your special 3D glasses to watch this wacky 13-minute trip through the Muppet Laboratories, featuring a special demonstration of Muppets 3D. Fozzie Bear shows off a variety of 3D effects, but don't be surprised when your sight isn't the only sense to be stimulated! You'll be blasted with a burst of air, squirted and suddenly find yourself in a dreamy shower of soap bubbles at various times throughout the show. Dr. Bunsen Honeydew and his assistant, Beaker, begin the demonstration with predictably disastrous results, releasing an impish 3D character named Waldo. Waldo joins forces with Bean Bunny, the little Muppet that everyone else is looking for. Things go from bad to worse as the Swedish Chef commandeers the projector in the rear of the theater and Statler and Waldorf heckle from their box seats. The show comes to a raucous conclusion, with cannons exploding, fireworks blasting and penguins squawking in a tumultuous but happy ending.
TOURING TIPS
Shows are held continuously, about every 20 minutes. There's very rarely a line for the show, typically you walk right into the pre-show and simply wait for the theater doors to open.
You will have to wear special 3D glasses to enjoy the full effect of this attraction. If you wear prescription glasses, you place the 3D glasses over them. You may find the 3D effects hard to see, even with the glasses in place. Try looking beyond the effect, rather than directly at it – this sometimes seems to help.
Certain parts of this attraction, particularly the conclusion, are very LOUD, and some small children may be frightened. Advise them to remove their 3D glasses and close their eyes if they become too overwhelmed.
Sweetums, a scary-looking but friendly monster, walks around the front of the theater at various times during the show. If you think your child might enjoy seeing him up close, try to sit toward the front of the theater.
This attraction is wheelchair/ECV accessible.
Assistive Listening Devices from Guest Services Can Be Used Here.
Reflective and Guest-Activated Captioning Available.
Restrooms are located a short walk away next to Off the Page.
KIDS AND CHARACTERS
Sweetums, a scary-looking but lovable human-sized monster, strolls around in the front of the theater periodically during the show.
Muppet Mobile Lab, a free-roaming, interactive audio-animatronic featuring Dr. Bunsen Honeydew and Beaker, can sometimes be found in the park. Other Disney characters can often be found in the Hollywood Backlot area. Check your daily Times Guide for times and locations.
DINING
Award Wieners – A variety of hot dogs, sausages, and beverages
Fairfax Market – Bottled soft drinks, fruit, vegetables, and snack mixes
Schmoozies – Fruit smoothies and specialty coffees
Restaurants At A Glance
Menus From the Disneyland Resort
SHOPPING
Off the Page, located at the exit of the Animation Building, offers Disney animation cels, books, posters, collectible figures, and artwork.
INTERESTING FACTS
Muppet Vision 3D opened with Disney's California Adventure on February 8, 2001. The show is a joint effort by Jim Henson Productions, Walt Disney Studios and Walt Disney Imagineering (WDI), the design and engineering division of The Walt Disney Co.
HIDDEN MICKEY: See if you can spot the Hidden Mickey test pattern in the pre-show video, just after Scooter crosses the screen for the second time.
To create the ideal setting for Muppet*Vision 3-D, Imagineers designed a theater that brings the show directly into the audience, causing some to call the experience 4D, or 4 Dimensional. Guests are squirted with water, blasted with air, and real soap bubbles float through the air throughout the show.
Muppet touches can be found throughout the architecture's ornamentation, including the Jules Verne-style projector contraption operated by the Swedish Chef.
ADDITIONAL PHOTOS
Great Gonzo's Catapult of Doom
Muppet Labs Hallway
Muppet Labs logo
Pre-show screens and Sam the Eagle's props
Gonzo's props
Muppet Theater
Muppet Theater seats
If you have comments or tips to share with others about touring Disney's California Adventure, please email us. Thank you.