King Triton's Carousel Paradise Pier Disney's California Adventure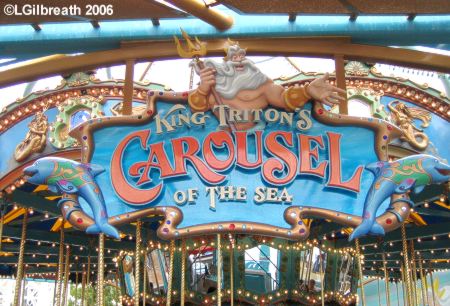 INTRODUCTION
This beautiful carousel features a variety of colorful sea creatures that "float" up and down as the carousel revolves to the sound of a calliope playing classic Boardwalk tunes.
ATTRACTION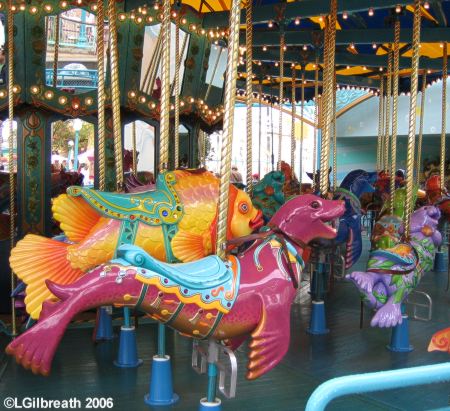 King Triton's Carousel is located in Paradise Pier in front of California Screamin'. The steeds on this unique carousel are not horses, but colorful underwater mammals and fish – dolphins, sea lions, whales, sea otters, flying fish and garibaldi. And yes, one kind of horse – the sea horse.
The queue winds around the carousel past the "sea shell" fountains, and is usually in the shade.
There are 56 sea animals and two water chariots. All of the animals go up and down.
TOURING TIPS
This attraction generally has a fairly short queue, though the wait is shortest early or late in the day.
The ride is 1:30 minutes long.
There is no height requirement, and although there are belts to secure riders to their animals, smaller children should be held on by an adult standing next to them.
Wheelchair/ECV users enter through the regular queue and may remain in their chairs on the attraction.
The closest restrooms are located just behind the carousel, at the exit of California Screamin'.
KIDS AND CHARACTERS
This attraction is very popular with children and those who are children at heart. How can anyone look at the mischievous smiles on the faces of the sea lions and otters and not smile themselves?
Young children should be accompanied by an adult.
There are no characters associated with this attraction, and no character greeting areas in this part of Paradise Pier. Check the Daily Times guide for other Character Meet and Greet opportunities.
DINING
Strips, Dips, and Chips – Chicken strips and fish and chips
Pizza Oom Mow Mow – Pizza, pasta, and salads
SHOPPING
Man Hat'n'Beach, Point Mugu Tatoo, and Sideshow Shirts offer a variety of Paradise Pier-themed merchandise, t-shirts, toys and other souvenirs.
Pacific Ocean Photos features custom photos with choice of backdrops and costumes
INTERESTING FACTS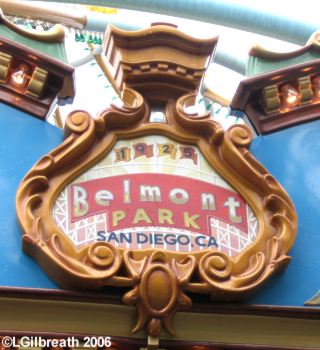 King Triton's Carousel opened with Disney's California Adventure on February 8, 2001.
There is a large mural of King Triton on the wall behind the carousel.
Along the edges of the carousel's canopy there are 16 icons depicting famous seaside amusement parks, like Santa Monica Pier, Belmont Park, Ocean Park Pier, and Loof's Pier.
If you have comments or tips to share with others about touring Disney's California Adventure, please email us. Thank you.