Fantasyland Disneyland
Introduction | Attractions and Entertainment | Touring Tips | Dining | Shopping | Interesting Facts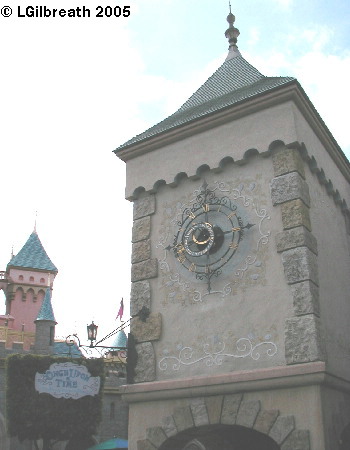 "Here is the world of imagination, hopes and dreams. In this timeless
land of enchantment, the age of chivalry, magic, and make-believe are
reborn, and fairy tales come true. Fantasyland is dedicated to the young
at heart, to those who believe that when you wish upon a star, your
dreams come true." – Walt Disney
INTRODUCTION
Walk through a fairytale castle and into a fairytale land…where elephants fly, evil witches lurk in the shadows, and fairies can make dreams come true. It's Fantasyland – "the happiest kingdom of them all."
Almost every attraction is based on a beloved Disney feature film, from Peter Pan to Alice in Wonderland to Dumbo. The buildings are wonderfully detailed and themed to the attraction within – an English manor house, a charming old-world village, and even a medieval castle. Sail into the mouth of a whale, pull a sword from the stone, or take a cruise with the children of the world – it's all there in Fantasyland.
Compare Disneyland's Fantasyland to Walt Disney World's Fantasyland HERE.
ATTRACTIONS AND ENTERTAINMENT
Alice in Wonderland – Tour Wonderland in a caterpillar car, with encounters with many of the wacky and memorable Wonderland inhabitants.
Bibbidi Bobbidi Boutique – This salon next to the castle offers makeovers fit for a princess to both little girls and big girls. A "Prince" option is available for boys.
Casey Jr. Circus Train – This steam train circles Storybook Land – ride in the "Wild Animals" or "Monkeys" cars!
Dumbo the Flying Elephant – Take Dumbo on a fantastic flight – you control how high or low he flies.
Fantasy Faire – Located at the end of Main Street, this charming medieval village is where you'll meet and greet the Disney princesses in The Royal Hall, or watch a performance in The Royal Theater.
it's a small world – Audio-animatronic dolls from all over the world serenade you during this 10-minute indoor boat ride.
King Arthur Carrousel – All the horses go up and down on this enchanting carousel ride.
Mad Tea Party – Celebrate your very merry un-birthday and spin your teacup 'round and 'round.
Matterhorn Bobsleds – Roller coaster ride up, down, and through Matterhorn Mountain.
Mickey and the Magical Map – live stage show in the Fantasyland Theater starring Sorcerer's Apprentice Mickey.
Mr. Toad's Wild Ride – Mr. Toad takes you on a wild horseless carriage ride through merry old England.
Peter Pan's Flight – Board a flying pirate ship for a journey to Never Land.
Pinocchio's Daring Journey – Follow Pinocchio's adventures on Pleasure Island and with Monstro the whale.
Sleeping Beauty Castle Walkthrough – tells the story of Sleeping Beauty in a series of storybook pages and animated scenes.
Snow White's Scary Adventures – Ride a mine car and follow the Wicked Queen as she plots against Snow White.
Storybook Land Canal Boats – Take a boat cruise through the miniature villages of Storybook Land.
TOURING TIPS
Fantasyland gets very crowded early in the day, and remains so. The best time to ride the attractions with minimal lines is at park opening.
Fantasyland is comprised of several different areas — the main (original) part that's found right behind Sleeping Beauty Castle, the Matterhorn, and the Fantasyland Theater and "it's a small world" building, which are both along Small World Way.
There are 5 different ways to access the main part of Fantasyland from other areas of the park: through the castle, the small path by the Heraldry Shop that goes toward Tomorrowland, a main path from Small World Way beside Storybook Land Canal boats, Big Thunder Trail towards Frontierland, and the small path next to the Bibbidi Bobbidi Boutique that ends at Fantasy Faire.
PLACES TO EAT
Edelweiss Snacks – kiosk near the Matterhorn entrance serving turkey legs, chimichangas and corn on the cob.
Troubadour Tavern – Located inside the Fantasyland Theater area, offering sausage, baked potatoes, pretzels, and other snacks and beverages.
Village Haus – Counter service restaurant serving burgers and pizza, indoor and outdoor seating areas.
There are a number of carts along Small World Way that sell beverages, popcorn, hot dogs, ice cream bars, and pretzels.
Restaurants at a Glance
Menus From Disneyland Resort
PLACES TO SHOP
Bibbidi Bobbidi Boutique – Princess costumes, shoes, and accessories. Prince attire is also available.
Fantasy Faire Gifts – Disneyland souvenirs and plush characters.
Heraldry Shoppe – Get your family's coat-of-arms on personalized plaques and clothing.
"it's a small world" Toy Shop – Mattel toys including Disney dolls, park attraction playsets, and other children's toys.
Le Petit Chalet – Disneyland souvenirs.
The Mad Hatter – Character and other hats, including personalized Mickey Mouse ears and Peter Pan hats.
Stromboli's Wagon – This cart offers hats, postcards, candy and other small souvenirs.
INTERESTING FACTS
The drawbridge on Sleeping Beauty castle really does go up and down, but it has only been lowered twice – when Disneyland opened in 1955, and again when Fantasyland re-opened after an extensive rehab in 1983.
The Alice in Wonderland attraction is built above Mr. Toad's Wild Ride, but the entry and queue areas for the two attractions are on opposite sides, making the two appear to be separate buildings.
The doors on the restrooms at the entrance to Fantasyland by the Matterhorn are labeled "Prince" and "Princess."
Near Snow White's Wishing Well, to the right of the castle, is a waterfall with statues of Snow White and the Seven Dwarfs. Since the sculptor created the Snow White figure to be about the same size as the dwarfs, her figure is placed highest and furthest away to maintain the illusion that she is much taller.
If you have comments or tips to share with others about touring Disneyland, please email us. Thank you.