[We visited the Disneyland Resort in Anaheim, California, from Jan. 31 to Feb. 3, staying at Disney's Grand Californian Resort. It was our first trip to The Happiest Place on Earth in six years. The following is the first installment of a three-part series on our Return to Disneyland.]
It had been more than six years since we last visited the Disneyland Resort in Anaheim, California. While much has changed at the Happiest Place on Earth since our last visit in 2017, so much – thankfully – remains the same, rooted in the ideals and philosophies espoused by its creator, Walt Disney: A place where parents and their children can have fun … together.
Yes, there's the new Star Wars: Galaxy's Edge land, as well as the recent addition of Mickey and Minnie's Runaway Railway in Toontown. Over at Disney's California Adventure, there's the re-imagined Pixar Pier and its Incredicoaster, as well as the new Avengers Campus area and re-themed Twilight Zone Tower of Terror, now known as Guardians of the Galaxy: Mission BREAKOUT.
Save for Mickey and Minnie's Runaway Railway, which is a nod to classic Mickey Mouse, the other new attractions are geared to fans of the Star Wars, Marvel movies, basically 20-to-50 somethings.
What intrigues me the most about today's Disneyland is that so many of the attractions are geared to the younger generation … as well as to older folks like me, who would rather spend two minutes on a low-intensity attraction with a big smile on my face instead of risking losing my lunch on a gravity-defying coaster.
SHEDDING LIGHT ON DISNEY'S DARK RIDES
Disneyland relied heavily on the Dark Ride concept when it opened in 1955 and it remains the genre's single greatest proponent. Peter Pan's Flight, Mr. Toad's Wild Ride, Pinocchio's Daring Journey and Snow White's Enchanted Wish all take guests aboard guided vehicles through themed scenes that are enhanced by Audio-Animatronics, sound, music and other special effects.
These adventures anchor the area known as Fantasyland, which also features the King Arthur Carrousel, Casey Jr. Circus Train, Dumbo the Flying Elephant, Alice in Wonderland, the Mad Tea Party, and the Storybook Land Canal Boats … all classic attractions that appeal to guests of all ages.
Many of the Fantasyland attractions have the honor of being Disneyland Originals – rides that were up and running when the Magic Kingdom opened on that steamy July day in 1955.
Of course, those attractions have been updated over the years, yet they remain resplendent in their redundancy, low-tech, heavily themed, all while allowing my lunch to remain in the digestive state.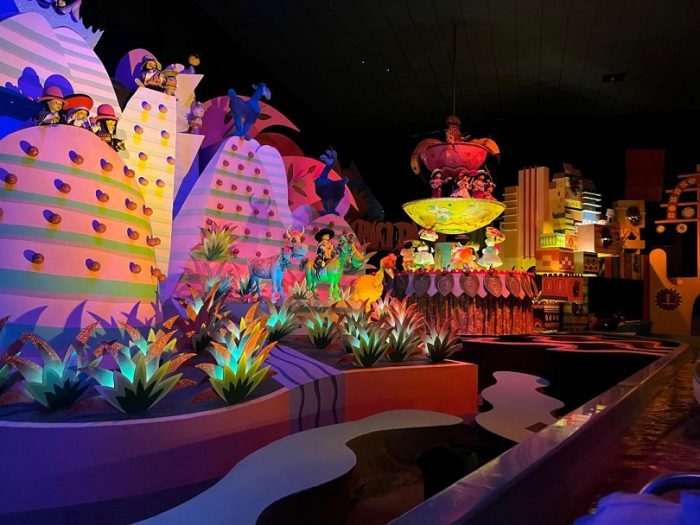 Another advantage to these attractions [as well as The Many Adventures of Winnie the Pooh, Disneyland Railroad, Great Moments with Mr. Lincoln and the Disneyland Monorail] is that they don't have LL attached to their description, meaning there's no extra cost involved.
Just get on the queue, wait your turn and enjoy. LL, of course, refers to Lightning Lane: The more popular the ride, the more it costs guests if they want to avoid long lines. For example, it cost $15 to ride on Mickey and Minnie's Runaway Railway using Lightning Lane's "a la carte" option.
During our stay, there were plenty of people in the park, but the standby lines were manageable on most of the attractions we gravitated to – about 10 to 20 minutes for each.
THE LURE OF MAIN STREET U.S.A.
To me, just walking up Main Street U.S.A. in the Magic Kingdom is a thrill. This is where Walt Disney himself spent a considerable amount of time before, during and after the park opened.
There's so much Disney history embedded along the thoroughfare, from the light posts, the trash cans, the windows, the doorways, the horse-drawn vehicles and the signage on all the buildings.
Strolling into some of the quaint shops, grabbing a bite to eat at one of several fine food establishments … it's all part of the complete Disneyland experience.
Most of all, being on Main Street brought back memories of meeting up with my friend, Disney Legend Marty Sklar, in November of 2013.
We [Marty and I, my wife Janet and our friend Mike Splitstone] met at City Hall, then walked up Main Street, made a left into Adventureland and then traveled on to New Orleans Square, where we enjoyed a once-in-a-lifetime lunch with the former head of Walt Disney Imagineering at Club 33.
Marty, who still has the distinction of having been in attendance at the openings of all 12 Disney parks worldwide, truly loved Disneyland.
After being hired by Walt a few months before the park opened to create The Disneyland News, a souvenir newspaper available to guests entering the park. Marty went on to work at Disneyland's first marketing department, headed by Disney Legend Eddie Meck, before being transferred to WED Enterprises, the forerunner of Walt Disney Imagineering.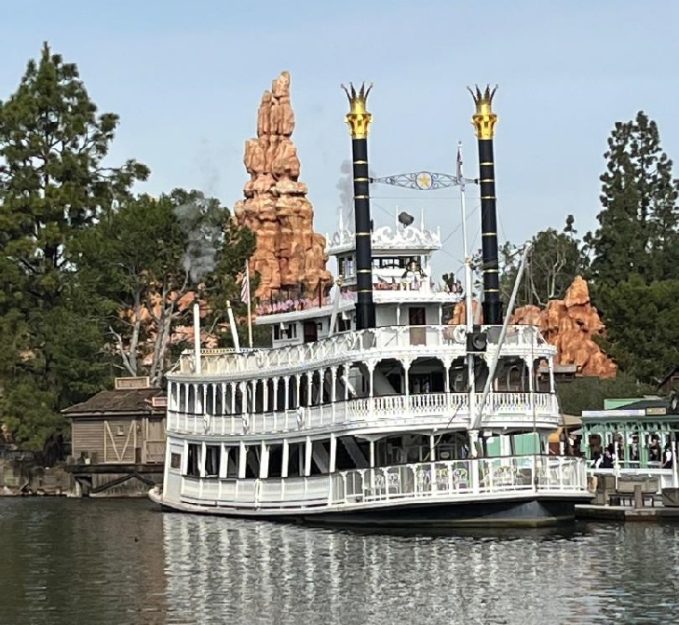 Marty literally wrote the book on Disneyland. Walt Disney's Disneyland, available to guests in the park's gift shops during the 1960s and 1970s, was a comprehensive, behind-the-scenes guide to the park's creation, as well as a look at its creator and the millions of guests who helped solidify its reputation as the Happiest Place on Earth.
THE BLESSING OF CLOSENESS
Walt Disney touted "the blessing of size" when he bought nearly 30,000 acres of land and planned for what would become Walt Disney World in central Florida. He always hated the idea that so many tawdry establishments popped up right across the street from his family friendly park after it opened in 1955.
At today's Disneyland, though, there's something to be said for "the blessing of closeness."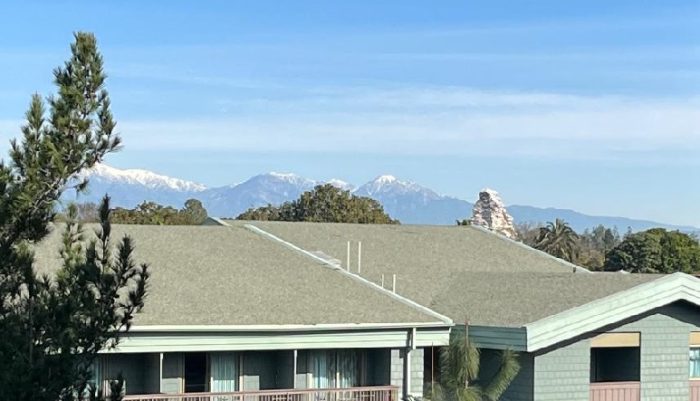 Even if you stay at a hotel off property, such as one of the now "Good Neighbor" hotels located across the street on Harbor Boulevard, everything – the Magic Kingdom, Disney's California Adventure and Downtown Disney – is within walking distance. And if you stay on property at one of three Disney resorts, that walk is even shorter.
Disneyland Park and Disney's California Adventure are separated by an expansive esplanade, allowing guests to easily walk from one park to the other. Nearby, there's Downtown Disney, a shopping, dining and entertainment district.
There's a monorail station located at the far end of Downtown Disney, near the LEGO Store. A ride aboard Disney's "highway in the sky" gives guests the opportunity to view the entire resort from above.
The line runs through California Adventure, the Grand Californian and surrounding environs before dropping guests off in the Tomorrowland section of Disneyland.
DISNEYLAND'S 'GRAND CIRCLE TOUR'
The idea of building a park celebrating all things Disney was decades in the making. When Walt built a miniature railroad – the Carolwood and Pacific – in the back yard of his house in Holmby Hills, that idea really began to take root.
When land was purchased in the early 1950s in the sleepy Los Angeles suburb of Anaheim and concepts for the park began to crystalize, one thing was certain: A railroad would encircle the park, giving guests a "grand circle tour" of the property.
Perhaps the most intriguing aspect of the original railroad was it was all built in Disney's machine shop. According to Marty Sklar in Walt Disney's Disneyland: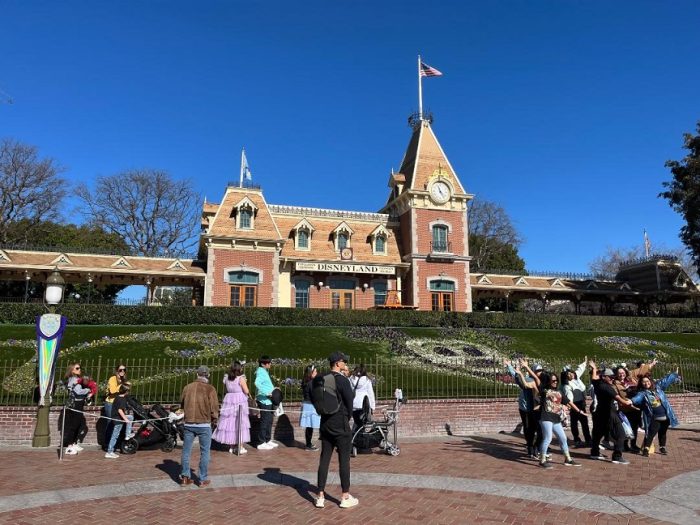 "Piece by piece, each train was painstakingly designed and assembled. Finally detailed woodwork, metal and iron work and most parts were individually crafted right in the Disney machine shop. The two locomotives built for Disneyland in 1954-1955 were a 'diamond stack' and 'cap stack,' with 4-4-0 engines [they have four wheels in front, four drive wheels and no trailing truck or tender."
No too surprisingly, given Disney's penchant for building things to the highest standards, those original locomotives remain in service today, according to Michael Broggie, one of the founders of The Carolwood Society.
Even though the Disneyland Railroad has been going in circles for more nearly seven decades, it has come a long way since it debuted in 1955.
Over the years, the Disneyland Railroad – known as the Santa Fe & Disneyland Railroad when the park opened – has seen significant changes.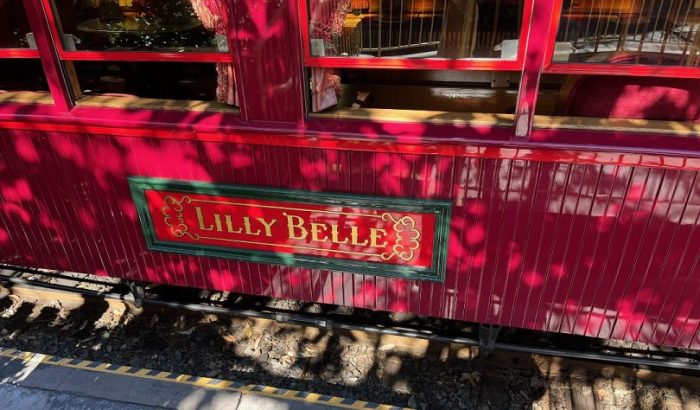 After Disney's success at the 1964-1965 New York World's Fair, all or parts of Disney's four Fair attractions were transported back to Disneyland: "it's a small world," Carousel of Progress, Great Moments with Mr. Lincoln, and portions – specifically the Audio-Animatronics dinosaurs from the Ford Magic Skyway – found new homes on the West Coast.
The dinosaurs were incorporated into a two-part diorama sequence visible to railroad passengers as they rumble toward the Main Street station. First, guests view the realistic-looking Grand Canyon tableaus, then they pass through prehistoric times populated by many of the same dinosaurs who thrilled guests at the World's Fair.
The iconic Disneyland Railroad was given another update in 2017. It now features a path along the north end of the Rivers of America, where it crosses a beautiful trestle bridge while hugging the riverbank.
And there are now five majestic waterfalls and stunning views of Tom Sawyer Island along the way.
Next time: Our impressions of Disney's California Adventure.
Chuck Schmidt is an award-winning journalist who has covered all things Disney since 1984 in both print and on-line. He has authored or co-authored seven books on Disney, including his latest, The Beat Goes On, for Theme Park Press. He also has written a regular blog for AllEars.Net, called Still Goofy About Disney, since 2015.