It's a great time to be a Star Wars fan. Not only did we get three NEW movies, but there's also Star Wars: Galaxy's Edge at both Disney World and Disneyland, a new Star Wars hotel, and more new Star Wars TV shows than you can shake a fist at!
Two of those shows are live-action series that have already premiered on Disney+ — The Mandalorian,  which completed its second season in late 2020, and The Book of Boba Fett, which made its premiere a few weeks ago.
So, obviously, there will be comparisons between the two series. Both shows have Jon Favreau as a showrunner, but some key differences are already starting to make themselves known, most particularly when looking at Rotten Tomatoes Scores.
So let's look at how The Mandalorian — to keep things fair, we'll look at the first seasons of both shows since The Book of Boba Fett is relatively new. The Mandalorian's first season scored 93% with critics and 92% with audiences.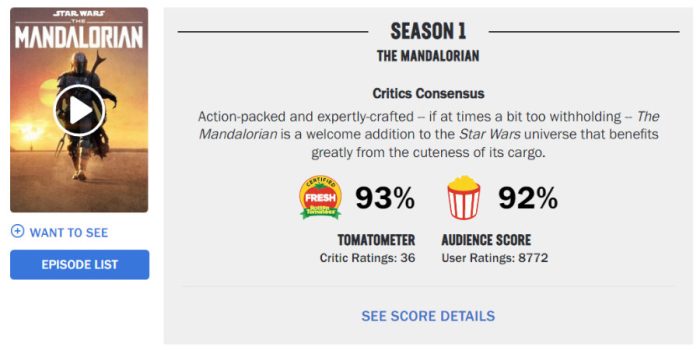 By comparison, The Book of Boba Fett is way more popular with critics than audiences. It has a rating of 90% with critics (which isn't a HUGE difference), but only 66% with audiences. So there's some disparity there between critics and other viewers.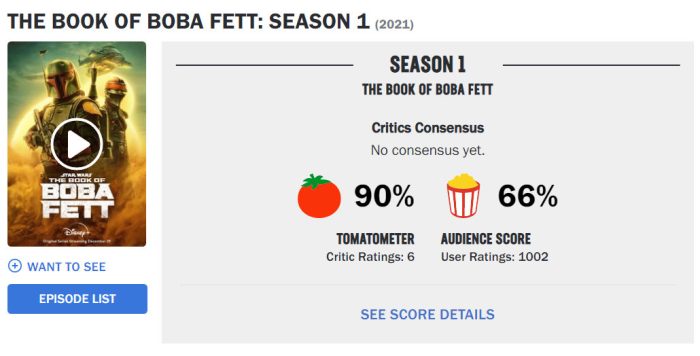 But more importantly, it's when you look at the ratings of individual episodes where things get interesting with The Book of Boba Fett. The first episode seemed to be a hit with most critics, with an 82% rating. 
By comparison, The Mandalorian pulled in a 90% rating with critics with its first episode. So far, the first episodes of each series are comparable, although The Mandalorian seemed to please more critics with its debut. But also note that there are more actual critic ratings on the site for The Mandalorian.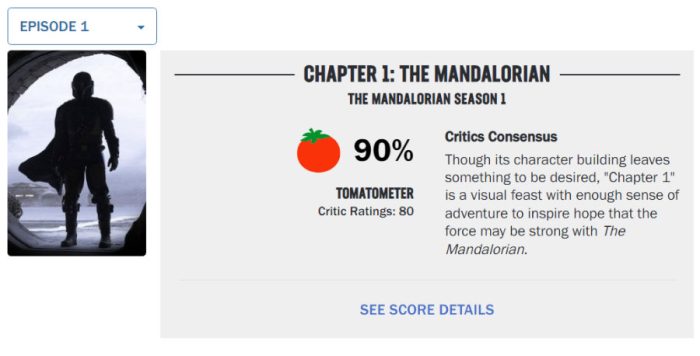 Interestingly enough, the critics seemed to be ALL in for the second episode of The Book of Boba Fett — its rating was a whopping 94%! It looks like everyone really liked diving deeper into the story of Boba's time with the Tusken Raiders.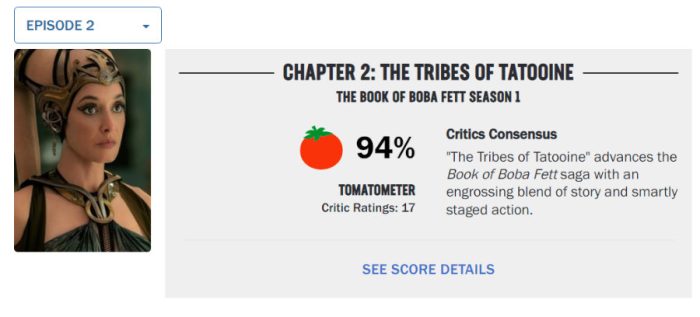 The Mandalorian only scored a 92% with critics with its second episode, which is still high, but not enough to beat the second episode of the Boba Fett series.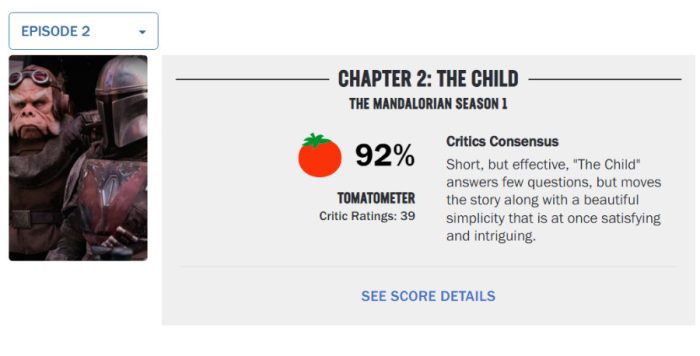 Episode 3 of The Book of Boba Fett, though, saw critics falling out of love with the show — this episode only rated a 67% with critics.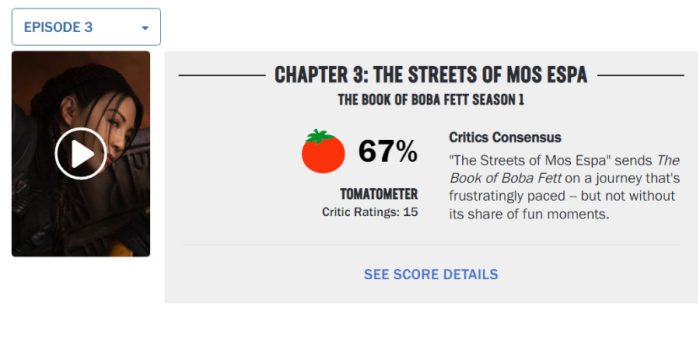 Meanwhile, the third episode of The Mandalorian got 94% with critics.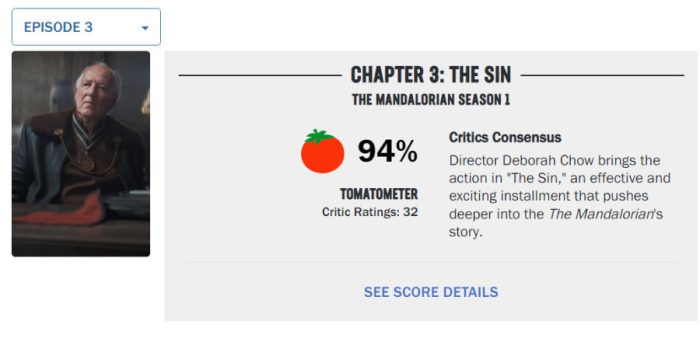 So what does this all mean? Well, it seems that critics' opinions of The Book of Boba Fett are currently not as good as they were and that they preferred The Mandalorian overall. However, it's hard to judge any TV series on just three episodes, so there is a high probability that the Rotten Tomatoes ratings for this series could change.
Regardless, it's probably more important to look at how viewers see the show, and so far, opinions seem mixed on the series. But we'll be curious to see how these ratings play out once the final four episodes of The Book of Boba Fett have aired.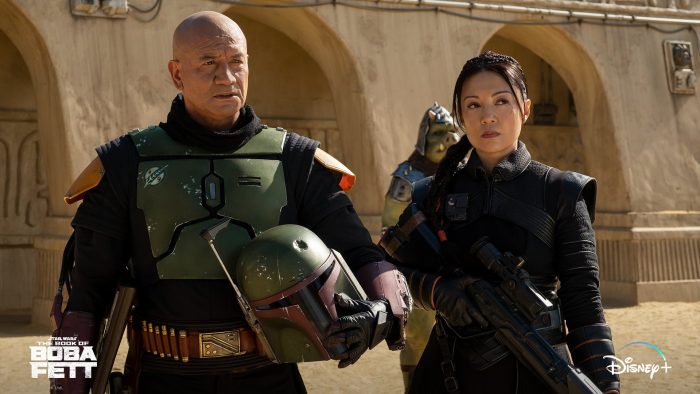 But it's okay if you like it or even if you don't like it — Star Wars fans are spoiled for the amount of content coming out right now, with more new movies, TV shows, books, and video games on the way — and they're bound to find what connects with them and how they feel about the franchise.
Have you watched The Book of Boba Fett? What do you think about it? Let us know in the comments!
Join the AllEars.net Newsletter to stay on top of ALL the breaking Disney News! You'll also get access to AllEars tips, reviews, trivia, and MORE! Click here to Subscribe!