As we've discussed many times over the years, change is constant in Disney theme parks. Whether it's Anaheim's Disneyland, Walt Disney World, or any of the company's resorts around the world, each and every park has evolved a great deal from their respective opening days. This, of course, begs the hypothetical question: if you had a time machine, what would be the "best" year to visit each of Disney's theme parks?
Sadly we don't have a DeLorean at the ready (that's at Universal Studios), but we do have opinions on each's park's best.year.ever.
Disneyland Resort: 1969
The late 1960s were a watershed period for Disneyland, culminating in the decade's final year. Nineteen sixty-nine saw the opening of the iconic Haunted Mansion, an attraction many would still call the apex of classic Disney Imagineering.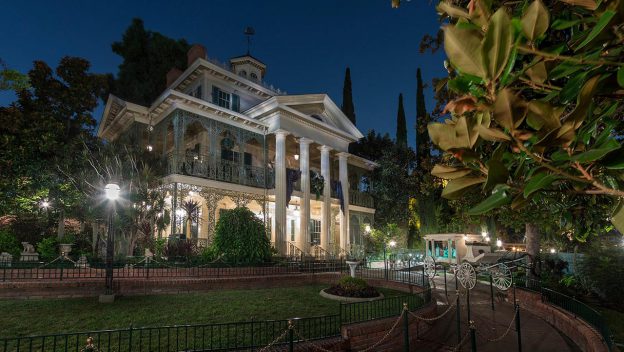 In addition, the park was only two years removed from the openings of Pirates of the Caribbean and Tomorrowland '67. These expansions laid the groundwork for everything Disney Parks would become over the following 50 years. 
On the flip-side, 1969 was also only a scant three years after the death of Walt Disney, which means that a vast majority of the park still reflected his vision. In other words, 1969 is the ultimate crossroads year in Disneyland history, with one foot in the park's past and one in the Walt Disney Company's future. 
Disney California Adventure: 2012
Suffice to say, we wouldn't waste a hypothetical time travel trip visiting DCA in its first decade of existence. Instead, we would love to go back to the park's 2012 grand reopening.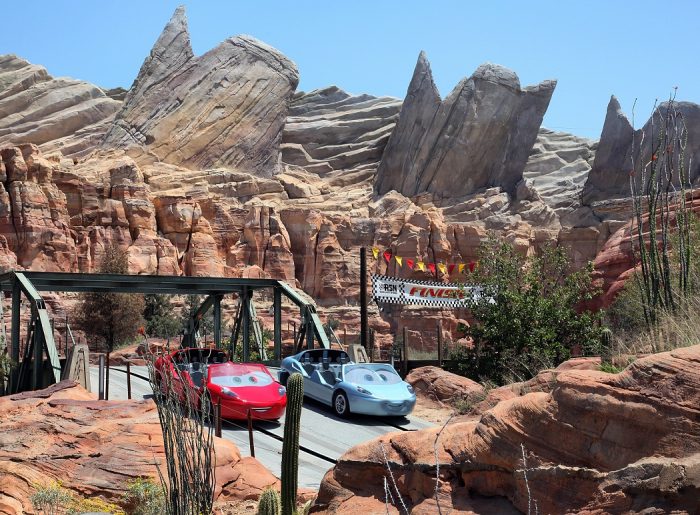 That year, Imagineering unveiled a billion dollar reinvention of the park that introduced a cohesive thematic story to the park, linking the newly constructed Buena Vista Street to Hollywoodland and the Twilight Zone Tower of Terror. In addition, the park debuted Cars Land, the first massive, IP-based land in Disney history, headlined by the Radiator Springs Racers E-Ticket.
Magic Kingdom: 1975
A trip back to Magic Kingdom's earliest years should be high on any hypothetical time traveler's list, as the Florida's property's first decade was a very different experience than the sprawling complex of theme parks, hotels, and amenities we know today. Back then, Walt Disney World's Vacation Kingdom was the Magic Kingdom theme park, three hotels, and campground.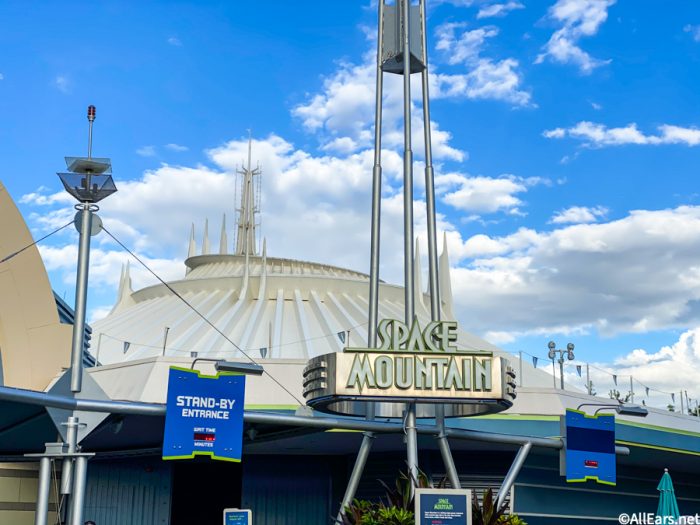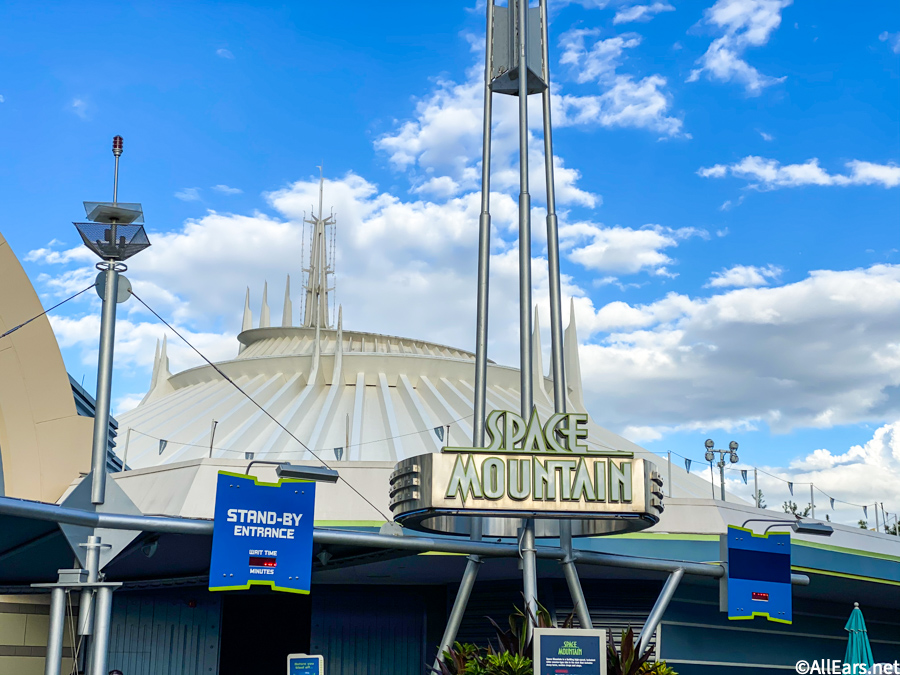 We specifically chose 1975, as that year marked the opening of Space Mountain. The sci-fi thrill ride marked a sea-change in how Imagineering designed attractions, introducing thrill rides to Disney Parks in a way that had never been seen before, The Matterhorn excluded.
EPCOT: 1983
For many Disney aficionados, myself included, the opening day version of EPCOT Center is the peak of Walt Disney Imagineering. An educational yet entertaining park full of exquisite theming and animatronic-filled shows and attractions, none of which revolved around Disney's recognizable characters.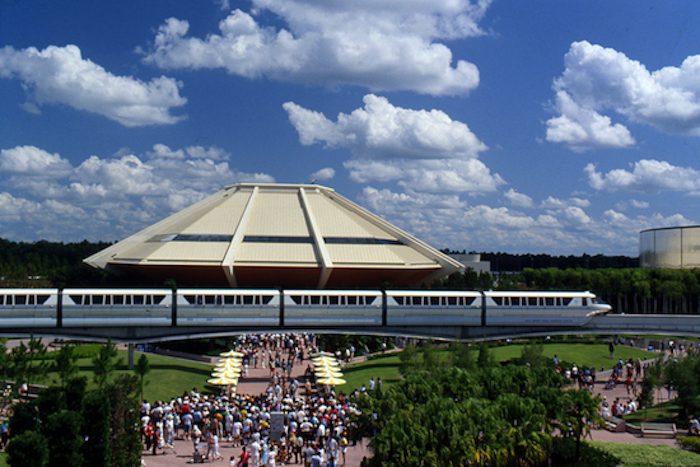 However, you may have noticed I didn't go with EPCOT's opening year of 1982, instead I jumped ahead a year. Why? One word: Horizons. The beloved masterpiece dark ride, which is still seen by many as EPCOT's true thesis statement, had originally been scheduled to open with the park. However, budget, sponsorship, and construction issues pushed it back nearly a full year, with the attraction opening in 1983.
Disney's Hollywood Studios: 1996
A strong argument can be made that the park currently known as Hollywood Studios has never been better than it is today thanks to Star Wars: Galaxy's Edge. However, for those who miss the park's MGM Studios days, there would be no better time to go back to than the mid-1990s.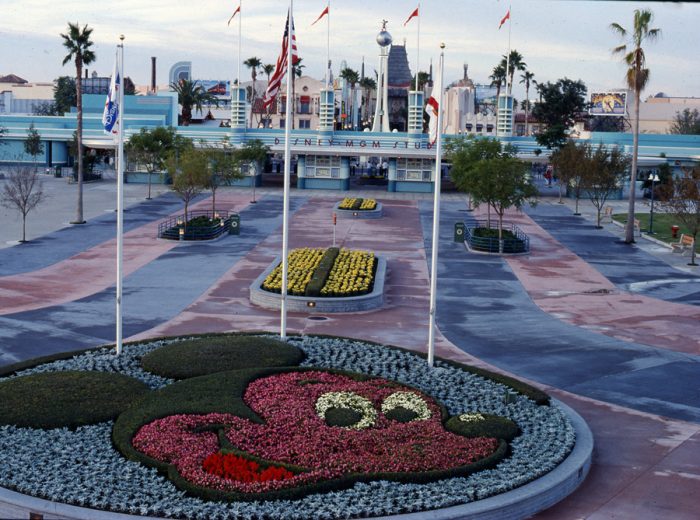 The 1996 version of MGM Studios still featured many – admittedly tweaked – elements of the original working studio theme including the Great Movie Ride, the reworked Backlot Tour, the Streets of New York, and the Magic of Disney Animation. In addition, the park featured the then-brand new Twilight Zone Tower of Terror, as well as the original version of Star Tours. 
Animal Kingdom: 2017
The most recent year on our list so far, is a testament to both how complete of a park Animal Kingdom became when Pandora: The World of Avatar opened, and how little the park has been compromised since it opened in 1998.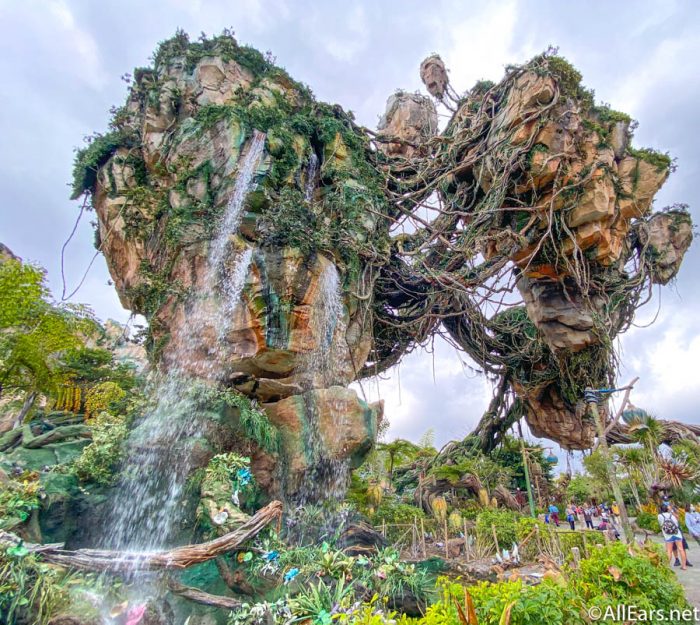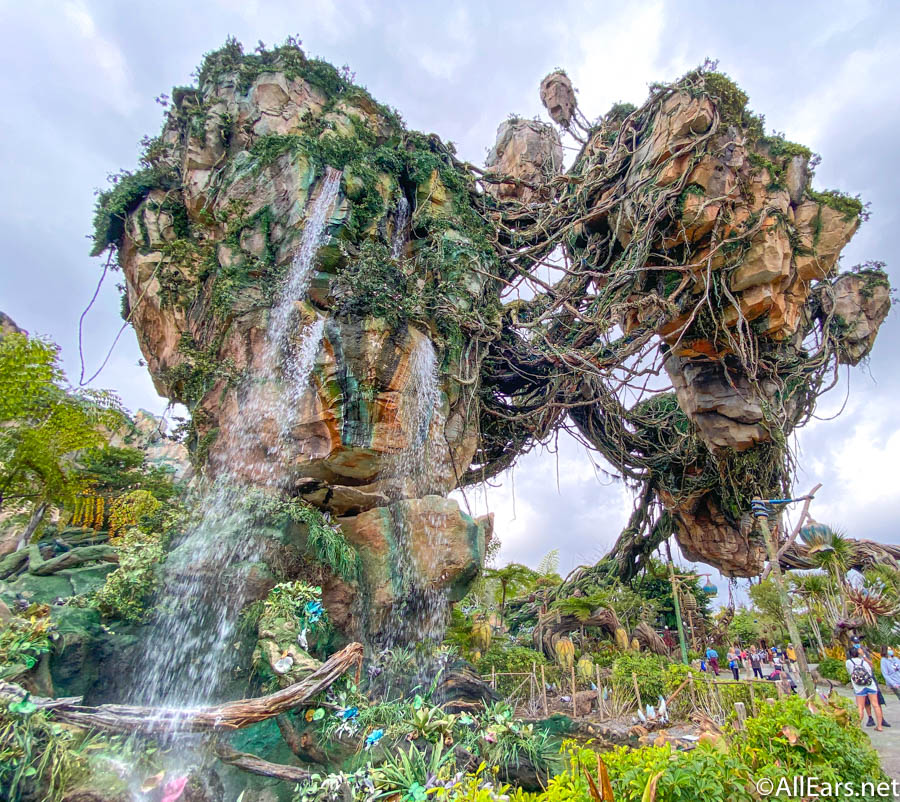 In fact one could argue that even the attractions that were present on opening day looked even better two decades later, thanks to trees and foliage having the opportunity to grow into a lush jungle. 
Tokyo Disneyland: 1983
The reason to hypothetically visit Tokyo Disneyland in its opening year of 1983? Meet the World, of course.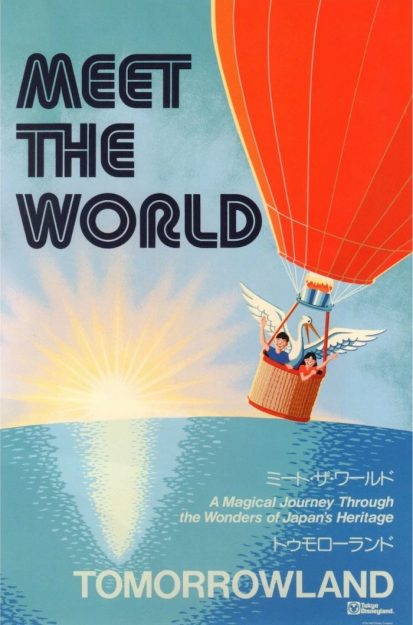 For those who don't know, Meet the World was a Carousel of Progress-style animatronic theater show that told the history of Japan. The attraction was originally scheduled to open in both EPCOT and Tokyo Disneyland, however construction and budget issues at the former meant it was exclusive to the latter for its entire 20 year lifespan. 
Tokyo DisneySea: 2006
Honestly, there is no wrong answer here. Since the day Tokyo DisneySea opened in 2001, it's been hailed by many as not only the best Disney park in the world but the best theme park period.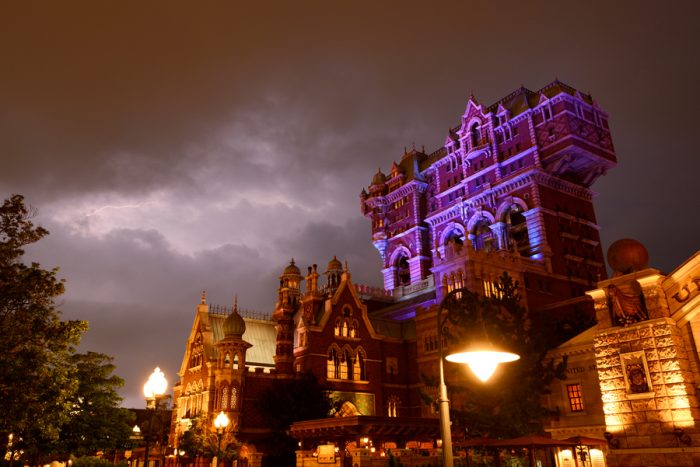 That said, 2006 sticks out, as it marked the opening of the park's exclusive version of the Tower of Terror. The Tokyo version, which eschews the Twilight Zone theme for an original story based around a cursed idol haunting devious millionaire Harrison Hightower, is a perfect encapsulation of everything good about DisneySea. 
Disneyland Paris: 1995
The story of EuroDisneyland's financial failure has been told time and time again, however often ignored in the story of why the park failed is that, creatively at least, it deserved a better fate. Upon its opening, the park was masterpiece of Imagineering design. Led by the legendary Tony Baxter, the park's lands all tied cohesive stories into immaculate themed environments, many of which improved upon their American counterparts.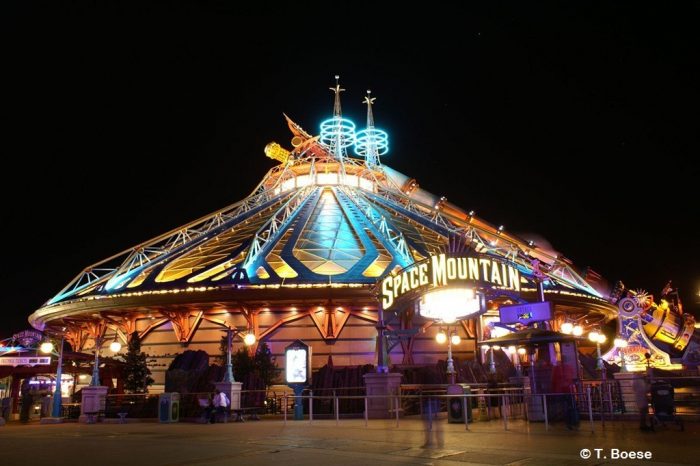 In 1995, the financially struggling park opened Space Mountain: De la Terre à la Lune, a Jules Verne-inspired masterpiece of steampunk design. The coaster was so good in fact, that it goosed the park's attendance, arguably saving it from closing completely. Sadly, the attraction lasted less than a decade before many of its unique elements were removed in an early 2000s refurbishment, but that's another story. 
Disney Studios Paris: TBD
 Maybe when the new additions of Frozen, Star Wars, and Marvel lands are done, I'll have a desire to visit this park. Until then, it holds the title of worst Disney park in the world.
Hong Kong Disneyland: 2019
When Hong Kong Disneyland first opened in 2005, many complained that the park was too small, with few enjoyable attractions, essentially just being an "on-the cheap" version of Disneyland.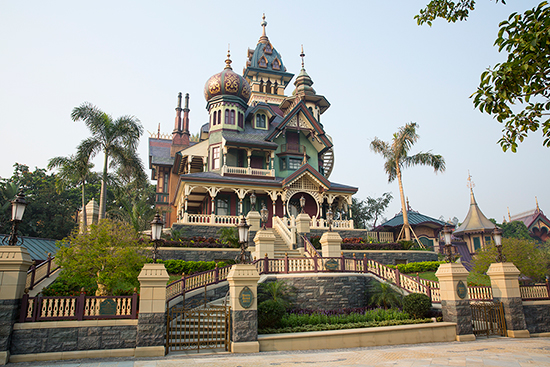 As the years have gone on, however, Hong Kong Disneyland has developed its own identity thanks to the additions of exclusive attractions including Mystic Manor, Grizzly Gulch, and MCU-based attractions featuring Iron Man, Ant-Man, and the Wasp. 
Shanghai Disneyland: 2016
For Disney's newest theme park, the choice of its opening year may seem strange. However, to guests familiar with traditional Disney parks, everything about Shanghai Disneyland probably seems a bit strange.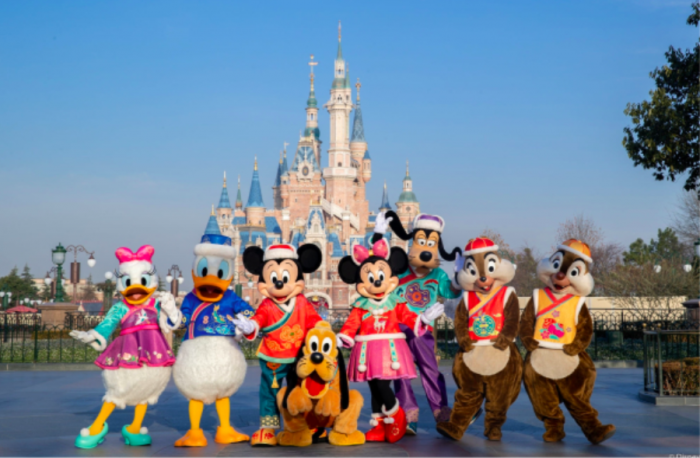 The park fundamentally altered many of classic elements of design and layout that Disney has used for their castle parks, making it a must-see for major Disney fans. 
If you had access to a hypothetical time machine, would the be the years you visit each Disney park, or would you go in some different directions? Let us know in the comments below.
Join the AllEars.net Newsletter to stay on top of ALL the breaking Disney News! You'll also get access to AllEars tips, reviews, trivia, and MORE! Click here to Subscribe!